Thailand is set to welcome over 1.5 million Russian visitors this year as the Ukraine war, in one respect at least, has proved a boon to foreign tourism in Thailand with over five hundred and ninety-one thousand visitors sent to April 5th last. The return of more long-haul visitors with up to 80% of pre-pandemic flight capacity in addition to the reopening of China, has left officials with the tourism promotion agency busy trying to maximise the country's prospects for 2023 as it targets anywhere from 25 to 30 million foreign tourist arrivals.
Thailand is celebrating Songkran this week with gaiety and colour throughout the country particularly in foreign visitors hotspots such as Bangkok, Pattaya and Phuket. The festivities coincide with positive signs that the country's foreign tourism industry is recovering with good news regarding the return of valuable long haul visitors from key western markets also in the pipeline, according to a senior Tourism Authority of Thailand (TAT) official despite higher airfares since 2020.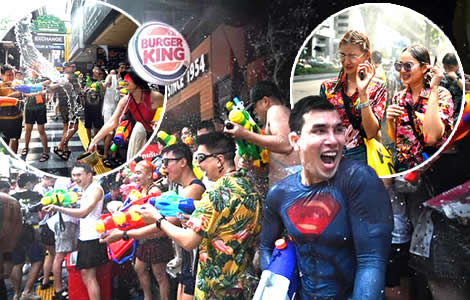 Thailand's 2023 annual Songkran festivities are in full swing across the kingdom with Bangkok's Silom Road again becoming the centre of activity with holidaymakers armed with water guns and buckets splashing each other, having fun and soaking up the carefree atmosphere.
Although, officially, the city did not organise activities in the area this year, the people have spontaneously reverted to the form of previous years and recreated what is an iconic part of the Thai New Year's celebrations for foreigners and tourists to the city.
First time since the pandemic that the streets of Silom saw people let their hair down to celebrate Songkran as in the good old days with spontaneous joy
This makes it the first time since the pandemic shutdown that the country has completely let its hair down and is an echo of happier times and perhaps a prediction of things to come as the country's vital foreign tourism industry appears to be on a definite path to recovery, free from the shackles of government regulation and control which had even targeted the festival before the pandemic because of its carefree exuberance, something that is very much welcomed by the country in 2023 as it seeks to repair its battered tourism prospects.
Amid the celebration and high jinks this week, the city's authorities under popular new Bangkok Governor Chadchart Sittipunt, elected in a landslide last year, the Bangkok Metropolitan Administration (BMA) has dispersed officials to areas involved in party activities to offer polite and supportive guidance to tourists and also to liaise with the Royal Thai Police and others to prevent any notable incidents which may threaten or kill the positive atmosphere.
Songkran celebrated around the world as Thailand's immigrant communities expand its soft power
The Thai New Year's festival of Songkran will also be celebrated this year in other countries around the world with a world-class party and festival planned for Singapore on Friday the 14th and Saturday the 15th of April.
It is another positive sign for the kingdom whose soft power is growing in line with its expanding immigrant communities in all parts of the globe.
It has also been celebrated this year in Hong Kong where there was some controversy on Wednesday after revellers used water guns to douse members of the Hong Kong police force resulting in two arrests.
Hong Kong incident as revellers douse police
Hong Kong is desperately trying to avoid such incidents as the city enclave, now definitely under China's grip with laws being dictated and enforced on orders from Beijing, attempts to recreate lost inward tourism flows to the territory as its reputation has been severely tarnished by a heavy-handed crackdown on dissent and pro-democracy activism as well as its draconian response to the COVID-19 emergency, all of which has undermined international business confidence in the city and hence inbound tourism.
As part of a campaign to woo inward tourists a campaign themed 'Hello Hong Kong' has been launched giving away plane tickets to some tourists to visit the city with up to half a million on offer coinciding with festivals and colourful spectacles.
Street stall holders supplying food, refreshments and a range of powerful colourful water guns are a key part of what makes Songkran in Thailand special
Meanwhile, in Bangkok, with its spontaneous celebrations in the busy and chaotic Silom precinct, Thai stall holders were catering not only to the enthusiastic crowd's need for food and refreshment but also retailing a full range of the most colourful and powerful water guns in all shapes and sizes to carry on the Songkran spirit while city authorities have also announced the closure of Bangkok's famous Khao San road to accommodate revellers.
However, like all good things associated with the joy of travelling to Thailand that holidaymakers enjoy most, the unscripted, impromptu and casual fun to be found on the streets of Silom and the famous Silom Road which is a key cultural and nightlife centre of the capital, voted recently as the most travelled to destination in the world, is proving the more popular draw.
The return of water games and festivities this Songkran to the Silom Road in Bangkok and other parts of Thailand coincides with good news from the Tourism Authority of Thailand (TAT) which in recent days has revealed that the projected number of flights from long haul points of origin for foreign tourists will later in the year rise again to nearly 80% of the slots available before the pandemic in 2019.
Tourism authority reveals that flight slots for the off-peak season this year will nearly reach 80% of pre-pandemic levels with higher carrying loads
Siripakorn Cheawsamoot, the Director of the Tourism Authority of Thailand (TAT) for Europe, Africa, the Middle East and the Americas, is a contender for the top job at the agency which is soon to be up for grabs.
This week, he revealed that from April to October, there will be at least 98,000 flights from long-haul destinations which should yield more than one million visitors a year from key markets and regions by the end of 2023.
Thailand is targeting 27 million visitors this year but recently, the Tourism Authority of Thailand (TAT)'s projection has only suggested 25 million with concern that the country, last year and in the four months of 2023, has become too dependent on lower spending short-haul foreign tourism.
There is also a concern that the number of visitors from China, although it is rising fast, may not be anything like the period before the pandemic.
Numbers are rising from China but not at the same level as before the pandemic. Long-haul market visitors stay longer in the kingdom and spend more
Thailand is reportedly the single most popular holiday destination for Chinese tourists who are limited by their government on where they can visit in 2023 while there has also been a negative campaign of disinformation in the middle kingdom targeting the country.
Mr Siripakorn said the indicators concerning flight slots were encouraging and moving in the right direction despite a significant increase in flight tariffs since 2020.
He said that with greater flight loads, the increase in flight capacity had the potential to see a significant return of visitors and tourist income to Thailand from valuable long-haul markets in 2023.
These visitors generally stay in the kingdom longer and spend more on each trip which is why income per capita for foreign tourism has not risen since 2019.
'The number of flights in the past winter schedule resumed to just 60% to 70% of the corresponding period in 2019. However, the sign for summer is more positive as the resumption rate has improved to 70% to 80% of the 2019 summer schedule,' he explained.
He said that TAT was now focused on facilitating a linkage between long-haul flight providers and local regional airlines to provide inbound passengers with a one-stop ticketing and booking service to check in and reach their key destination in Thailand.
New deal with Eva Air, the expanding Taiwanese airline serving over 40 destinations which will see more direct flights from key markets into Thailand
He also talked about a tie-up with Eva Air, a star alliance international airline headquartered in Taiwan which has made significant inroads into the North American market and operates passenger services from and to over 40 international destinations.
Mr Siripakorn said this will provide more long-haul routes to Thailand and particularly direct flights into the kingdom.
The good news was that both the London and Paris office of the Tourism Authority of Thailand (TAT) had already booked and well exceeded one million tourists visitors to Thailand each for 2023 with the agency's European offices in Rome, Stockholm, Prague as well as Dubai co-ordinating on other territories and regions towards a similar target.
Russians are coming to Thailand
Each office is tasked with facilitating more than one million visitors to Thailand
The Russian market, driven by the fallout from the Ukraine war, is very strong this year with over 1.5 million visitors already signed up or who have visited with 591,002 Russian holidaymakers already received up to April 5th.
Many are Russian nationals taking flight from their home country fearing conscription while the majority are holidaymakers who face complications travelling to other markets because of tough international sanctions against Moscow over the conflict.
Mr Siripakorn is reported to be one of two potential successors to Tourism Authority of Thailand (TAT) General Yuthasak Supasorn who is due to step down shortly and has worked for the government body for over 33 years.
Further reading:
14 days quarantine confirmed for all passengers from high risk listed countries and now in place
Tourism minister predicts higher temperatures will help to bring an end to the coronavirus threat
Police warn about obscene Songkran footage and videos. Murder charges for deadly holiday drunk drivers