Yan Marchal found himself in hot water with Thai authorities when living in the kingdom in 2019 and again in 2020 over his online content including a viral parody which poked fun at the then National Council for Peace and Order (NCPO) or junta leader, General Prayut Chan ocha and later when he commented on violent Bangkok street protests in October 2020. In November 2021, Mr Marchal, who is married to a Thai woman and is the father to a Thai citizen, revealed that he was refused entry to Thailand as a threat to national security.
A controversial Frenchman who was deported and blacklisted from Thailand in 2020 is currently being investigated by the Technology Crime Suppression Division (TCSD) of the Royal Thai Police after releasing a 41-second video clip on April 12th last which a royalist group claims is defamatory to the monarchy under Article 112 of Thailand's Criminal Code. The investigation into Yan Marchal who lived in Thailand for eighteen years and now resides in Paris will also target four Thai nationals living outside the kingdom, three women and a man who were identified as taking part in the video which was the subject of an official complaint on April 18th last by the royalist group People's Centre to Protect the Monarchy.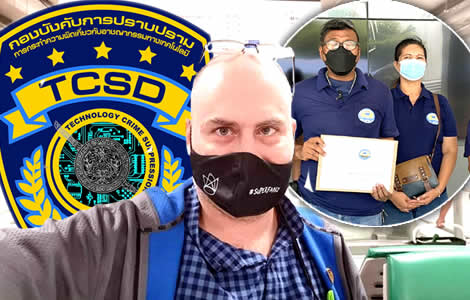 51-year-old Frenchman Yan Marchal who was refused entry into Thailand in November 2021 after he landed in Phuket on the basis that he represented a threat to national security, is again causing controversy in the kingdom after a short video he posted on April 12th last on his Facebook channel was the subject of a complaint by a royalist group to the Technology Crime Suppression Division (TCSD) on Tuesday, April 18th last.
Anon Klinkaew and a delegation with the People's Centre to Protect the Monarchy presented information and details to Major Kruenarong Khamin Krua of the online police agency at its offices in Phaholyothin Road in the Chatuchak area of Bangkok, demanding legal action against all those involved.
First came to the attention of Thai authorities in 2019. At that time, he was politely asked to sign a memorandum by two Thai plain clothes detectives
The games developer and online commentator first came to the attention of Thai authorities in 2019 when he produced a parody video which appeared to mock Prime Minister Prayut Chan ocha, the then leader of the National Council for Peace and Order (NCPO), the former military junta and his 'Bringing Happiness back to Thailand' campaign.
At that time, Marchal was visited by police plain clothes detectives who asked him to sign a memorandum indicating that he regretted his actions and that he would not repeat such activities.
It is understood that some reference at the time was made to his potential visa status.
Mr Marchal lived happily in Thailand for 18 years and created a successful video gaming business before becoming embroiled in protest politics online
Later, following the violent Bangkok street protests in October 2020, the French man who had lived in Thailand for 18 years with a Thai wife and child who reportedly ran a successful gaming development business, was involved in another contretemps with the Immigration Bureau in Bangkok when his visa was reportedly questioned.
At one point, he was told he was being deported from Thailand although there was some confusion about the nature of that order.
It is understood that following his return to France sometime after these developments, he was blacklisted from entering Thailand, an order he tested on Saturday, November 20th 2021 when he was denied entry into Phuket and reportedly taken into custody but allowed to catch a flight to Suvarnabhumi Airport and a connecting flight back to Paris, France.
At the time, he attempted to involve the French Embassy in his efforts to gain entry and employed a lawyer to file a legal case under the 1979 Immigration Act but all to no avail.
Royalist group presented evidence to the Royal Thai Police last Tuesday and the case was taken up by the Technology Crime Suppression Division (TCSD)
Last Tuesday, it is understood that the Technology Crime Suppression Division (TCSD) agreed to take up the case against the French national and three to four Thai nationals living abroad who are believed to have participated in his 41-second video singing a song about waiting for a pizza delivery with lyrics that the royalist activist group believes is harmful to the monarchy and a clear breach of Article 112 of the Criminal Code which courts and Thai case law have widened in scope to encompass allusions, innuendo and indirect messaging with criminal convictions and jail sentences being handed down on this basis.
In March 2023, 26-year-old Narathorn Chotmankongsin received a two-year jail sentence without parole for publishing calendars featuring yellow ducks after his arrest in December 2020 when police discovered the items for sale online.
The yellow duck symbol became an icon used by demonstrators at protest rallies that year seeking constitutional change and more democratic reforms.
Hundreds of people are currently before the Thai courts on lèse-majesté charges under the wide-ranging and powerful provision within the Criminal Code designed to protect the country's revered institution from being undermined in any way.
Public warned not to share or repost the video clip
Mr Anon of the People's Centre to Protect the Monarchy took the opportunity to warn the Thai public last week to simply ignore the clip and not to, on any account, post, repost or share it, something which would constitute a serious criminal offence in Thailand.
The group, he revealed, is taking steps to monitor the offensive and dangerous content and to report any attempt to share or repost it in Thailand.
The video, it is understood, came to the attention of people in Thailand just before or during the Songkran festivities last week after its April 12th release.
Marchal says he did not set out to offend but at the same time he considers himself safe from prosecution
The royalist group described the Thai nationals who participated in the song as having no love for 'their own homeland' and asked the Royal Thai Police agency to find ways and means to prosecute all those who participated in the video including Mr Marchal.
Mr Anon said he was confident those who broke the law would face serious consequences because of their actions.
Speaking this week to Khaosod English, the Frenchman said he did not particularly set out to cause offence to the Thai monarchy or breach Thailand's Article 112 provision which can see violators face decades in prison but at the same time, he was confident that the law was not enforceable outside the kingdom's borders.
Further reading:
Police reviewing complaint against German man Moritz Pfoh after royalist figure filed a statement
German claims he was warned off by police from pursuing his political protests against acting PM
French expat government critic deported after being denied entry into Thailand via Phuket on Saturday
Officials deny long-time resident American professor in Khon Kaen was targeted because of political activities
French man's deportation shock is a wake-up call to all foreigners in Thailand using social media
Shock poll shows the Thai public is suspicious of third parties behind the kingdom's current political unrest
King tells western TV crews that he loves all Thai people and the kingdom is the land of compromise
PM says he is not resigning but seeks resolution as key protest leader, Anon, chooses to stay in prison
Protests on the streets creating political tensions as PM warns the public only the country will lose
Western foreigners being blamed by ultra-right for this latest wave of radical student protests
Exasperated PM loses patience with press corps over 'distorted' online speculation of a coup amid tensions
Army chief denies and rejects rumours of a likely coup as the country faces crisis on key fronts