Thailand has continued this year to be a popular choice for Russians seeking sun and relaxation away from the pressures of a country at war. One five-star hotel in Phuket now views Nordic and Russian visitors as its primary target market but is having trouble finding staff.
The government will introduce a standard 90-day visa on arrival for all Russian tourists landing in Thailand. It comes as demand from Russia is picking up.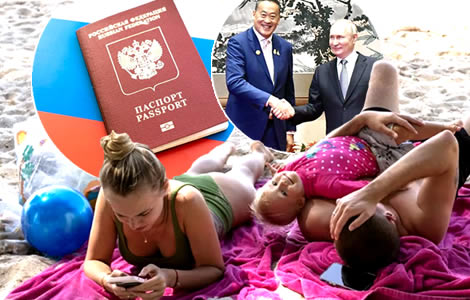 With signs of weakness in vital foreign tourism numbers as the country draws nearer to the opening of the High Season, the Ministry of Foreign Affairs has announced the extension of the visa period for Russian arrivals, which will come into effect on the 1st of November 2023 and last until the 30th of April 2024.
The news comes with a worrying weakness in tourist arrivals seen in October, notably from China in the wake of the mass shooting at the Siam Paragon Shopping Centre on October 3rd.
The initiative's details were announced on Monday, October 16th, by Ms Kanchana Phattharachoke, the Director General of the Department of Information at the Ministry of Foreign Affairs.
Visa to stay for 90 days for Russian visitors as it has become a top tourist market for the kingdom in 2023 with rising numbers at well over 1.1 million
It allows for a visa on arrival with a visa extension for Russian tourists with national passports, allowing them to stay in the kingdom for up to 90 days.
Before this, the initial visa granted to Russian tourist arrivals was only for 30 days, which is the standard period for most visitors from countries around the world.
The senior official revealed that Russia has become one of the kingdom's key tourism markets, with the numbers arriving from that country in 2019 amounting to 1.48 million visitors.
From January 1st until August 31st this year, Thailand has received 923,112 Russian tourists, putting it on target to nearly regain the same level this year as it did four years ago.
PM Srettha Thavisin meets Putin in China
Phuket has become one of the key tourist destinations for Russian visitors since the country reopened its doors to tourism in 2022, with numbers this year already well over 1.1 million arrivals.
Sanctions and other measures imposed by Western countries over the Russia-Ukraine war have limited access for Russian visitors worldwide since 2022, while Thailand has remained strictly neutral in the conflict.
This decision by the new government can also have a political aspect as it emphasised neutrality with Prime Minister Srettha Thavisin's visit to China this week, where he met Russian President Vladimir Putin at the third Belt and Roads Forum in Beijing, on Tuesday.
Hotel boss in Phuket says it is now hard for top hotels to find the right staff on the island, while Russian and Nordic tourists are his primary market
Last Saturday, the owner and director of Amara Hotels and Resorts, Chaowaphat Siriphatrawan, identified Russian and Nordic visitors as among the now five-star hotel's targets for growth.
Mr Chaowaphat runs the Amora Beach Resort in Phuket, which offers visitors an exclusive and pristine setting near Bang Tao Beach. 
It recently upgraded its facilities to raise its status to a five-star resort from its previous level as a four-star destination at a cost of ฿500 million.
The investment has allowed the hotel to increase its room rates by 100%, resulting in a 70-90% increase in revenue. 
Following Russians and Nordic tourists, Chinese visitors account for 15% to 20% of the hotel's guests, independent Chinese travellers with more spending power, while 10% to 15% of its guests were from the Middle East and India.
Hotel tycoon wants to see more Australian visitors
Mr Chaowaphat explained that in line with the investment in the hotel, it had also moved to increase its panel of short-term workers and middle management. 
The exclusive hotel has found the market for skilled and reliable staff right now is quite constrained, with workers having a choice of opportunities.
The company which runs the hotel in Phuket also operates a hotel in Brisbane, where it generates 70-80% of its revenue. 
The hotel tycoon said that despite higher costs in Australia, including a prohibitively high minimum wage, his company planned to expand in Melbourne, Perth, Adelaide and Bangkok over the next five years.
He hoped the company's business operations in Australia could also help leverage more visitors from that market to Thailand, particularly during the low season when high-spending European visitors drop off.
Further reading:
Hitman in attack on a Russian in Phuket arrested at the airport after making it easy for police
Crackdown on crime wave against Chinese tourists in Bangkok as concerns also raised on cannabis
Incoming tourism growth slows amid visas, airfares and attacks on Chinese nationals which have caused jitters
Economic recovery shaky despite strong foreign tourism as global economic outlook deteriorates
Chinese kidnapping victim held by Immigration police and facing extradition over fraud case
Thailand's financials are sound but the economy is exposed if another world banking crisis emerges
Even as the baht surges, Thailand faces economic recession in mid-2023 with lower earnings
Soaring baht as the Thai economic spirit rises with one of the world's lowest levels of inflation