The bizarre story of how a spurned Thai girlfriend, who up to 3 months ago was paid a stipend by a Chinese fraud suspect on the run before he dumped her, reads like something from a Hollywood movie script. However, these sorts of stories involving Chinese nationals who are kidnapped or extorted in Thailand are becoming all too frequent and disturbing.
Police on Monday smashed a gang that abducted a wealthy 34-year-old Chinese businessman on Friday night last with at least six arrests coordinated by the Metropolitan Police Bureau from Lumpini Police Station. Officers were able to recover ฿2.3 million of a ฿3.93 million ransom paid. However, as investigators at Lumpini Police Station unravelled the sophisticated plot led by the victim's former Thai girlfriend and interrogated the players in the kidnapping, the victim found himself in police custody and is awaiting extradition back to China after it was discovered he is wanted in connection with a ฿60 million fraud case there with an arrest warrant issued.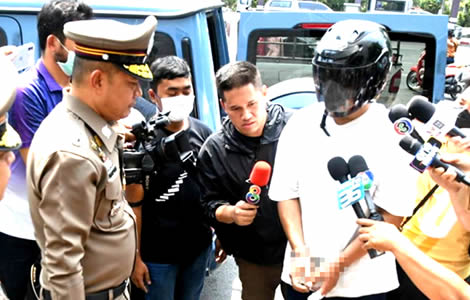 A 34-year-old Chinese man who was kidnapped on Friday night last by a gang directed by his former Thai girlfriend is currently being held by the Thai Immigration Bureau in Bangkok and is awaiting deportation to China where he faces prosecution for fraud.
Police over the weekend learned that the victim, in the case, identified as Mr Wang Nanfeng, is already the subject of an arrest warrant in China.
Routine background check on the kidnapping victim showed that he is wanted by Chinese police for fraud
A background check on the victim after his bizarre arrest for assault in Hua Hin on Sunday led police to discover that he is the main suspect in a fraud case in China involving the loss of 12 million yuan or approximately ฿60 million which he appears to have used to set himself up as a wealthy man in Bangkok, one of the thousands of suspicious Chinese businessmen who have managed to enter and settle in Thailand in recent years. 
It was confirmed on Monday by the Metropolitan Police Bureau in Bangkok that an arrest warrant in China has been issued in respect of Mr Wang but police there have not yet escalated it to an Interpol Red Notice.
Chinese man's abduction reported by his tourist friend Mr Yu to police at Lumpini Station on Saturday
On Saturday, Mr Wang's Chinese friend in Thailand, a tourist, identified as Mr Yu, made a report to police at Lumpini Police Station saying he was concerned that his friend had been kidnapped for ransom.
He had been trying for several days last week to make contact with his friend and was only able to chat on video with him on Saturday when he became aware of Mr Wang's situation and noticed his friend's face was bruised.
He later received an intimidating message from his friend's kidnappers. 'No need to report. The culprit will be released if the money is transferred,' the message said.
Mr Yu was able to tell police at Lumpini Police Station that his friend had previously ended a year-long relationship with his 24-year-old Thai girlfriend Ms Phetlada Saengsakul or Nam Phet. 
Mr Wang reportedly paid his Thai girlfriend ฿100,000 a month before ending their relationship just three months before last Friday's kidnap operation
Mr Yu told police that Mr Wang paid his Thai girlfriend ฿100,000 per month and had purchased a luxury car for her to visit him at his upmarket condominium in the upmarket Sathorn area of the city before breaking off the relationship three months previously.
On Monday, police were still issuing arrest warrants for the extended gang involved in the kidnapping and extortion operation that began on Friday when the group of younger adults coordinated by Ms Phetlada and her unemployed 24-year-old Thai boyfriend Mr Supaphon Halman arrived at the upmarket condominium building reported to be the Sindhorn Residence Building located on the Witthayu Road in the Lumpini area Pathum Wan in Bangkok.
The kidnapping party, in what appears to be a well-planned and executed operation with military precision, arrived at the building at 7 pm approximately using the target's ex-girlfriend's vehicle which was known to security staff at the residential complex. 
They headed to the 17th-floor condominium and once inside, they overpowered Mr Wang, binding his hands and feet.
Wang was forced into a plastic crate and smuggled out of the upmarket residence in the Mercedes AMG vehicle he had bought for his former girlfriend 
The gang involving up to 4 people led by Mr Guy or Mr Supaphon, the Thai boyfriend of Ms Phetlada, used her keycard to access the building and the apartment.
The raiding party also included a Mr Kob, also known as 27-year-old Mr Natthaphat Sawasdee who told police on Monday at Lumpini Police Station that he was working for Mr Supaphon as well as a Mr Zhou or Mr Joe who has not yet been fully identified and is believed to be a man in his 30s.
All are Thai nationals including a man known as Mr June, also known as 24-year-old Mr Natthaphong Khongkhamyu.
On Monday, at Lumpini Police Station as police interrogated the suspects that had already been arrested, they also issued warrants for others from intelligence learned from interrogation, a full review of CCTV footage from the various scenes of the kidnapping and abduction and by tracing the route of payments made by the victim.
Police later arrested Ms Phetlada and her boyfriend Mr Supaphon who had tried to lie low in the city.
Ex-girlfriend and Thai boyfriend appeared to have been the main movers behind the kidnap and extortion plot and told police they paid the gang
Both admitted their role in the plot allowing police to retrieve a reported ฿2.3 million of the funds extorted with the balance, according to the duo, having been paid out to those who took part in the scheme.
On Friday night, after the gang had entered Mr Wang's apartment, they sent out for a plastic crate and also rang downstairs using their victim's smartphone for staff in the building to supply a trolley.
They forced the 34-year-old man to lie bound in the plastic container with his hands tied behind his back and legs folded and the lid closed over.
They then placed it on the trolley and removed him to the vehicle he had previously bought for his Thai girlfriend, a blue Mercedes AMG and took him away from the building and out of Bangkok to Hua Hin in Prachuap Khiri Khan.
In a villa residence in the popular resort town, Mr Wang was threatened and beaten into agreeing to transfer up to ฿3.93 million in funds.
Gang released the man at a restaurant feigning a social gathering in a twist that made him lose his temper leading to his arrest by Hua Hin police
Two of these transfers were to the account of Mr Kob or Mr Natthaphat, first for the amount of ฿2 million followed by a second transfer of ฿900,000.
A third payment of ฿1.03 million was made to the account of 28-year-old Ms Sarita Donmuang who was also the subject of an arrest warrant on Monday after police identified her on CCTV footage of the kidnapping and abduction scene in Sathorn.
Mr Wang was subsequently brought to a restaurant in Hua Hin by the gang on Sunday, a rendezvous in which they attempted to make it look like he was socialising freely with them.
This caused the Chinese man to lose his temper and in an ensuing scene, he physically attacked his kidnappers, some of whom fled while police were called and arrested the kidnap victim for assault.
Bangkok police revealed that the man's ex-Thai girlfriend was a 2020 Suphan Buri pageant contestant
Police officers at Lumpini station are coordinating the investigation which is being overseen by Deputy Metropolitan Police Bureau Chief Police Major General Noppasin Poolsawat and senior investigators at the station.
On Monday, Metropolitan Police Bureau Chief, Police Lieutenant General Thiti Saengsawang briefed reporters on the extraordinary story and revealed the Thai girlfriend at the centre of the kidnap plot was a former contestant in a well-known beauty pageant in Suphan Buri in 2020.
The Chinese victim faces prosecution in China for fraud which could see him facing a jail sentence of anywhere from one to seven years and a possible 10-year term if the offence includes money laundering charges.
The incident is one on a growing list of sagas in which Chinese citizens have been targeted in the country for kidnapping, extortion and murder, often by other Chinese nationals but also by Thai citizens and even police, a trend that has already been the subject of a damaging viral social media campaign in China warning visitors off the country.
Further reading:
Chinese trio held and facing a heightened prospect of execution for a horrific murder in Thailand
Chinese student here only 20 days kidnapped, tortured and murdered by evil gang from China
Fear-mongering, fake news and disinformation being stoked in China against visiting Thailand
Chinese tourists arrested on kidnapping and extortion charges insist they are innocent
Police defend Pattaya search warrant raid which saw two officers shot with Chinese man arrested and charged
Chinese man linked to organised crime arrested at luxury Pattaya mansion after shooting policemen
Illegal lending app run by Chinese staff charging up to 20% interest per week taken out by immigration police
Four Chinese men arrested after hideous murder of a Chinese tourist and his wife last Monday night
Iconic 70s Bangkok comes to life again as the dark story of The Serpent wows world Netflix audiences
Chinese woman seeks death penalty for husband who tried to murder her in Thailand by pushing her off a cliff
Chinese man who killed his wife in Thailand may face further charges including premeditated murder
Chinese credit card scammer arrested in Lumpini by Thai police after complaints from banks
Chinese pickpockets staying in hostels as backpacker visitors targeting tourists in Bangkok