Corruption no longer acceptable in Thailand and the Thai police is setting an example with zero tolerance corrupt police officers.
A Thai police officer was removed from duty following a complaint by a crime victim that he had asked for payment to advance an investigation into the Magic Skin case. The move illustrates a determined drive by the Royal Thai police to root out corruption and rogue police officers which has been now underway for quite a while. In January, another Thai police officer was immediately dismissed following a failed attempt to extort a Canadian citizen. The new environment and atmosphere has implications for foreigners in their dealings with the police and indeed any officials in Thailand ranging from government authorities extending even to utilities, many of which are state enterprises, where tips and ex gratia payments have become part of the Thai farang culture.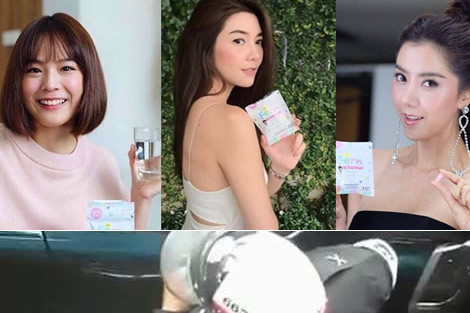 The curse of Magic Skin products continues and the scandal has identified another casualty. This time it is one of the police officers charged with investigating the case who has been dismissed on suspicion of demanding a bribe. His removal was in order to allow an enquiry into allegations against him.
The only good to come out of the debacle is it has shown a willingness on behalf of Thai authorities to investigate public complaints and root out corruption even within the ranks of the Royal Thai Police.
In Thailand, the controversy over Magic Skin fake health products has already been the subject of a  huge media fallout with the death of 4 women from the suspect and falsely advertised health products.
One Thai man lost his sister and mother. The company behind the products has collapsed and media stars and celebrities have found themselves under the eye of police investigators as the public demanded answers. They had participated in a hugely successful viral online campaign to promote Magic Skin and some had personally endorsed the fake products.  
Reports that a police investigator contacted on LINE by one party suggested a bribe be paid

The police investigator in charge of the case was removed pending a probe after credible allegations emerged that that he had suggested to a victim that it might be possible to expedite the investigation into the affair if a payment is made.
According to Police Major General Maitree Chimcherd, Head of the Crime Suppression Division, the police officer, whose name was not disclosed was contacted via the popular Line chat app by one of the Magic Skin victims and asked to speed up the investigation.
Police chief vows no cover-up as officer is suspended
The officer then allegedly told her that she might have to pay 15,000 baht in fees to have her request fulfilled. The woman agreed to the arrangement and sent him 5,000 baht in advance. General Maitree, the head of the division investigating the case, vowed that there would be absolutely no cover-up and that the police would strive to be fairer and more transparent.
He acknowledged that the sum in question was not a large one but insisted that the damaging nature of the claims required a strong response. The swift and decisive action by police authorities is obviously meant to underline this commitment to the public. It has become a theme across all police activities in Thailand in the last 12 months. It appears that the practice of casual bribery or 'tips' is being rooted out.
Scandal of fake health products will not go away
The Magic Skin scandal happened earlier this year as what first appeared to be trademarked weight loss products sold by Magic Skin Co., including brands like Magic Skin and Lyn, were discovered to be fake and contained substances capable of causing death and adverse health problems.
Though promoted as being able to give regular users a slim body in less than a week, the products were actually soybean and milk powder mixed with antidepressants and appetite suppressants banned in food.
It is reported that so far, four Thai women have died after using Magic Skin products and thousands have experienced harmful health effects. Some people were particularly hard hit by the scam, notably Wuttikorn Mhon-ing, who lost his sister and mother to the deadly health products.
Stars avoid prosecution as they were also victims
Another feature that sets the Magic Skin case apart from other scams is the company's substantial use of Thai media stars in its promotional campaigns.
It is estimated that up to 60 celebrity figures took part in endorsing the harmful products.
While cooperating with the investigation, the stars pleaded ignorance and many issued an apology to the public. Initially, the prospect of some of them being charged with false advertising and spreading false information was raised, which could have led to prison terms and hefty fines.
However, it is thought that nearly all of the celebrities were not aware that the products were illegal or dangerous before the scandal broke and may be likely to avoid prosecution. Indeed some of the TV, movie and internet stars have claimed also to be victims as they had tried and tested the products as part of the campaign.
Thai celebrities and stars gave police evidence as witnesses were invited to police headquarters

In late April the Thai police summoned 50 stars involved with promoting the products to give evidence. Many of the stars used the occasions to offer an apology. This was the case with actress Apinya 'Saipan' Sakuljaroensuk who met the Deputy National Police Chief Wirachai Songmetta while giving her evidence to investigating Thai police.
The actress, who was accompanied by her manager, apologised for failing to properly check the products that she had endorsed. She revealed that she had used the products herself and given some to her sister.
Deputy Police Chief Wirachai stressed that the evidence the actress was giving to police was as a witness not as a suspect. Other stars also reported to police that they were unaware of the illegal and fake background of the products.
New regime in Thailand regarding tips or payments to officials must be taken into account

Prior to the current Thai regime coming to power in 2014, it was suggested in many circles that petty corruption in Thailand was rampant. Some online news reports and online guidance for foreigners even suggested that paying a small amount of money ranging between 200 and 500 baht to Thai police 'as a token of respect' as a reliable way to secure preferential treatment.
In today's Thailand this approach has disappeared certainly in situations where such payments are in exchange for disregarding or turning a blind eye to Thai law at any level.
Culture of innocently rewarding good service or favours might also be reviewed by foreigners
Not only that, but there has also been a change in culture where such 'tips' are no longer acceptable in all areas of public service. It can even be inadvisable where such tips are simply meant as acknowledgements of good service.
Many foreigners in Thailand pay a tip to government employees during day to day interactions without the expectation of preferential treatment and often at the end of an encounter to demonstrate this.
Many foreigners are aware that many Thais working in a government position or ancillary services are often paid salaries that are low by western standards.
In today's Thailand even such payment must now be considered carefully and it is certainly inadvisable to offer such payments at the outset of transactions or interactions where they may be considered as influential to the outcome. But the Magic Skin case shows that Thai police are trying to clean up bribery and will not tolerate that practice any longer.
Canadian who had faith in police authorities escaped trap laid by a rogue Thai police officer
A Thai policeman was arrested and fired from the force in January after a Canadian English teacher promptly filed a formal complaint after an alarming encounter with him.
He reported that an acting Thai police officer tried to frame and extort him. The officer, Police Senior Sgt Major Cherchai from Lumpini police station, was arrested along with his alleged accomplice at a nearby apartment in Bangkok Sathorn district.
The duo were found with a quantity of crystal methamphetamine and a loaded gun.
The Canadian teacher had earlier fled the apartment when he smelled a rat. He told officers at Thung Mahmet Royal Thai police station that he had met the Thai policeman initially online through Facebook. The officer had lured him to the apartment to have sex.
He appears to have been unaware that the man online was, in fact, a police officer. When the teacher arrived at the room, the Thai policeman was already there with an accomplice. The pair tried to plant drugs on the Canadian and made an effort to detain him. The Canadian man managed however to make his escape and went directly to file a complaint with the police at Thung Mahmet police station. He reported the facts of the matter.
Police officer caught in scam immediately dismissed
Thai police including tourist police promptly raided the apartment on the 6th floor of an apartment building in Bangkok's Sathorn district and found 46-year-old Police Senor Sgt Major Cherchai and his accomplice Chakrit Teeluay.
The police found 0.5 grams and the drug crystal meth alongside a loaded pistol. The then Tourist Police Deputy Commander Surachet Hakpan, now the Head of Thailand's Immigration police, led the operation. Later Police Major General Mongkhol Warunno, Chief of Bangkok's Metropolitan Police Division 5 signed an order dismissing the errant police officer who was stationed at Lumpini police station and warned that he would face 'drastic action'.
Further reading:
Fake slimming product was simply milk poweder – Thai health product  scandal – Magic Skin
Thai Police ramp up investigation into Magic Skin fake health products