One Thai man loses mother and sister in huge personal loss as police investigate and legal battles loom
Thai authorities have seized assets and money from a beauty product manufacturer that is accused of causing deaths and adverse health problems. Celebrities, who it is reported have collaborated with the firm, have pleaded ignorance and condemned it.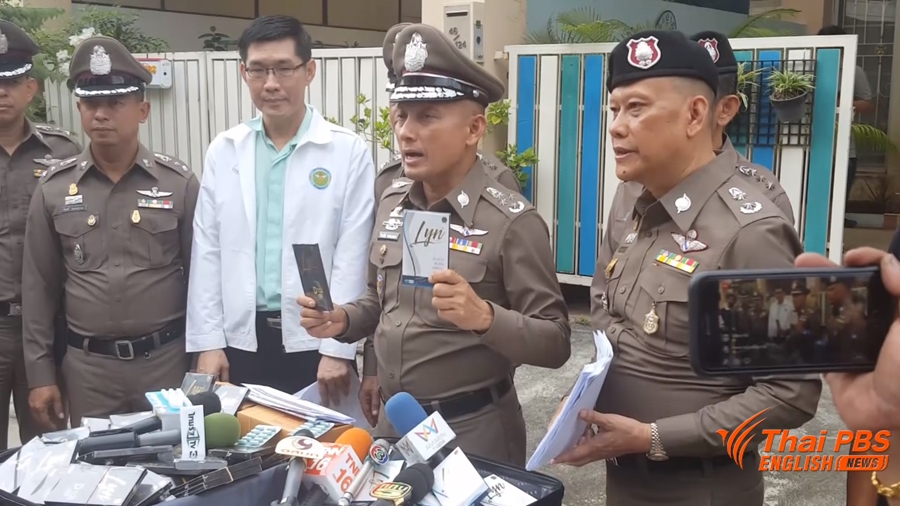 In May, Thai police and Food and Drug Administration (FDA) officials raided offices of Kalow Rich Inter Co Ltd, a company that produces weight loss products in Thailand aimed at Thai women. Those diet pills, mainly Magic Skin and Lyn brands, were promoted as being able to give regular users a slim body in just three to seven days. The pills are already attributed to the untimely deaths of four Thai women and linked with harmful health effects on thousands of Thai women in recent month.
Owner of illicit drug making company leaves expensive car and bank books detailing millions near Thai massage parlour
During the raids which were accompanied by the media, about 67,000 pill boxes and millions of baht were confiscated by the Royal Thai Police. The factories producing the illicitly and harmful drugs were later shut down. Thai media is reported, in follow up stories, that an expensive car, belonging to an executive in charge of the Magic Skin brand had been  mysteriously left at a massage parlor with keys, ownership documentation and bank account books registering millions of Thai baht. The owner is thought to have abandoned the car driven by fears of being charged with money laundering which carries heavy penalties in Thailand. The car is currently kept by the police for inspection.
Fake pills contained antidepressants and appetite suppressants
Tests carried out by Thailand's FDA found that the fake slimming products contained sibutramine hydrochloride, an appetite suppressant, fluoxetine, an antidepressant, and orlistat, a medicine used to treat obesity. All of these substances are banned in food supplements in Thailand. The most lethal products on offer were marketing under Magic Skin and Lyn brands. These are responsible for the tragic deaths. Other brands produced by the  company appear not to contain any harmful substances but health officials have confirmed and underlined the fact that the products can't bring about instant weight loss.
Company played on the innocent desires of Thai women to look beautiful
The unscrupulous diet pill company used its scam to play on Thai women's eternal determination to stay young and beautiful as well as their love for Thai showbiz stars. As part of their enquiries into the practice of the fake drug manufacturer, Thai police had earlier summoned scores of well-known celebrities in Thailand to police HQ. The Thai TV, Movie and media stars had appeared in flashy and well produced Magic Skin promotional videos. Though some observers think it unlikely, some legal experts had suggested the stars could be in trouble for taking part in fraudulent advertisements. Their role, in fact, may turn out to be a relatively minor infringement of the law. Those who played an active part in producing the deadly pill may ultimately be prosecuted for homicide and face up a 10 year prison sentence or even more.
Thai media stars manipulated by fake health products promoter
Some actresses involved in advertising the lethal products have voluntarily turned themselves into Thai police to give their testimony. All the stars involved in the promotion of the product claimed that they were neither unaware of life-threatening danger of substances nor products' ineffectiveness or the fafe nature of the certification put forward by the company's promoters. Some stars even admitted to being victims of the company as they had genuinely used the pills themselves. One TV star, Kriangkraimat 'Kendo' Photchanasunthon, even sued the company for using his recording falsely for advertising. As news of Lyn's fake FDA approval broke, he spoke through phone with one of the brand operators. Though he had questioned the validity and bona fides of the brand, the brand operator was said to have recorded and later edited the phone conversation to make Kendo sound like promoting the brand before publicizing the phone call.
One Thai man faces the unbearable loss of losing a mother and a sister
It is unclear whether the handling of the case will ease the sorrows and sufferings of victims' families. One man's plight highlight the real tragedy of what has happened and the evil of the fake marketing scheme. Two out of the four women killed by Kalow Rich's products are the mother and sister of Wuttikorn Mhon-ing, a 30 year old Thai man, making the man's pain all the more unbearable. They passed away due to heart failure caused by sibutramine hydrochloride in March and April. Now Wuttikorn Mhon-ing vows to have those responsible for the tragic deaths face justice. He has filed a complaint Thai Consumer Protection Police and he is also working with the family members of other victims to prepare for the legal battle ahead. According to some estimates, thousands of Magic Skin and Lyn customers may experience harmful health problems of varying degrees, the most serious of all are shock and losing consciousness