The US-China trade war appears to be here to stay and has huge ramifications for Thailand. There were signs this week that global companies and firms in the kingdom are beginning to adapt to the new order while China appears to be hardening its stance and preparing the Chinese public for a new struggle
The US-China trade war has devastated Thailand's export performance since last year reversing course from growth to an increasing decline. However, there are signs this week that there may an upside if Thailand can reposition itself as Thai firm's adopt to a new world economy. Sharp, the global electronics firm, is reported to be planning to increase employment in central Thailand to manufacture printers for America while the country's second-largest lender, Kasikorn Bank, is reappraising its exposure towards China where it already has a presence and facilitates trade finance.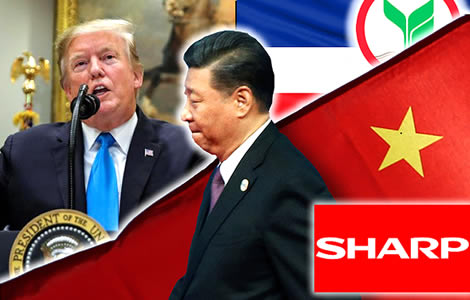 Despite the devastating effect that the US-China trade war has had so far on Thailand's exports and economic performance, there are some encouraging signs this week that Thailand's economy and business players may have the agility and skills to not only limit the damage caused by what looks like an increasingly more belligerent trade war but to maximise the upside.
Office machine manufacturers moving production out of China, one moving to Thailand
This comes amidst reports this week that two of the world's leading manufacturers of office machines and technology are planning to shift production out of China. One of the manufacturers, Sharp Electronics, looks like it is set to increase production in Thailand as a consequence of new US import tariffs to be imposed on equipment being shipped there. The other company is considering a move to Vietnam which is emerging as Thailand's key competitor in the region and which has the key advantage of a free trade deal with the European Union. The company considering Vietnam is Kyocera. Both are considering reduced output in China's Jiangsu province.
Sharp plans to increase employment to ramp up production in central Thailand
Sharp has production facilities in central Thailand and is planning to beef up production output there of office printers and equipment at the end of this year simply by increasing staff levels. The number of office machines involved could be 100,000 printers. Office printers make up 20% of Sharp's annual sales. At this stage, the company is not planning any capital expenditure which gives the impression that management at the company is watching to see which way the wind will blow. The company's annual, worldwide sales of office equipment amount to a whopping $2.9 billion.
Sharp already hawkish on US China trade war
Sharp already has a history of been hawkish in relation to the US-China trade war. It has already moved the production of telecommunications equipment from China back to Taiwan. The moves by the two office equipment companies come as the American government is poised to slap a tariff of 25% on such products coming from China as early as next month.
Thailand's Kasikorn Bank reviewing its exposure to China and trade finance lending
Kasikorn Bank, one of Thailand's leading and most innovative banks and Thailand's second-largest lender, has also announced that it is reviewing its exposure to the Chinese market. Kasikorn Bank President, Pipit Aneaknithi, was speaking to the Bangkok Post.
Bank has reportedly tightened lending criteria and is closely monitoring the situation
The bank is reported to have tightened lending criteria in relation to loans linked with trade in China and business activity linked with Thailand's giant-sized economic neighbour to the north. The trade war has already impacted the bank's trade finance business as the bank pulls in on its exposure to business activity linked to China and in particular, exports to that country from Thailand. The Kasikorn Bank President said that the bank is closely monitoring the situation. He confirmed, however, that the bank is still following through on its existing business plans for China where it has a presence.
China adopts a tougher line and appeals to grassroots support in trade war with the United States
This week has also seen the Chinese media suggest a tougher line with the US over the trade war. It came as the Chinese leader went on a three day tour of Jiangxi province visiting manufacturing facilities. He emphasised the need for the communist country to be self-reliant particularly in relation to technology and resources. The signing of an executive order by the US President Donald Trump this week, blocking Chinese telecom giant Huawei from the powerful US market has raised tensions further. The move has had an immediate, cascading effect on Huawei's business worldwide as most technology companies are rooted in the United States.
Calls from US companies and OECD unlikely to change the US President from his course
A signed letter from leading US companies, also this week, called on the US president to halt the trade war and the OECD (Organisation for Economic Cooperation and Development) warned that the war will negatively affect the US and world economies. However, the US administration appears determined on what appears to it for now to be a winning policy with record employment levels in the United States.
So far, the trade spat appears to have damaged China more than the United States as a Chinese envoy dubs Trump the 'Don Quixote' of our times
It does appear, that at this early stage, that the trade spat has more negatively impacted China where there are already concerns about a cooling property market and a large rise in household debt, well ahead of income growth. At this early stage, it appears that the result of the US President's bold actions seem to defy assumptions made by previous US administrations and economic experts. This week, a Chinese ambassador in Geneva likened the US president to the 17th-century fictional hero Don Quixote for his tendency to see other countries as threats to the United States. He was, it must be noted, speaking in the context of world arms treaties. Trump is, of course also famous for his opposition to the windmills as a modern energy source. In the 17th century novel by Cervantes, the first in history, Don Quixote is often portrayed attacking windmills which he saw as ferocious enemies.
Chinese media outlet suggests China use the country's virtual monopoly on rare earths as leverage
One Chinese media outlet has this week suggested that China use its near-monopoly in rare earth materials as leverage while financial analysts in Wall Street are now beginning to take seriously the expectation that this is an all our trade war and may be the start of a divergence between both economies. For Thailand, a strong trading and economic partner with both countries, it surely spells a need to recalibrate and become more agile.
Economic threats the biggest challenge now for Prayut as he seeks to form new Thai government
Thailand faces a new world economy driven by Trump's economic agenda, not a global one in a new world order