The outcome of the trade talks between China and US may yet change course but if things stay as they are or get worse, as could well happen, Thailand will have to drastically look at where the economy is going in June or July. The current export situation looks like it is deteriorating and this could mean no possibility of second half upswing for the year. Many other pressing indicators are also turning negative. The only consolation may be that the rest of the world outside the United States, may find itself in the same boat. It is becoming also more striking that this is a struggle between China and the United States for world economic dominance.
The announcement in Washington on Friday that $30 billion in trade tariffs has been applied to Chinese exports represents an escalation of the US China trade war and a nightmare for Thailand. The kingdom was hoping to see a turnaround in exports later this year. Already talk is turning to a far lower growth in exports and even a decline in trade for 2019. Even more than this, the US China trade war spells out a real prospect that the world of economic global consensus has ended. It may be time to accept that US President Donald Trump's vision is not some rash tactic of gamesmanship but a new long term approach to economic management in the United States which despite the commentary of the experts, is still the key power in the world economy. The impact of the trade war on Thailand clearly demonstrates this.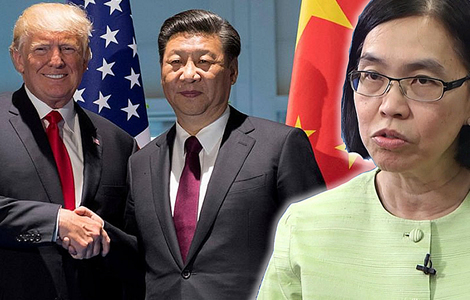 Hopes for a turnaround in the latter half of 2019 for Thailand's declining exports have taken a huge hit this week as the United States escalated its trade war with China even as negotiations limped along after being critically injured by the actions of both sides to the dispute. Things took a turn for the worse last week when an irate Donald Trump threatened to hike tariffs due to what the US side claims was a reneging on terms already agreed with the US negotiating team. There is considered to be some substance to this claim. It is reported that Chinese President Xi Jinping vetoed some aspects of a deal already agreed upon between US and Chinese negotiators. The visit by a Chinese delegation led by Chinese Vice Premier Liu He to Washington, which earlier in the week held out hope for financial markets, did not however stop the tariffs being applied on Friday.
Friday saw an extra $30 billion levied on Chinese exports to the US making the less competitive
The move placed what has been estimated as up to $30 billion worth of taxes or duties on Chinese imports to the United States from Friday as the rate jumped from 10% to 25% on $200 billion of Chinese exports. The Chinese side has said that it will swiftly retaliate. The escalation comes as Trump's America seems to be defying the odds with record unemployment and growth rates higher than those forecast by economists. This week, the US treasury announced a ฿600 billion budget surplus for April this year although many Americans point out that this is normal as it is the time of the year for Americans to pay their taxes.
Experts have long predicted that tariffs would backfire on the US President but so far the impact has been on China and the world economy
Many economic experts had predicted the opposite and still predict that the extraordinary moves by US President Donald Trump will hit home at Americans with higher prices and also blocks on exports from American farmers in Trump's heartland to China. However, this week, Donald Trump floated the idea of using the surge in tax receipts from import duties to buy up excess soybean products that cannot be exported to China and send them as overseas aid. Again, this week, the US President has hinted that he is not at all in agreement with the consensus established over decades that tariffs are bad for the American economy. What is clear is that they are not good for the broader world economy and in particular China.
Potential nightmare for the Thai economy
For Thailand, this week's developments come not just as a shock but something akin to a nightmare. Last year, some predicted that the US tariffs would not negatively impact Thailand so hard or at all because of the range of economic products they were applied to. This turned out to be not the case. Certainly, there has been evidence of a growth in some exports from Thailand to the United States but the effect on Thailand's exports to China and to other Asian markets has been far more damaging than predicted. This new escalation of the trade war makes that impact even stronger. This a trade war directed at China by the United States. It has exposed the world economy and the Thai economy to threat because of growing economic links with the emerging superpower.
Something with serious implications has been unleashed in the world that must be faced
In some respects, Thailand's economic leaders are behind the curve on this front. There has been a view that the impact which has seen Thailand's exports reverse course and go into actual decline from the middle part of last year would correct itself. The existing tariffs were thought to be transient or temporary. Growth was predicted to pick up in the latter half of this year. It may be time to reappraise the current situation in the light of the economic policies being pursued by the US President. This may be a more serious shift than first thought. It may no longer be considered a rash bargaining chip or threat from an inexperienced world leader but a fundamental change in the world economy which is still very much dominated by the United States. It may be that many are blinded by prejudice and the dismissive world media coverage of the US President to see that something with massive implications has been unleashed.
Thailand's stubborning high baht is aggravating the problem particularly in Asia
Aggravating it all, perhaps for Thailand, is another key factor. This is the stubbornly high value of the Thai baht particularly compared to Thailand's Asian competitors not as much towards the US dollar, ironically, which has created a perfect storm that is devastating the prospects for Thailand's exports and any hope of growth. The current economic growth rate for 2019 in Thailand has been lowered to 3.7% or even marginally above 3% depending on the experts for this year. This may soon need to be appraised again towards the end of June or July.
Thai exports are actually falling
Exports in the earlier months of 2019 have been down 4% even though they were projected to be up by as much as 8% for the year. This now looks highly improbable. Thanavath Phonvichai is vice president of research at the University of the Thai Chamber of Commerce. He has said that is week's turn of events will make the already damaged and weakened conditions of the world economy more bearish for investors. He has also noted that this could have knock on effects not only for Thailand's exports but also tourism.
Mixed signals from tourism industry in 2019
Tourism has been the bright light of the Thai economy for the last few decades and has shown itself capable of weathering economic storms when other areas have taken a hit. There have been mixed signals for far this year with Chinese tourist numbers down and some optimistic signs from older, more traditional markets.
Figures for March this year showed a drop in visitors by 0.7% from 2018 and corresponding drop in income by 1.3% to ฿184.5 billion. Figures show Chinese visitors were down 1.87% in March and in February this drop was a shocking 12.3%. Any slump in tourism, which accounts for up to 20% of the Thai economy and which greatly benefits Thailand's small business sector and secondary hinterlands, would spell very bad news indeed.
Escalation of trade war will have severe economic consequences for China and Thailand
The escalating trade war and this week's events, if left unchecked, will surely impact China's economic performance for the year and this has both direct and indirect effects on Thailand. For a start, Chinese exporters will target Asean and compete more aggressively with Thai exporters crippled by the high value of the Thai baht. This is what has been happening. There has also been a capital outflow from China into Thailand's property market particularly the condo segment in Bangkok which is being driven by fears for the state of the Chinese economy among the well off professional class in China. This complicates the Thai property market and helps to keep the value of the Thai baht high. It must also be borne in mind that many financial experts also question the basis and calculation of Chinese economic data and reports. They have done so for quite some time although mostly off the record. The flight of capital out of China should be noted as perhaps a more perceptive reading of the Chinese economy.
Talk has begun to move towards a decline in Thai exports for 2019 as impact worsens
There is now talk of Thai exports still growing by 3%, down from the bullish estimates at the start of the year of up to 8%. Supant Mongkolsuthree, the Chairman of  Federation of Thai Industries, this week suggested a figure below 3%. This is predicated on a strong recovery in the latter half of this year. Already, based on declines for the first quarter there is talk of decline in exports for 2019. The awful truth of the situation is that Thailand is not in a position to fully control events.
Vietnam has become a Thai competitor in Europe
There are factors also contributing to a negative scenario such as the increasingly more competitive position of Vietnam to compete in EU export markets following that country's historic trade pact with Europe. This is a key objective for Thailand but the European Union has shown itself to be apt to combine political considerations and terms in dealing with trade even though Vietnam is a country controlled by the Communist Party. Notwithstanding this, the European Union is also experiencing economic challenges with declining growth rates and emerging political and financial tensions within the bloc.
Thailand's Commerce Ministry working hard to open up new routes for Thai exports
Since the US China trade war began last year, Thailand's commerce ministry has been working hard to open up new avenues for Thai exports and trade. In the face of this week's new escalation, the acting Commerce Minister, Chutima Bunyapraphasara, again held out hope that the target areas for the tariffs would minimize the impact on Thailand's trade with Thailand and China. She also suggested that Thailand would be presented with opportunities for increased exports to the United States. 'This may offer Thailand a chance to export more to the US market to substitute Chinese goods,' she said. This is an accurate but yet optimistic assessment.
The acting commerce minister accepted that Thailand's exports would be further damaged from more disruption to what has been a long established supply chain running between Thailand and China. This is one of the key reasons why this trade war has impacted Thailand so hard.
Ministry estimates that last year, the US China trade war cost Thailand ฿25 billion in exports
Even before this week's news, the commerce ministry itself had suggested that the US China trade war alone had cost Thailand $780 million in lost exports up to the end of March this year. This is nearly ฿25 billion, a devastating outcome and impact on Thailand.
The loss in exports to China across a range of goods from components and electrical appliances as well as machinery was $1.1 billion or ฿35 billion. This was offset by increased shipments and exports in a similar range of products to the United States which amounted to $632 million or ฿20.2 billion. The further loss was caused by a disruption in more competitive export markets and in the world downturn caused by a more bearish outlook.
Thai Commerce Ministry calls trade promotion officers together for end of month meeting
This week, as the bad news was announced in Washington, the commerce ministry announced that its trade offices and Trade Promotion Department officials would be holding a meeting at the end of May to plan and begin a response to maximise prospects for Thai experts in 2019. Even before this week's tariffs came into place, the acting commerce minister was on the move. 'Thailand will make every effort to diversify during the global economic slowdown,' Chutima Bunyapraphasara said. She has predicted that the huge increase in tariffs will cause a ripple in world markets and negatively affect world and business consumer sentiment. This is the greatest threat to Thailand's economy as we have already seen since the first tariffs were applied in 2018.
American Treasury places Thailand on a list of possible currency manipulators
Meanwhile, this week a Bloomberg report suggested that Thailand was among a groups of world nations being examined by the US Treasury for possible currency manipulation. It is perhaps the least of Thailand's concerns. This list of countries comprises of those with significant trade surpluses with the United States. As well as Thailand, it included Switzerland, Ireland, Vietnam, Indonesia, Russia and Malaysia. Thailand's inclusion on the list came after the threshold for inclusion was lowered from economies with a trade surplus of 3% of GDP to 2% of GDP of the countries exporting to the United States
Even bigger threat to impose $81 billion in extra tariff duties on Chinese exports to America within four or five weeks must be recognised
The imposition of the new trade tariffs on China this week has, in fact, been accompanied by an even bigger threat. Trump has threatened that if the current trade talks do not provide for deal, a further $325 billion in Chinese exports would immediately face a 25% tariff. Even as the American President proclaimed about his 'candid and constructive' relationship with President Xi Jinping of China, it is difficult not to avoid coming to the conclusion that the current course of events suits the US leader whatever his thinking might be.
Chinese adopt a more resistant tone
China, in return, has this week struck a new, more resistant tone. In a statement, it said that it would try to seek out a 'rational' agreement for the sake of the world. But added: 'China is not afraid, nor are the Chinese people.' The statement concluded by saying that what is required is an agreement reached in a spirit of cooperation and which includes 'equality and dignity.'
Trump heralds a new more challenging age for Thai economic development and planning
This is the new state affairs that Thailand, the Thai economy and the Thai people must wake up to as long as Donald Trump is in the White House. The US president is moving into election mode and he seems to be betting that his moves to date have won him favor with his base and among the extended electorate backed by a thriving US economy. It would be hard to bet that he is going change course.
Thailand's economy impacted by the whims of the US President as much as its political future in 2019