The Thai court found that it could not mitigate the sentence imposed on the Ronnakorn Romruen who worked cleaning the local beaches. It said that the young Thai man 'deserves to die' for his actions that Sunday afternoon which left the island terrorised and bereft of tourists for days afterwards. It was an act of evil that now leaves the Thai man facing death row with one month to appeal to Thailand's Appeals Court.
A Chonburi provincial court this Thursday handed down a death sentence to 24-year-old Thai man Ronnakorn Romruen who brutally and violently murdered 26-year-old Miriam Beelte from Hildesheim in Germany on Sunday afternoon April 7th last on the paradise island of Ko Si Chang. The Thai man had earlier sexually attacked and raped the woman who fled for her life only to fall and be overtaken by the man crazed on methamphetamine. He gave her a bloody and violent death in a crude attempt to cover up his earlier crime.
A Thai man arrested hours after the brutal murder and rape of a 26-year-old German tourist on the beautiful island of Ko Si Chang has been sentenced to death by a Thai court just over three months after the shocking crime.
Swift justice for Thai man who brought evil to the island Ko Si Chang last April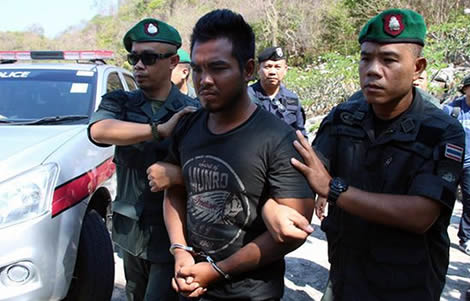 The swift and hard justice was handed down by a provincial court in Chonburi province which found that the appallingly callous and heinous nature of the murder made it a criminal act for which no mercy could be shown. The killer, a beach cleaner on Ko Si Chang, had immediately after his arrest admitted to his crime and given Thai police a full account of his actions on the Sunday afternoon of April 7th on Ko Si Chang when a bright bubbly young German woman, Miriam Beelte from Hildesheim in Germany, was murdered by him after she had attempted to escape following a brutal sex attack in which she was raped by the 24-year-old Thai man.
24-year-old Thai man faced a range of charges
The murderer faced a range of charges before the court. They included the rape of the woman on a scenic spot on the island after he had followed her, concealing the young woman's body, driving a motorbike while under the influence of drugs and a charge of murder in which the man cold-bloodedly killed the woman to conceal his earlier crime of rape. The 26-year-old woman had only been on the island for a matter of hours having arrived by ferry in the early afternoon.
Ronnakorn Romruen admitted his guilt since his arrest hours after the savage rape and murder
In Thailand, which has a very different legal system to western countries, courts place great value on the cooperation of an arrested person who admits to the crime and accepts responsibility for the wrongdoing. In this case, the court did give some credit to the full admission of the crime by 24-year-old Ronnakorn Romruen from the moment of his arrest in respect of the lesser charges against him.
No mitigation for the willful murder of the German woman who had just arrived on Ko Si Chang
The court reduced a sentence of 14 years imposed on the Thai man for rape to 7 years, a sentence for driving a vehicle while on drugs was reduced from eight months to four and a 12-month sentence for concealing the women's body was reduced to 6. However, the Thai court pronounced that there could be no mitigation for the willful murder of the woman by the Thai man who, that Sunday, had caught up with the young woman after she fell trying to escape him and bludgeoned her to death with a rock giving her a bloody and violent death.
'Defendant deserves to die'
The statement by the Chonburi provincial court said on Thursday when it handed down its verdict and sentence: 'The overall crime is so severe that of the defendant deserves to die and the punishment of the death penalty will stay in place for the charge of murdering to conceal a crime for which there is no mitigation.'
Good police work identified the Thai man shortly after the body as discovered, an eye witness saw him as he fled the area in blood-stained clothes
Police on Ko Si Chang that Sunday quickly identified their man from CCTV footage and an eye witness who had spotted 24-year-old Ronnakorn Romruen leaving the scene with blood on his clothing. He had earlier purchased flowers at a stall and followed the German woman up to a popular tourist vantage point on the island. The Thai man was trying to coax the 24-year-old German woman to have sex with him. He was high on methamphetamine and was a chronic user of the drug which has flooded Thailand this year and last in cheap pill form. Finally, he attacked woman wrestling her to the ground and raped her.
German woman escaped the Thai man and ran for her life. He caught her after a fall, he killed her
The young woman broke free from the crazed Thai man and ran down a steep incline with steps. It is reported that she fell at some point. Some reports suggested that the young German woman had suffered from a broken leg. The Thai man caught up with her and killed her with a rock with repeated blows to the head. A reenactment of the crime showed the murderer demonstrating to Thai police just how he brought her life to an end. He then moved the woman's body to another location where he covered it with stones and foliage in an attempt to conceal it. It failed.
Police found him drinking beer and watching TV
A Thai person out on the popular walk later discovered the body of Miriam Beelte and the alarm was raised. Swift police action led to his wooden home in a poor area of the island. Police found him drinking beer, smoking cigarettes and watching TV.
Mother visited her son in prison and described him as a quiet man and normal
On that Sunday night, his mother visited her son in prison. She brought him some clothing. 43-year-old Nongluck Phosang explained to reporters that she did not live with her son. 'My son and I didn't live together, so I didn't know much about what he usually did in the day. I only knew that he worked on a boat and collected rubbish from the beaches,' she told reporters. She described him as a quiet man, normal and 'just like most of the guys' on the island.
Killer's mother called for 'full lawful punishment'
At the time, she apologised to the family of the German woman on behalf of 24-year-old Ronnakorn. She promised to accept the decision of the court in due course and anticipated this Thursday's verdict and sentence when she said that her son deserved the 'full lawful punishment' for his actions which terrorised the island of Ko Si Chang that Sunday and for days afterwards which saw tourists disappear and women afraid to go out alone.
One month to appeal the death sentence and a transfer to death row at Bang Kwang Central Prison
24-year-old Ronnakorn Romruen now has one month to submit an appeal to Thailand's Appeals Court and will be transferred to Thailand's death row at Bang Kwang Central Prison. It was here on June 18th last year that Theerasak Longji, a 26-year old gang member who had murdered a 17 year old for a smartphone was put to death by lethal injection. The execution came out of the blue without any prior notification. It caused consternation among many human rights groups who had taken it for granted that Thailand had de facto given up the death penalty as the last execution was nine years earlier in 2009.
Strong support for the death penalty in Thailand
There has been an upswell in support for the death penalty in Thailand in the last few years driven by media reports of horrifying murders which have disquieted many Thai people. Opinion polls show over 90% support its retention and use. This act was seen by the local Thai community on Ko Si Chang in the days afterwards as an act of unprecedented evil.
Further reading:
Evil struck a Thai island on Sunday when a local brutally raped and murdered a German woman
Shocking rape and murder of German woman does not mean Thailand is unsafe for western women holidaying
93% of Thai people want to see the death penalty put to use to curb shocking murders and drug gangs
Death sentnec for murder last April on Ko Si Chang

Chonburi provincial court hands down a death sentence to 24-year-old Ronnakorn Romruen for the brutal murder of 26-year-old German woman Miriam Beelte at a scenic spot on Ko Si Chang hours after the tourist arrived on the island. This is CCTV footage showing both the victim and the murderer as they headed towards their rendezvous with death and evil that day in paradise.James Morris reports from Ko Si Chang and Chonburi province with a full report on the death sentence delivered on Thursday.

Posted by ThaiExaminer.com on Friday, July 12, 2019