Monk gives an insight into how he helps prisoners on Thailand's death row cope with the mental anguish of not only being in one of the world's most feared prisons, but also facing death. It is a prospect made all the more real when Thailand carried out its first execution in nine years at Bang Kwang this June.
This year Thailand shocked the international human rights community when it reactivated the death penalty, putting a murderer to death in June. Support for not only the retention but the active use of the measure among the Thai public, is at a record high of 93%. This is due, in no small part, to ongoing media coverage of a litany callous murders and the ongoing threat to Thailand from drug gangs. A Thai monk, who has now seen over 100 people face the ultimate penalty this year told of how he tries to help those coming to terms with their fate on Thailand's death row, now home to over 500 people, including 100 women. He says he believes that the people are not evil and would be happy to see the penalty abolished.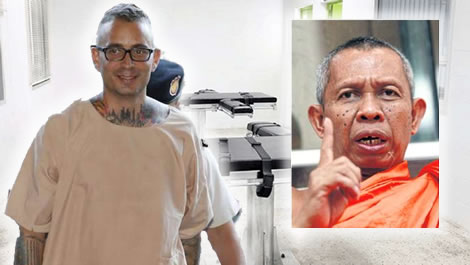 A respected Thai monk has opened up about his calling, tending to the spiritual needs of condemned prisoners on Thailand's death row. His mission is the ease their fears and suffering by teaching them the value of meditation while enduring the mental strain that comes with being in that nightmare situation.
The fear and the mental agony of being condemned to death can drive even those with the highest level of mental fortitude to insanity.
Phra Kru Srinonthawat is the respected abbot of a Thai Buddhist monastery, Wat Bang Phreak Tai. He has been bringing spiritual comfort and enlightenment to prisoners on death row since 1991 including those who have faced the ultimate ordeal.
His message is an inspiring one from one of the darkest human situations imaginable.
Thai man had stabbed his victim 17 times
Thailand resumed the death penalty again this year after nearly a decade of inactivity. It was assumed by many human rights groups, who are active in Thailand, that the government was implementing an effective moratorium on the practice. After 10 years, a country is deemed to have left the practice behind if no executions have been carried out.
However, there was shock and revulsion among human rights leaders in Thailand when on June 18th last, a 26 years old Thai man, Theerasak Longji, was executed at short notice at Bangkok's infamous Bang Kwang prison where most prisoners on Thailand's death row reside.
The man had been convicted six years ago of murdering a 17-year-old in order to steal his mobile phone. The convicted man had stabbed his victim 17 times.
Respected monk has seen scores of people including foreigners go to their deaths by execution
Phra Kru Srinonthawat, as a highly respected Thai monk, was invited to his mission by the Department of Corrections in Thailand way back in 1991. During that time he has seen scores of prisoners executed by firing squad and four by lethal injection since 2003.
These include two foreigners publicly executed by firing squad in 2001 for drug smuggling. There are currently well over 500 people on Thailand's death row including over 100 women.
Among them are foreigners including Westerners convicted of drug smuggling and murder.
Notorious Spaniard on death row had death sentence upheld this year for a gruesome killing
One notorious individual is Artur Segarra Princep, a Spaniard who kidnapped a friend and business colleague in Bangkok in 2016. The evil and sadistic killer, who appears in court smiling and waving, was judged by a Thai court to have tortured and murdered his victim using a meat grinder.
He forced his unfortunate victim to give him bank account access details by inflicting torture and gruesome injuries. He later withdrew large amounts of cash from the murdered man's account. After escaping to Cambodia, he was later extradited back to Thailand.
A Thai Court of Appeal, in July, upheld the death sentence handed down in 2017 relating to the case. It is cases like this and ongoing violent murders in Thailand that have prompted huge public support for not only the retention but the active use of the death sentence.
The Thai public is simply appalled by the regular reports of outrages. A shocking poll this year, conducted by the highly respected Bangkok Post through the well-known NIDA polling organisation, showed that nearly 93% of Thai people want to see the death penalty in Thailand being enforced.
Human rights groups aghast at Thailand's use of the death penalty this year out of the blue
Human rights groups are aghast. They had been encouraged by a human rights policy statement by the Thai government in its human rights plan for the period 2014 and 2018. It had set a goal of examining the possible abolition of the death penalty.
The plan had called for research into the proposition. The reaction from a range if human rights bodies to the execution in June was both disappointment, shock and outrage.
None perhaps more than Katherine Gerson of Amnesty International in Thailand. She described the execution in June as a step backwards for Thailand. She suggested that Thailand was reneging on its own agenda and going in the opposite direction to the global community. She described the execution of the 26-year-old as a 'deplorable violation of the right to life.'
Thai government and PM defiant on the issue and say they focus for the rights of victims and law-abiding people over the human rights of 'wrongdoers'
However, the Thai government has stood firm on the issue. In a strongly worded statement following the execution of Theerasak Longji, Thailand's Corrections Department reminded people of the crime the Thai man had committed. It emphasised that it was Thai government policy to focus on the protection of society rather than the 'rights and freedom of wrongdoers.'
It said that the execution would serve as a stark reminder of the consequences facing those who may be considering such actions. The department pointed out that even though there are countries that have abolished capital punishment, others have not.
This includes the United States and China. It said it was concerned primarily for potential victims of crime and not the 'human rights of those who violated the law.' A similar statement was issued by Thailand's Prime Minister on the subject.
Prayut Chan-ocha said that Thailand required the death penalty to preserve peace and order in the country and to act as a warning to those who contemplated serious criminal outrages.
Latest to be condemned include an Australian from Perth and his Thai wife over drugs plot
Thailand is one of over 50 countries that still retain the death penalty for serious crimes now covering over 60 particular offences.
The government in 2017 did however introduce legislation to give Thai judges more discretion over sentencing and the ability to take into consideration mitigating factors for crimes which currently have a mandatory death sentence. This includes drug smuggling.
This year alone, along with others, a Malaysian drugs kingpin and his Thai female associate received the death penalty while in recent weeks, an Australian national from Perth, Luke Cook and his Thai wife, Kanyarat Wechapitak were condemned.
They were found guilty of masterminding a massive $300 million drug smuggling operation that went awry in 2015. The couple were only arrested as they left Suvarnabhumi Airport last year for Australia on a holiday.
Monk teaches those on death row to meditate and find inner peace by bypassing thoughts
The Thai monk who tends to prisoners on death row teaches those he tends to find inner peace and calmness through meditation.
He is convinced that the people facing the ultimate sanction in Thailand's prisons are not evil people. 'I never look at them as evil,' he said when interviewed this year. He believes that those convicted under the law have simply made poor choices and decisions. He also believes that drugs and alcohol are factors.
Death chamber in Bang Kwang is a sterile chamber with bed fixtures in the shape of a cross
His presence among his flock is not always welcome, however.
He explained this year that he normally visits the prisoners in the morning, primarily at Bangkok's Bang Kwang Prison. This is where most death row prisoners in Thailand are housed. It is also the site of the execution chamber. However, if he arrives at the prison at 4 pm or thereabouts, it means that an execution is about to take place.
Today in Thailand, this is by lethal injection on a bed that looks like a cross. The death chamber, a clinical room, has a number of these fixtures and it is here that the executions take place.
Some prisoners go their deaths overwrought
Phra Kru Srinonthawat has seen over 100 people go to their deaths through state execution in Thailand, mostly by firing squad but since 2003, 4 by this new method of lethal injection.
He explains that while some prisoners are prepared and at peace, others are not. They are dragged to their death in an overwrought state to meet a harrowing end. This is what he cautions against.
Today most of those sentenced to death in Thailand find their way there as murderers or drug smugglers of class 1 narcotics.
Some prisoners plead with him to intervene saying that they have been wrongly convicted
A condemned man, with hours to live, is allowed 20 minutes with the monk before facing the execution chamber. The monk's goal is to get the prisoner to let go of any anger or rage and to control his or her mind.
The monk explains that this ability, to find the inner self, behind the mind's thinking is the key to being inwardly calm and at peace.
He fears that the inability to find this peace will lead the condemned person to die in a state of fear, confusion and anger. He also comforts the prisoners with the thought that they know when they are going to die unlike many others and can prepare for it.
Poignantly, he reveals that some condemned prisoners explain to him that they have been wrongly convicted. They plead with him to help but he is powerless in the matter. He told the Bangkok Post that he can recall the faces and moments prior to death of all the individuals he has comforted.
These are human beings who simply took the wrong road.
Royal pardon is a lifeline for many condemned men and women including foreigners
Under Thai law, anyone sentenced to death can apply for a royal pardon from the King to have the sentence commuted to life imprisonment.
This often happens if the case merits mercy. This can be later reduced to even a shorter prison sentence or eventual release. Many foreigners who have been sentenced to death in Thailand including British, Americans and Australians, both men and women, have secured this lifeline.
In fact, this process has got many of Srinonthawat's flock, including foreign Westerners out of jail.
Many former Thai prisoners come to his temple to pay their respect to the man who tried to help them during their darkest hours. Foreign prisoners do not.
They are barred from entry to Thailand and all are repatriated to their home countries either through prisoner relocation programmes or deportation when the sentence is complete. Their release only occurs after at least decades of hard jail time have been served. After this, foreigners are barred from re-entry to Thailand.
Amazingly, some have tried to return to the country to pay their respects and visit old friends from prison but have been rejected.
Inspiring monk would like to see the death penalty abolished in Thailand and promotes forgiveness
Despite a revival and surge in support for the retention and indeed use of the death penalty among the Thai public and a conservative government that underlines law and order, the Thai monk says he would be happy to see it abolished. He believes that everyone deserves a second chance in life.
'I can say that, in Buddhism, nothing is as dear to someone as his or her own life, so there is no greater crime than taking life away. And no virtue brings greater merit than the act of saving people,' he said when interviewed by the Bangkok Post this year.
He went on to explain that he believed in the possible redemption of all human beings. He explains that Buddhism is a religious philosophy that believes strongly in forgiveness. He highlights this as a path to inner peace and cautions against rage and anger. He says he would be happy to see the death penalty abolished. The loss of his current role would be no loss to him.
'Trying to comfort people who are going to be killed is no one's dream job,' he concludes.
Capital punishment is back in Thailand targeting murderers and drug smugglers
Death penalty and execution in Thailand

Thailand carried out its first execution this year in June much to the dismay of human rights groups. There is huge support for the death penalty with the Thai public at 93%. They see it as a way to curb murder and drug smuggling. Thailand has a long and macabre history of punishing those who get on the wrong side of Thai law.

Posted by ThaiExaminer.com on Thursday, December 20, 2018