Stories like this are damaging Thailand and have almost become a stereotype. Yet some foreigners fail to heed the repeated warnings of the dangers of Thailand's roads and the use of motorbikes. Visitors also need to make sure that they have not only medical insurance but confirmation that it is adequate to all situations that might arise in Thailand. This UK couple were responsible. They had taken out proper medical cover but it still did not cover the full hospital bill. Thailand is currently looking at a proposal to introduce universal insurance cover to all visitors to the kingdom as part of a tourist tax or levy.
UK couple Rory Sadlier and Aby Harrison arrived home last night to the UK from Thailand following a motorbike crash on the island of Ko Tao last Wednesday which ruined their honeymoon and a holiday that the two had spent five years saving and planning for. At the end of last week, the couple were presented with a medical bill of £12,000 following surgery and procedures following the accident which involved an emergency rescue on Ko Tao and medical evacuation to Ko Samui. Luckily, the couple had medical insurance but not enough to cover the full bill and expense. An intervention by a friend and the impressive response from the online Battlefield gaming community helped to raise the money to cover the balance.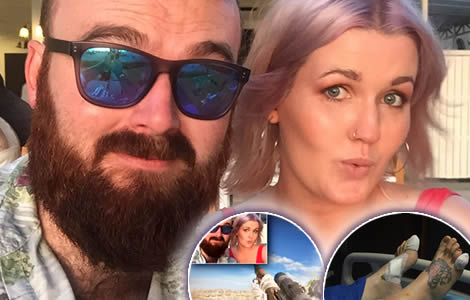 A young newly married couple from Speldhurst in Southeast England has arrived back to the United Kingdom after their dream holiday to Thailand turned into a nightmare following a motorcycle accident on the island of Ko Tao last Wednesday. Rory Sadlier and Abi Harrison were left 'beaten and bashed up' at a hospital on Ko Samui and facing a bill for over £12,000. At one point, they were told by the hospital authorities that their passports would only be released once it was confirmed the bill for medical treatment would be paid.
UK couple had planned their dream holiday in Thailand for five years of 'scrimping and scraping'
The couple had planned the holiday for five years and as Rory explained, they had 'scrimped and scraped' to raise the funds so that they could travel to Thailand and later on to Australia. Rory and Abi arrived in Thailand on Sunday, July 7th and at first, found their holiday experience as good as the hype with 'amazing sunsets and delicious food' on the island of Ko Tao.
Last Wednesday all their plans were thrown up
However, last Wednesday the 10th July saw things take a turn for the worse. The couple booked a snorkelling expedition on the other side of the island. To get there, they were going to use a scooter. Rory Sadlier explained that they even asked if the roads were safe and the motorbike hire firm was to be trusted. They were told it was a reliable company. The UK couple even wore motorbike helmets as they set off on their romantic road journey excursion together. Then disaster struck.
Rory's newly married wife had to be medically evacuated from the scene in Ko Tao
The pair was travelling down a steep hill on their motor scooter when the brakes on the bike failed. They ended up crashing into a barrier and being thrown off. Both ended up in a deep gorge. Rory described how he was able to pick himself up and walk back up the incline. Not so with Abi. She had a bad laceration to her leg and could not walk. This meant that Rory had to summon help and Abi had to be medically evacuated from the scene. It was a rocky hillside and she had to be physically hoisted from the scene to reach an ambulance. The pair were then transferred to a hospital in Ko Samui.
Invasive surgery as doctors feared that the UK woman's leg could have been infected
Abi's leg wound was serious and doctors at the medical facility told the couple that there was a danger that the leg could be infected. The cut went deep, right to the bone and this meant that dead tissue had to be removed. This required invasive surgery. The wound was in the knee area. The couple had taken the precaution to book travel insurance before they left for Thailand. But then they had to check if they were covered for riding on a motorbike within the island and the accident as a result of this activity.
 £12,000 in medical fees to be paid before they could leave Thailand and return to the UK
The upshot was that the insurance stood up but did not cover the full cost of the treatment at the hospital. This was over £12,000. It is reported that they were informed by hospital staff that they would not be able to hand them back their passports until there was payment of the medical bill or some confirmation that the hospital's expenses would be paid.
Couple raid £7,000 in 5 days through crowdfunding and online game friends
Rory and Abi, however, were lucky to have friends and opened a crowdfunding page online like a growing number of western visitors to Thailand. In this case, they were able to raise nearly £7,000 in 5 days from 176 donors. The success of their appeal was due, in no small way, to Rory's friends on a popular online gaming network called Battlefield.
YouTube broadcast on a site called Westie by UK man's 'Battlefield' friend helped win the day
A YouTube broadcast at the end of last week on Westie, a popular YouTube channel with over 490,000 subscribers by a good Battlefield friend explained the couple's predicament. Rory's buddy explained to the community that the UK man was currently in Thailand and facing an unpaid hospital bill. 'Their passports are being held by the hospital. That's pretty standard in Thailand,' he said. He described Rory and Abi as two of the kindest and finest people he knew. They were his good friends who deserved the community's help. It worked.
Home in the UK last night, headed straight to A&E
Last night, the couple arrived back in the UK. The UK man acknowledged that without the crowdfunding support and the help of his Battlefield friends, he and his wife would not have been able to get home from Thailand. 'Abi and I will be going straight to A&E from the airport,' he said. 'We are so lucky to have such amazing people in our lives. From the bottom of our hearts, thank you so much.' The couple then promptly switched off the crowdsourced donations even as the appeal was trending online and funds continued to pour in. The mission had already been accomplished.
These stories are damaging Thailand
For Thailand, however, it is another matter. These sorts of stories are now becoming a stereotype across the world's media. The coverage is seriously damaging the reputation of the kingdom among western travellers. In many instances, these stories concern young people coming to Thailand who are simply not cautious enough. Thailand is a wonderful, exciting country with a fantastic culture. It comes at a price. What makes Thailand so exhilarating is the relative freedom enjoyed by people but with this freedom lurks danger.  Rory and Abi, in fact, were very lucky. They could have been among the number of foreigners who die every week in Thailand from motorcycle accidents.
Thai roads are well kept and look inviting in the sunshine but they are deadly
It is difficult for foreign travellers such as Rory and Abi to easily see the danger even when they are in Thailand. The roads look neat in the sunshine and are generally well kept. Thailand is, in many ways, an impressive country. The problem with the Thai roads, however, is motorbikes. Thailand has probably the most dangerous roads in the world if you exclude Libya which is in a state of civil war. 73% of all road fatalities in Thailand and there are tens of thousands, occur because of motorbikes. 50 people die on Thailand's roads every day from motorbike accidents. If motorbikes are excluded from the equation, then Thailand's road accident rate would be no higher than the United Kingdom or Switzerland.
Thai hospitals provide excellent health care with people coming to the for all over the world
Hospitals in Thailand provide excellent health care are pretty competitive when it comes to pricing. Foreigners come from all over the world travel for medical care in Thailand. However, for western visitors and tourists, there is no government subsidy or support. Also, in Thailand, hospitals work to a moral code and will provide care in an emergency to all those in need. However, most Thai hospitals are commercial operations and it is normal in Thailand for any company or organisation to hold a passport from a foreigner where there is an outstanding bill.
Couple's hospital bill was surely excessive for their means but medical treatment is not cheap
The question is whether the bill for £12,000 was excessive but in all countries, surgery and medical operations are never cheap. In the UK and other countries with public health services, such costs are invisible to those seeking care. The couple were also probably billed for the emergency rescue operation to recover them after the motorbike accident. This would be in addition to hospital accommodation as ancillary medical operations such as blood tests, X-rays as well as the provision of drugs such as antibiotics. The couple would also have been charged for the medical expertise and time spent by the doctors and other medical personnel.
Overcharging in Thailand's private hospitals is a live political issue in the kingdom right now
The question of overcharging at Thai hospitals has become a current political issue in Thailand in recent times primarily where the Thai public are overcharged for medicines. Thailand has the beginnings of a public health system with a public hospital network. Public patients are expected to pay, however, for certain medical treatments and drugs at private hospitals.
Thailand's Ministry of Commerce demands the facts
Thailand Ministry of Commerce and Internal Trade recently issued a deadline to 353 private hospitals in Thailand to provide information on the prices they paid for a range of drugs and what they sold them for. The order covered 353 private hospitals and products that covered over 3,000 types of medicine used in the country's Universal Coverage for Emergency Patients.
Prices of medicine in hospitals to be published online
The Thai government is planning to set up a website to publish this data. It has also made available a hotline for the Thai public to make complaints about overcharging. The deputy director-general of the Department of Internal Trade at the Commerce Ministry has also announced plans to place a ceiling on medicines in the future. The deadline for the information for the private hospital was last week extended from July 12th to July 31st when only 70 of the 253 private hospitals supplied the information required.
Proposal for universal insurance for visitors
Rory and Abi's story again highlights the need for the Thai government to do something about holiday insurance in Thailand. The government recently requested Thailand's Naresuan University and the country's Office of the Insurance Commission to look at this as part of an overall tourist tax to be paid by visitors either when entering or leaving the kingdom. The rest of the funds would be used to develop better infrastructure for the tourist industry in Thailand similar to a Japanese tourist levy brought in earlier this year. 
฿400 levy is being mooted by some sources
It has been suggested that a ฿400 charge may be the cost of the tax with ฿100 going to an insurance fund. The plan, however, is expected to meet some opposition with some worrying about the potential exposure and scope for abuse such a facility may generate for the Thai state. There is also division in the tourism industry as to whether the benefits of universal insurance for tourists would be outweighed by the negative connotations of a tourist tax. The insurance cover would specifically provide for medical evacuation of all those involved in accidents back to their home country where required. 
Read more about travel insurance and the danger of motorbikes in Thailand to foreigners visiting and living in the kingdom:
Thailand could introduce tourist tax or levy next year as expert group begins to examine plans
Italian couple die in Chumphon in another horrific motorcycle accident on Thailand's deadly roads
Distraught UK family praise 17 year old, eldest of 5 brothers – latest motorbike casuality in Thailand
Dane killed in Phuket bike smash had a Thai wife, son and was a respected online anti vaccine campaigner
World Bank report warns Thailand of huge potential economic loss caused by road carnage
UK couple rescued by gamers in Thailand after honeymoon nightmare

+ UK couple Rob Sadlier and his newly married wife Abi Harrison from Speldhurts in the UK had saved for five years for their dream holiday in Thailand. They arrived on July 7th and loved Ko Tao, the great food and the beautiful sunsets. It all went wrong last Wedneday when, guess what? Another motorbike accident. They arrived back at home in the UK last night after being rescued from a £12k medical bill on Ko Samui by Rob's friends and fellow gamers on Battlefield.James Morris reports from Bangkok and Ko Samuihttps://www.thaiexaminer.com/thai-news-foreigners/2019/07/17/uk-couple-hospitals-in-thailand-medical-bill-insurance-rory-sadlier-abi-harrison/

Posted by ThaiExaminer.com on Wednesday, July 17, 2019