Japan this year introduced a tourist or 'Sayonara' tax of ¥1,000 in January or $9 or ฿300 approximately payable on leaving the country. This does not include medical insurance. The insurance cover associated with any proposed Thai tourist levy however would be an easy sell to foreign visitors and huge step forward for Thailand's tourism industry which has been questioned by a continuous series of negative media stories driven by harrowing cases involving western foreigners who have had accidents in Thailand without the appropriate insurance cover.
A Thai  tourist levy could be introduced within a year under a new wide ranging tourist law published by the Thai government last week. The new levy or tax could help provide for automatic medical insurance and emergency cover for tourists arriving in Thailand. It is reported that Thai authorities have now tasked a research group involving Naresuan University and the Office of the Insurance Commission to draw up plans for such a measure. This will include deciding on the amount of the levy and how it will be charged. The move, if it successfully introduces automatic insurance coverage for foreign travelers, would overnight reverse a growing and chronic problem of crowd sourced financial appeals on behalf of injured tourists in Thailand. These appeals and the attending media coverage have been damaging to Thailand's amazing and valuable tourist brand.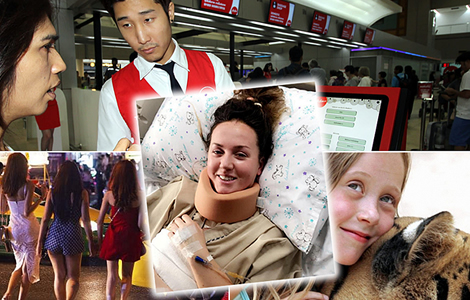 The Thai government has taken steps that may see it introducing a tourist tax on visitors to Thailand or some parts of the kingdom. The move has been welcomed by many observers on a number of fronts. One of the purposes of the proposed new tourist tax would be to provide insurance cover for foreign visitors to the country. This would put an end to the horror and scare stories that regularly appear in the media featuring accident victims in dire financial straits pleading with the public in their home countries for funds to rescue them in Thailand. This coverage is followed by visitors and potential visitors to Thailand. This is reported to be one of the key goals of the new tax as the Thai government already spends ฿300 million on medical expenses associated with mishaps involving foreign tourists. 
New tourist levy would allow for expenditure on better infrastructure and amenities 
Yet, medical insurance cover is quoted by sources as the secondary reason for the proposed new tourist levy. The main strategic reason for the new tax is to improve tourist facilities and to support better infrastructure for tourists in Thailand. This would allow for new projects and amenities. It could also be used to bolster natural resources from overuse caused by a tourist industry that, in some ways, has become a victim of its own success. The World Bank, in recent reports, has identified the real need for Thai authorities to look critically at the demands on infrastructure and natural amenities that the growing industry generates.
Thai government now more aware of conservation
A tougher line on conservation by the current Thai government has led, for instance, to the closure of selected beauty spots such as the famous Maya Bay on Ko Phi Phi island and other areas. This month, authorities announced the closure of the Surin islands in southern Thailand's Ko Phang Nga province to tourists until November.
New Thai law allows the development of a tourist tax or levy in respect of visitors
The new tourist levy tax is being pursued by the Thai government under the provisions of the new National Tourism Policy Act which allows the government to regulate aspects of the industry under statute. This new law was published in the Thai Royal Gazette on Wednesday last, the 22nd May. It gives Thailand's executive and government the similar type powers as was used recently to introduce compulsory insurance for foreigners in Thailand seeking retirement visas under the wide ranging 1979 Immigration Act.
Tourist levy could generate large amounts of revenue for the Thai government's coffers
The new tax would generate very substantial sums of money. This is dependent, of course, on the amount the tax or levy is set at and its application. It is expected that a research group set up to examine the proposed new tax will report at the end of 2019. The group includes experts from Naresuan University and the Office of the Insurance Commission. The Office of the Insurance Commission was, in the last year, involved at great length in the introduction of a range healthcare policies being made available to foreigners in Thailand to comply with the new immigration law requirements. Healthcare insurance coverage has now become mandatory for foreigners or expats seeking a Non Immigrant A-O or retirement visa in Thailand.
Moves made on tourist tax in 2013 and 2016 but they fizzled out, this time looks different
The new move to bring about a tourist tax or levy looks like its prospects are stronger than similar proposals mooted twice before in 2013 and 2016. In 2013, the then Thai government proposed imposing a ฿500 charge on new arrivals in Thailand at the airport. Falling tourist numbers due to increased political unrest and political confusion in itself put paid to that initiative. In 2016, a similar but a more restrained proposal suggested a charge to be levied of $10. It is not clear what the new levy will be and the form it will take. Similar levies have been imposed in other countries such as France, Switzerland and closer to home in Bhutan and Japan. The Japanese levy or Sayonara payment is imposed on departure and is for ¥1,000 which is just over $9. The figure of $10 has been suggested but the expert groups must look carefully at how the levy will be implemented and how the funds are put to use.
Some reports from Thai Ministry of Health suggest a ฿100 insurance charge to cover repatriation
The Japanese tax does not provide direct insurance cover. It exempts infants as well as those staying in Japan for less than 24 hours in addition to foreign dignitaries or diplomats. This week, unconfirmed reports from the Thai Ministry of Health suggest a charge of ฿100 for medical insurance covering all foreign visitors to cover potential emergency health care costs and repatriation even in the event of death. One tax or an all inclusive charge would be a far better proposal. The appeal of medical insurance to visitors to Thailand will be a strong one and may generate a profit for the government to fund its key purpose to upgrade tourist facilities and amenities. The Japanese tax funds generated since January are to be used to provide more free internet access for visitors, faster immigration services using facial recognition and communication aids for tourists nationwide to communicate with Japanese locals.
New tourist tax could be in place next year
This latest move to introduce a tourist tax looks like it will come to pass. The new task force is set to report in six months while the Thai government engages with they key players involved in the industry. This new legislation allows for the move. It could mean the new tax conceivably being introduced in the early part of next year.
A tourist levy that comes with full medical coverage would be a big plus for Thailand's tourism industry
Any levy which provides for full medical insurance cover for visitors to Thailand will be very positive step. It is a matter of judgment but it is clear that such a confidence building move for tourists regarding this threat would be a major plus factor particularly for western visitors. In recent years, many of those seeking crowd sourced funds for mishaps while holidaying in Thailand have been young westerners and particularly young female westerners involved in tragedies notably motorbike accidents. The knowledge of being covered in such an eventuality would be a key improvement in Thailand's prospects to attract more visitors. The levy itself will not be a deterrent.
Thailand in recent years has appeared quite unfairly but in truth as both dangerous and uncaring in story after story aimed at western media audiences
It is true to say that Thailand has a special appeal to westerners as one of the world's most exciting and different places to visit. This is because of the country's unique culture which is seen as a freedom loving one. The problem for many young people, as well as their family and oftentimes parents, is that Thailand is also perceived as a country that is so exciting that it has also come to appear as dangerous. The crowd sourcing stories, unfortunately, underscore this while they also portray the country as uncaring especially in European countries with socialised care systems.
Crowdfunding stories featuring injured tourists have shown Thailand in an unflattering light
The constant stream of media reports of western foreigners seeking help with emergency health costs in Thailand has caused more damage to the profile of Thailand's tourist industry that the real risk of injury that is out there. A new tourist tax marketed as automatic medical insurance would instantly help reverse this perception. The new cover could also showcase Thailand's health care industry and friendly culture.
Leicestershire woman broke her neck while on holiday in Chiang Mai after pool dive
On Christmas Day last year, a medical team including three Thai medics had to assist a British tourist and backpacker to fly back to the United Kingdom. Sophie Wilson, a 24 year old woman, was only one week into her extended six month trip to Asia when on December 1st 2018, she broke her neck while diving in Thailand. She dived into the shallow end of her hotel swimming pool. A simple accident with nightmarish consequences.
The 24 year old UK woman from Shepshed in Leicestershire represents to new face of tourism to Thailand. This is more and more dominated by younger, more active visitors and notably western women.
Crowd sourcing had to raise £70,000 to send the young UK woman home from Thailand
Even though Sophie had health and travel insurance, it did not cover some requirements such as travel costs and medical repatriation. Her family had to raise nearly £70,000 through a crowdfunding site to allow her to be evacuated back to the United Kingdom where specialist doctors could diagnose her situation and see if it was possible for the young woman to walk again.
The UK woman underwent 10 hours surgery in Chiang Mai. Medical staff there then gave her physiotherapy in order to prepare her for her Christmas Day flight home.
Any Thai government tourist charge should provide for medical and insurance to cover the full range of eventualities for foreign tourists to Thailand and particularly the ability to transfer them back home to their originating country and family as in Sophie's case.
New existing health care program for foreign tourists to Thailand is available online
Thai authorities have just recently introduced a medical insurance package for foreign tourists which is being marked as Travel Shield Insurance. The program is being run in conjunction with a number of  highly respected Thai insurers including Muang Thai Insurance, Krung Thai Panich and Southeast Insurance. The 7 day package offers full cover and contingency cover appropriate for foreign travelers with up to ฿2 million in accident and health coverage for ฿400 per 7 days. This may seem expensive but it is exceptional value and highly recommended for foreigners travelers. The package can be purchased online prior to travel and the insurance kicks in as you clear immigration.
Existing offer of ฿400 for 7 days viable on a 1% take up rate but new scheme should be better value
The viability of these insurance policies is based on only a 1% take up rate. The new levy being proposed would obviously have a far higher subscription rate and consequently should be able to offer better value to foreign travelers. Thai planners working on the next tourist levy or tax must provide for existing costs to the Thai government and coverage for all visitors in actuarial terms as well as providing for funds to improve and maintain tourist facilities in Thailand and amenities.
Tourist tax could generate over ฿12 billion
Based on last year's visitor numbers, the new tax could generate over ฿12 billion. This should be more than adequate but experts warn that at the outset, it is critical that these funds be ring fenced and used for the development and maintenance of Thailand's highly valuable tourist industry and brand.
Secondary tourist locations in Thailand a key focus for development and promotion
One of the ideas being proposed is that the tax would only apply to selected areas in the country. The idea of this would be that it would encourage foreign tourists to visit secondary locations. This sounds good in theory but it may pose difficulties in enforcement. It may be more advantageous for the monies raised by a blanket tax to be used, for instance, to improve communications and infrastructural facilities in these secondary tourist locations from a larger fund.
Secret of Thailand's unstoppable tourist industry in the last 5 years has been a wider offering
This has been one of the big strategic factors in driving Thailand's tourism industry success in the last five years. Even when some government experts felt that the tourist industry has reached its limit. Some suggested that Thailand as an economic objective, should wean itself off tourism as an economic driver. They suggested that the country should be focusing on modernising the economy and pushing the Thailand 4.0 agenda. This turned out to be wrong as Thailand's strategy of developing secondary tourist attractions and offerings to a more nuanced world traveler has proved a huge success.
New technology vision merges well with wider and bigger tourist industry with more choice
Surprisingly, the Thailand 4.0 agenda and technology works very well with the development and innovation of Thailand's tourism industry in secondary areas in the country. This has been achieved through the use of the internet for bookings and the provisions of new resorts, facilities and attractions.
Income from tourism directly reaches poorer Thai economies and communities
This strategy has had multiple other benefits such as funneling income directly into the pockets of less well of Thai economies and communities. It also lessens the load on tourist areas and amenities that are suffering from overuse and unsustainable visitor numbers.
Tourist chiefs confident of surpassing 40 million visitors to Thailand in 2019
Thailand has targeted over 40 million foreign tourist visitors this year with a financial contribution of ฿2.2 trillion in to the Thai economy. So far this year, the results have been mixed with numbers down in March and up again slightly in April. The number of Chinese tourists visiting Thailand is falling despite intense Thai government efforts to rejuvenate that market which accounted for over 25% of all arrivals and even a bigger share of tourist expenditure in the economy last year.
Moves to boost declining Chinese tourist numbers
Thailand's Tourist Authority, just this week, launched a promotion in conjunction with Alipay, the leading Chinese payment operator, to boost Chinese tourist numbers. However, the visitor numbers from China have been disappointing this year so far with a fall of nearly 2% in March and a whopping 12% drop in April.
There are many reasons for this cited. These include growing economic insecurity in China which has led to less well off Chinese workers staying put. Where more well off people continue to travel, they are being lured to more distant and new tourist destinations such as Morocco by Chinese tour companies. More Chinese are also visiting Cambodia attracted to that country's burgeoning casino environment.
The continued high value of the Thai baht does not help. However, it is reported that visitors from India rose by 35% on the same period as the Chinese numbers drop.
Big boost a key Thai economic strength
The installation of a new Thai government will help boost confidence in Thailand and despite Thailand's loss of exports through a combination of the high Thai baht and the US Chinese trade war, there is very possibility of Thailand achieving its tourist goals this year as of now.
The new tourist tax or levy will probably have to wait until 2020. If it is developed and presented as a confidence builder offering insurance cover and peace of mind to visitors, it will turn out to be a huge success in boosting numbers of arrivals. It will further allow the Thai government to continue developing what is surely one of the county's most prized economic strengths.
Read more about Thailand's tourism industry as it changes, adapts and continues to flourish:
Record year for Thai tourism but not so good for Thailand's bar girls and luxury hotels as market has changed
Tourism booming in Thailand. Soon a $100bn income stream to protect as Asian visitors grow