Police have identified a house used by the attackers in Pathum Thani and have questioned taxi drivers who ferried some of the bombers to and from their destinations. Sources have revealed that the two Muslim men arrested before the bombings in Chumphon province on Friday morning had crossed to and from between Thailand and Malaysia quite a few times as recently as July before they set off for Bangkok.
The Thai Prime Minister has revealed that 9 out of an estimated 15 people involved in setting off a fire and bomb attack in Bangkok on Friday morning which provoked alarm in the city during a high profile diplomatic occasion have been arrested by the police. Prayut Chan-ocha again condemned the attacks which he described as 'evil' and thanked the public for their help, urging them to continue to report anything suspicious.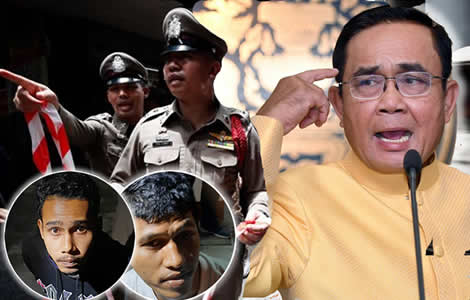 Thailand's prime minister Prayut Chan-ocha has praised the public for responding to requests for information and assistance in detecting the bomb and fire gang that descended on Bangkok last week setting off panic and confusion in the city on Friday morning at the height of the ASEAN foreign ministers meeting.
9 suspects already arrested – PM
Speaking after today's meeting of the Thai cabinet, the PM revealed that 9 of an estimated 15 people have already been taken into custody by Thai police and that security agencies are making rapid and impressive progress on the investigation. The government leader had on Monday stressed that it was too early to form any conclusion as to the motivation behind the attacks. Today he warned reporters, not to 'cross-link' various issues and theories that have been put forward as the motive behind the terror attack.
Prime Minister strongly praised overstretched Royal Thai Police and security services
Prayut, who is currently in charge of policing while also acting in his role of defence minister, has said that all security agencies are working together as one team on testing the evidence as the investigation moves forward. He specifically praised the Thai police and pointed out that the 200,000 man force had a difficult challenge keeping law and order in a country with a population of 70 million people.
Friday's attacks were 'evil' and ill-timed
He voiced strongly again his condemnation of Friday's attack saying: 'I regard the attacks as evil acts especially doing these to Thailand now.' The prime minister was noticeably crestfallen in the aftermath of Friday's attack which he described as destroying Thailand's image at a crucial moment for the country.
Centralised CCTV monitoring positively mooted
The prime minister seems favourably disposed to the idea of coordination and centralisation of nationwide CCTC coverage and monitoring in Thailand in order to prevent future incidents and criminal activity. He urged the public to be vigilant, particularly in tourist areas and to pass on any information or suspicions to the police.
Motorbike driver distributed devices to bombing teams at a shopping centre in Rangsit
Security sources have revealed that the attack on Friday involved teams of bombers who had received the bombs from an individual on a motorbike at a shopping mall on the outskirts of Bangkok at Rangsit. The police reports suggest that this man was seen heading back towards Pathum Thani province. He met three of the suspects at the location.
Three taxi drivers who ferried suspects questioned as rented house identified as used by bombing teams
Police have tracked down and questioned three taxi drivers who ferried the bombers to various locations and also away from the scenes. Officers have also spoken to garment sellers in the Pratunam area who recognised the bombers who planted incendiary devices in a number of shops that went off before the bombs exploded in the early hours of Friday morning.
Thai police have also identified a rented house used by at least two teams of the attackers in the Thanya Burit area of Pathum Thani.
Deputy PM Wongsuwan pleased with the sweeping progress of the investigation thus far
It understood from comments on Tuesday that Deputy Prime Minister, Prawit Wongsuwan who is close to the investigation as intelligence chief, is pleased with the sweeping progress being made by the police and security agencies only 4 days after the fires and blasts went off.
Mother of one of the Muslim suspects arrived in Bangkok on Sunday says he was a good student
Meanwhile, the first two suspects arrested in Chumphon are reported as being held at a police training centre while being questioned. The mother of one of them, Lu-ai Sae-nage, arrived in Bangkok on Sunday and expressed a wish to see or speak to her son. Rohaning Sae-nage still does not believe her son could have been involved in the attack and described him as a hard-working young man committed to his studies. She appeared sceptical about his alleged involvement in the attacks and has asked for access to him. 
Prayut: Suspects will be treated by police according to evidence but understands mother's concern
On Monday, the prime minister commented on this when asked by a reporter and opined that it was natural for a mother to be so concerned. However, he pointed out that the suspects will be treated by investigating police based on the evidence they have and suggested that there is a lot of circumstantial evidence surrounding the activities of Lu-ai Saengae and Wildon Maha who were arrested by Thai police at 2 am on Friday morning last at a police checkpoint in Chumphon province before the first devices exploded.
Strong evidence linking the two Muslim men to the attacks after their arrest in Chumphon
They were seen accessing a bus at Mo Chit terminal in Bangkok and it is reported that the pair changed clothes a number of times in the hours following the planting of a suspect device in front of the Royal Thai Police Headquarters on Rama I in Bangkok the evening before. Police who arrested the men from an interprovincial bus discovered that they were in possession of a steel tube as well as components of a bomb including a small device attached to a battery.
It has also been revealed that both Muslim suspects entered Malaysia at the border crossing at Sungai Kolok a number of times. Police understand that the pair crossed over to Malaysia as late as last month.
For further reading:
Bizarre coincidence as schoolboys cause Friday's Bangkok bomb that put workers in hospital
Two Muslim men questioned as security officials link Friday's bombing to southern insurgency
Bombs and fires set off in Bangkok designed to cause early morning terror in the Thai capital