On Friday the President of the United States raised the possibility of ordering US firms and companies out of China. It has been confirmed that he has the legal powers to do so.
Thailand's government is banking on an improvement in world economic conditions or at least that the situation does not further deteriorate significantly further by the end of the year as the kingdom still targets 3% growth this year. The prospects for this looked dimmer on Monday as US President Donald Trump's 'tariff tantrum' on Friday and G7 performance over the weekend sent international markets reeling on Monday morning.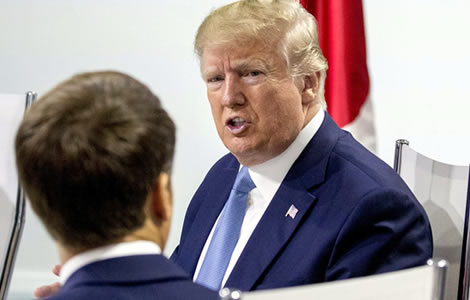 Thailand's stock market the SET tanked by up to 1.7% on opening this Monday as markets in Asia digested the latest outbursts from US President Donald Trump. They do not augur well for hopes that the world's economy will recover and in fact, point to further friction and chaos ahead.
Trump's outburst may augur badly for Thailand
This is the worst possible news for Thailand and its economic planners including economics czar Somkid Jatusripitak. Last week, the Thai government approved its economic stimulus package to counter the slowing economy impacted by a range of factors including contracting exports, the knock-on effect on lower wages and overtime and a struggling small business sector as confidence is sinking and banks implement a credit squeeze.
'Tariff tantrum' leads to shares sell-off worldwide
Market analysts attribute the latest sell-off and turmoil to the 'tariff tantrum' which began in Washington on Friday when US President Donald Trump reacted angrily to China's announcement of retaliatory tariffs on $75 billion of American imports into the communist-run country and emerging economic superpower.
Trump highlights his power to order US firms in China to close down and move out
This prompted President Trump to scare markets when he announced that he was going to 'hereby order' American firms to uproot from China and move elsewhere in the world, preferably the United States itself. The statement stunned observers and has opened a new vista of potential economic chaos.
Basis in law for the President's threat
In fact, a closer inspection of what the American president said shows that it has a basis in reality and law. An obscure and old law gives the American president powers to order US corporations to comply with the US Federal government outside the jurisdiction of the United States on matters of national strategic importance.
G7 meeting in Biarritz sank any hopes of detente or easing of tensions with China 
Over the weekend, at the G7 meeting in Biarritz France, President Trump sank any notion of a more emollient approach to the trade war and seemed to enforce his determination to combat what he sees as an unfair Chinse advantage. He did suggest that he was not yet going to issue such an order to US firms in China but in an interview with Fox News in the US, influential Treasury Secretary Steve Mnuchin confirmed that the US President has such powers and indeed further options should he require it.
On Sunday at the G7, Trump indicated that he welcomed Chinese overtures for further talks but at the same time, despite the pressure on him from other world leaders to dial down tensions, he said of his G7 partners: 'I think they respect the trade war.'
China becoming more belligerent
The increasing concern follows disturbing moves by China in recent weeks when it effectively devalued the yuan and indicated that it was considering further options aside for tariffs to target the US.  China is also beginning to respond with more belligerence to aggressive moves from the Trump administration. The current tension in China over Hong Kong has also seen as an aggravating factor.
Trump hiked all US tariffs including existing and proposed ones from September 1st on the spot
The American President on Friday also promised to respond to the Chinese tariff announcement. He followed through and promptly increased further the rate of tariffs from an existing 25% to 30% on the existing measures and increased from 10% to 15% the rate of new tariffs to be applied to an additional $300 billion of Chinese imports from September 1st next. This is a President with both bark and bite although to some weary global fund managers, the correct analogy is a mad dog.
New bilateral trade agreement between the United States and Japan may signal the world order
At the G7 meeting, the US President and Japanese Premier Shinzo Abe unveiled a gigantic US Japanese free trade agreement which President Trump said could be replicated in an even 'bigger' deal with the United Kingdom when it exits the Europan Union.
Trump favours a No Deal Brexit 
The President made bullish comments about Brexit and said he had confidence in new UK Prime Minister Boris Johnson to deliver it. A No-Deal Brexit which Trump favours but which the markets are still terrified of would be the only way the UK and US could seal such a deal at least in the short term.
Marcon – increasingly a bête noire for the US White House as he pushed internet digital tax
The G7 further highlighted the damaged relationship between the current United States administration and the European Union. It particularly highlighted also a growing rift between the US and France where President Emmanuel Macron is gradually emerging as a bête noire for the White House. France unveiled a Digital tax which it said it had discussed with US officials. However, President Trump has previously warned Macron that such a move would lead to heightened tariffs on French wines being imported into the United States.
Trump sparked market volatility in August
The astonishing outburst by the US president last Friday and his increasingly strident stance is leading to roiling panic on world markets which can barely believe what they are hearing. The market volatility has also hit the US with drops of 2% on the US stock market on three days within the last month alone. The main market has lost 4.5% of its value although it is up nearly 14% for 2019 so far.
US President's trade policy is to sideline China and also Europe and put America first
The US President appears to be moving towards a trade policy which is attempting to isolate China and replace a global vision with bilateral agreements where the European Union and China are diminished. At one stage in the last few weeks, the President suggested the United States has an even bigger problem on trade issues with the European bloc than it has with China.
Latest news may spark more urgency to finalise the 16 nation RCEP trade pact – world's biggest
This is particularly bad news for Thailand which can now only hope that the panic and increased tension generated by the US President's ever more strident trade injunctions will lead to quicker finalisation of negotiations on the 16 nation Regional Comprehensive Economic Partnership (RCEP). This trade agreement between ASEAN, China, India and Pacific countries would lead to the biggest economic free trade area the world has ever seen.
Currently, Thailand's exports to both the United States and China are on a par but the knock-on effect caused by the trade war has severely impacted the kingdom's prospects in every market including Europe and even within ASEAN itself where neighbouring countries are competing for diminishing trade.
 'Nobody understands where the President is coming from' – maybe they do and don't want to hear
For now, the actions of the US President are having a direct bearing on Thailand's economic prospects. A trader in Singapore on Monday summed up the position that business people and indeed Thai economic planners must also be in. Stephen Innes of Valour Markets  said: 'Nobody understands where the President is coming from.' He urged the US President to be quiet but that is extremely unlikely. It could also be true that people do understand what the President has in mind but that the prospect is simply too terrifying to contemplate.
Trump's second thoughts about China
An incident from the G7 sums up the unpredictable nature of President Trump. He was asked by a reporter if he had 'second thoughts' on his decision to further hike tariffs on China announced on Friday. Trump replied that he had second thoughts on everything. Reporters took this as an indication that some new move towards detente was in the offing.
Raising the tariffs higher
They were brought down to earth hours later by White House spokeswoman Stephanie Grisham. She explained that reporters had misinterpreted the meaning of the US President's comments and that what he had in mind was the exact opposite: 'President Trump responded in the affirmative because he regrets not raising the tariffs higher.'
Trump issued executive orders to UPS, Amazon and Federal Express to halt all fentanyl drug deliveries from China to America
One of the other gripes that President Trump has with China is its reluctance to control the export of strong drugs and painkillers to the US which is feeding America's opioid crisis where users are ordering the products online. This was a campaign issue for him in 2016. On Friday, he further spooked the market when he issued executive orders to the US  logistics giants UPS, Federal Express and Amazon to halt deliveries from China that may contain the powerful and highly addictive painkiller known as fentanyl.
Only hope for the old order of world global economic leadership is a Trump defeat in 2020
For many observers and supporters of the global economic order, the growing consensus is that the only hope for business, as usual, is that the US President will fail to be reelected in 2020. Of course, they will never say it openly. Although his poll ratings are below 50%, many political pundits suggest that this will not happen as long as the US economy continues to grow.
US economy still strong riding on consumer confidence and rising employment levels
The United States economy right now isnstill in growth mode very much driven by domestic consumption and confidence which is still very high with growing employment levels.
The prospect of two further interest rate cuts to come this year will also give it a lift or at least underpin the momentum. This will mean unfortunately for Thailand, the prospect of an even higher Thai baht even if the Bank of Thailand lowers rates again by the end of the year.
Further reading:
US China trade war may have some silver lining or upside for Thailand if firms can be agile and adjust
Thailand's PM commits to a global world vision as the country signs up to China's belt and road
Thailand's economy impacted by the whims of the US President as much as its political future in 2019