Thailand, like the rest of the world, has entered 2019 with raised concerns as prospects for the world economy darken. The strength of the Thai baht is remarkable and has, ironically, been caused by the order and stability brought about in the country since 2014. It is negatively impacting exports however. Most economists point to Thailand's promised election this year as a critical test for the direction of the Thai economy. However, a new and perhaps bigger factor has emerged. US President Donald Trump and his America First policy has caused a huge rupture to the global world economy. The US China trade war, despite a short term truce, has now been shown to be impacting Thailand in more ways than one. It is weakening exports to China and at the same time, has had an unexpected but perhaps short term side effect, driving capital inflows into the country. More importantly, it has pushed the world economy to point where world economic leaders are openly warning of danger. It has now emerged as the key factor impacting Thailand's economic prospects for 2019.
As Thailand, like many other countries, heads apprehensively into 2019, it appears that the economic future may be dependent on two factors or rather the actions of two parties. The first disconcerting situation is that the economic policies of none other than US President Donald J Trump are influencing Thailand's economic future, driving US China tensions and smashing a global approach towards economic planning and growth. The second group of people are Thailand's political leadership, responsible for the outcome of efforts to return to the democratic process in Thailand under the country's constitution.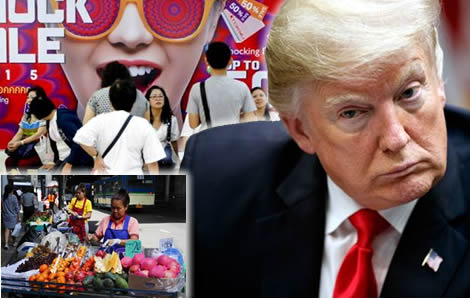 As the world proceeds into 2019, it is clear that the deterioration in the outlook for the world economy continues apace. This has huge implications for Thailand where the Bank of Thailand is putting off interest rate hikes and where export led growth is slowing down. Although negotiations between China and the US are at an intense and critical stage, there is a fear that the situation could well escalate further after March. World economic leaders and institutions, particularly the World Bank, are warning of an acute danger to growth prospects for the world economy if a resolution is not found that will hold for the long term.
Fear of next economic and financial crisis linked to high government debt levels
The real concern behind the veiled warnings is the level of government debt that has been accumulated, particularly during the the crisis in 2008 and 2009. The fear is that we are now entering a period or cycle of rising interest rates. Recent reports from both the IMF and World Bank have been gloomy and hint at a strong potential downside. In fact, world economic leaders are increasingly using language which is becoming more emphatic on the 'urgent' need for governments to take action to coordinate and ensure healthier world economic growth.
American first, Trump's strident economic agenda may be shattering a coordinated approach to managing the world economy
What many in the higher echelons of the world economy's leadership are hinting at, are the policies being pursued by US President Donald Trump and his 'America First'  economic philosophy. There seems to be, in fact, a dawning realisation that it was never just an election gimmick but rather that, horror upon horror, the US President is stridently pursuing a policy that may spell the end of coordinated world economic co operation.
Darkening skies for world economic prospects
Recently, World bank economist Ayhan Kose told the AFP: 'The global economy is going through a difficult period. Skies are darkening and we see the global economy slowing.' This has seen growth forecasts for the world economy and nearly every country downgraded. Both the world economy and the US economy are forecast for lower than expected growth in the next two years at approximately 2.5% but there is mounting concern that there will be complications and that some particular event may pose a shock. China recently announced its slowest growth rate since 1990 at just over 6%.
The World Bank is urging world leaders to be mindful of the difficult straits that the world economy is navigating right now. It and the IMF are, at this stage, openly warning leading world governments to act or rather, change course.
Thailand admits that the US China trade dispute is negatively impacting Thai exports
Recently, Thailand through the Thai Commerce Ministry, accepted the country's exports are sensitive to the US China trade dispute despite a denial by some economic experts within the kingdom in recent months. For November 2018, the ministry reported that Thailand's exports had declined by less than 1% on a year on year basis with 2017. Thailand also recorded a sharp increase in imports in 2018 with close to a 15% rise for the year up to November 2018. However, in December, Thailand's trade surplus unexpectedly increased not from a spike in exports (which declined) but from a sharp drop in imports in December. Imports declined by just over 8% for that month. In the past few years, increased imports in Thailand has been seen as both a sign of increased economic activity and consumer confidence. Thailand's trade surplus for the 2018 year was $2.47 billion but this represented an 84% drop from 2017.
Thailand's exports to the US are rising
Last month, the Director General of Thailand's Commerce Ministry's Office of Trade Policy and Strategy acknowledged that Thailand was sensitive to the US China trade war because of supply chains for manufacturing operations. She highlighted, however, positive aspects of the most recent trade information which saw Thailand exporting more to smaller regional or ASEAN members and, significantly, the United States. For instance, she pointed out a nearly 12% rise to the United States and a 3.6% rise in exports to India. There was a staggering 52% increase in exports to Switzerland.
Trumponomics is impacting Thailand
The underlying story was a near 9% drop in exports to China and a 2% drop in exports to the European Union. It is clear that Donald Trump's Trumponomics is impacting Thailand although a slowdown in the Chinese economy has been predicted for some time. Another key challenge for Thailand is the recent free trade deal between the European Union and Vietnam. This has made Vietnam more attractive to businesses seeking to export to the Europe. Thailand is also facing headwinds from its position as a higher income economy than some of its poorer neighbours and its ageing workforce. Both these factors have begun to impact but are being absorbed by more Thai workers not working beyond retirement age.
EU trade deal an attractive prospect for Thailand but it depends on a return to democracy
Thailand is very interested in the prospect of an EU free trade deal and it is thought the recent breakthrough, with the European Union lifting its restrictions on Thailand's fisheries sector, may bode well for the future. However, this will be dependent on Thailand holding elections this year and a smooth transfer to democracy as envisaged by the Thai government. For now, the key players for Thailand to watch are China and the United States.
Strong Thai baht is a hammer on Thai exports
Another dampener, in an increasingly competitive and declining world export market, is the continued strength of the Thai baht. Capital inflows have continued into Thailand as the Thai government has restored a sense of order from a previously fractured and unstable political environment. This has, ironically, indirectly hurt and continues to hurt Thailand's exporters, in industry and also critically its agricultural sectors including rice exports by supporting a stronger baht exchange rate.
Thai baht has enjoyed a remarkable resiliency and strength in recent years and it continues 
The Thai baht has appreciated against nearly all currencies in the last few years. This is a critical factor impacting Thailand's exports and in particular, its exports to China and India whose currencies have dropped more appreciably. Experts believe Thailand's rice exports will decline in 2019. All indications are that the baht will continue to strengthen against the dollar in spite of some signs of inflation and a marked reluctance by Thailand's Bank of Thailand to raise interest rates. It leaves Thailand in a quite a challenging position.
US political war between Trump and Democrats is weakening the US dollar and boosting exports
The ongoing US shutdown and political infighting in the United States, after the polarising congressional elections in November 2018, in a similar but opposite fashion, are indirectly bolstering US exports and trade with a weaker dollar. The key factor perhaps impacting the baht this year will be the political outcome that results from the promised election. Thailand's military government has managed the country's affairs quite prudently since 2014 and the country has a current account surplus of nearly 7%.
United States holds the keys to Thailand's economic prospects in 2019 apart from the Thai election
It is ironic how, in the short term, this may all tend towards hampering Thailand's prospects for growth in 2019. Much depends not on what happens in the United States and whether the US economy will continue to perform and whether the political situation will resolve itself one way or the other.  Trump's extraordinary interventions against the US Federal Reserve Chairman's plan to raise interest rates in America, while appearing unseemly, have in fact, been effective as the Fed's approach to hiking US interest rates has been seen or at least appears to be more cautious. This underscores a weaker dollar and a stronger baht.
Capital inflows into Thailand should continue unless a crisis develops but that risk is rising
In Thailand, whichever way the Thai election goes, it is thought that the process will see a weak Thai government installed which is unlikely to see out a full term. However, if there is any smooth transition to a democratic government and the new constitution is seen to function, this may in fact, be viewed positively. The huge capital inflows into Thailand are coming not just from western countries about more and more from Asia and significantly China. In fact, the US China trade dispute is driving investment into Thailand. It is important to differentiate this inflow from investing on Thailand's stock market which has fallen from January 2018 to 2019 by nearly 9%. It is difficult not to see this situation continuing except for one development and that is a huge financial crisis worldwide which would immediately see investors returning to the US dollar. This is a prospect now being openly alluded to by some leading western bankers.
Thai exports set to decline in the first months of the new year as end of US China truce looms
Recently, the President of the Thai Bond Market Association, Tada Phutthitada, suggested that capital inflows into the bond market has been lower in recent weeks. The strength of the Thai baht and the direct impact of the US China trade war, which has been joined in all but name and overall pessimistic mood, makes it a distinct possibility that exports will decline in the initial stages of 2019.
2019 has begun on a cautious and nervous tone
2019 has begun on a cautious if not fearful tone. Brexit, if it is an abrupt and dramatic event, may also be a trigger. The US Commerce Secretary, Wilbur Ross, warned today that China and the United States stand quite apart as intense negotiation between the two countries to find a breakthrough before a March deadline are reaching a critical point. The United States, if anything, appears more bullish about this trade war than before it began. This is worrisome for Thailand. All eyes now are on US President Donald Trump and Thailand's political leadership as to what are the prospects of a successful election in Thailand.