A total of 500 smartphones were seized by Thai police in the two raids in Bangkok and Pattaya. Both operations were reporting to kingpin bosses in China and being paid monthly salaries.
Thai police announced in the last 24 hours the arrest of no less than 77 Chinese tourists for running an online gambling site and promoting share scams in Pattaya and Bangkok.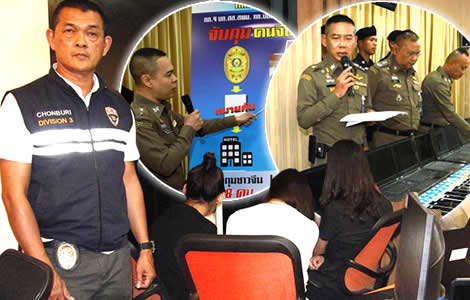 In Bangkok, on Wednesday the Head of the Immigration Bureau Ploce Lieutenant General Sompong Chingduan announced that 58 Chinese nationals had been taken into custody by Thai police in a raid on a hotel in the Wang Thong Lang district of the city. The group were occupying rooms at the hotel on the sixth and seventh floors.
58 Chinese tourists running share scam centre in Bangkok on two floors of a hotel
From there, the popup organisation of Chinese tourists was running a scam share racket selling bogus stocks to unsuspecting punters which could be manipulated by the criminal underworld. The shares were worthless.
The sale and marketing tactic was to contact users on the WeChat app service which is highly popular in China. The staff of Chinese tourists at the Bangkok hotel were each paid ฿30,000 to ply the trade.
Immigration boss confirms that they entered Thailand on tourist visas which are to be revoked
The immigration boss confirmed that the Chinese suspects entered Thailand on tourist visas and had no work permits. They were arrested for working in Thailand illegally and it is believed that they will subsequently be deported after their visas have been revoked. Police seized 200 smartphones at the location as well as 40 laptop computers.
Late-night raid on Pattaya condo building
Last night at 11.30 pm in Bang Lamung Chonburi near Pattaya, a team of Thai police raided three apartment rooms in a building in tambon Nong Prue. They were acting on the basis of a warrant earlier approved by the provincial court in Pattaya.
Gambling site turning over ฿8 million per day
Officers found nineteen Chinese nationals staying at the three apartments including men and women. The group were employed in running an illegal online gambling racket at the venue which according to documents retrieved by police from the scene, was generating up to ฿8 million per day.
Raiding police seized a staggering 300 different smartphones from the group with a complete variety of brands. 10 PC devices were seized as well as prepaid SIMcards.
Chonburi police chief tells media that local suspicions led to the police investigation into condo tenants
The media was briefed by Police Major General Nanthachart Supamongkhol the head of police for Chonburi. He said that an investigation was ordered into what was happening in the rooms on the seventh floor of the condominium building recently as local people became suspicious.
Online gambling racket – Chinese nationals paid ฿40,000 per month by a boss in China 
Police quickly discovered that it was an online gambling racket. It is reported that each of the Chinese nationals was being paid ฿40,000 per month for working at the centre. They had entered Thailand on tourist visas. They were reported as being employed by an individual in China linked with the gambling underworld.
Bank of Thailand advises anyone dealing with foreign gambling sites to cancel credit cards
Last week in Thailand, Chantavarn Sucharitakul an assistant governor with the Bank of Thailand, issued a clear warning to online users in the kingdom engaging with foreign gambling websites abroad.
She warned that there was evidence that data had been leaking from such sites and warned users who have been using credit cards on foreign gambling websites to immediately desist and cancel their credit cards for new ones. The basis for the information and warning given by the Bank of Thailand official is understood to have come from key agencies monitoring credit card security.
In the last year, there have been escalating reports of websites used popularly used in China being hacked. This has led to large volumes of credit card data being made available for sale online through the dark web for criminal purposes.
Further reading:
Thailand used by criminals as a new offshore support location for online networks targeting Chinese market