Thai police working with Chinese counterparts disrupt increasingly large and confident online betting and call centre scams
Police in China last month announced the suppression of a vast illegal online gambling operation that had an income of over $1.1 billion dollars. Four Chinese nationals linked to the operation, which is headquartered in the Philippines, had previously fled China for Thailand to evade Chinese authorities but returned to China in March this year to own up to their involvement in the racket. It comes after a busy summer in Thailand where police made a number of swoops on online gambling support operations that were being operated from Thailand but supporting large gambling networks in China. The raids were coordinated with the support or at the behest of Chinese authorities. In July this year, Thai police arrested 34 suspects in a raid targeting call centres scams and online rackets targeting the Chinese market.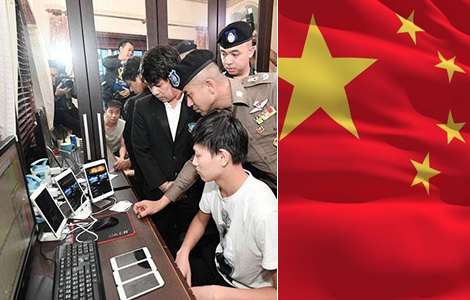 Thailand has become the centre of many offshore gambling networks aiming at meeting the insatiable demands of gamblers from China. News reports over the summer showed Chinese financial backers to be funding the gambling operations in rented properties in Thailand. The gangs appeared to be using advanced internet communications and online payment systems to generate very substantial amounts of money.
Illegal betting operations target Chinese people pretending to be offshoots of Macau casinos and generate huge incomes
The huge online betting operation came to the attention of police authorities in China when a customer made a complaint in 2016. The Chinese man, introduced to a gambling website at a local shopping mall by a friend, had managed to lose nearly $22,000 before he cut his losses and called the activity to the attention of Chinese authorities. Betting in Thailand is illegal except for lottery purchases and some horse racing events. It is also illegal in China. In Thailand, authorities have linked gambling activity with overall crime levels and warn that gambling is a key driver of serious crime.
The huge Chinese online gambling operation traded under the name Emperor (DiYi) Entertainment and representing itself as linked to legalised gambling in Macau where a number of large scale casinos are run legally on licence. Chinese police have confirmed that there are also smaller enterprises like Emperor and it is this activity that is driving the use of Thailand as a base for illegal online gambling by Chinese nationals. Of course, there are also other foreigners in Thailand involve in online gambling and call centre scams targeting international markets and increasingly, Thailand and Thai nationals. These have been the subject of an ongoing campaign by the Thai tourist police and Thailand's 191 police force or special branch.
In recent years, the number of online gambling operations run by Chinese people primarily catering their lucrative home market in China have been establishing themselves in Thailand. Due to the rise of this new form of gambling, Thai police are making the best of intelligence and tips from China as well as local investigations in order to unravel these illicit business concerns. In June and July this year, corresponding with a gambling crackdown in Thailand, a large number of Chinese nationals involved in managing online gambling websites and call centre scams in Thailand were arrested by investigating Thai police.
6 Chinese nationals arrested in Chiang Mai raid
In June, 6 Chinese citizens were detained during a police raid in Chiang Mai for running an online gambling den worth millions of baht. Based on tips from local people and assistance from the Royal Police technology crime suppression centre, a team made up of provincial police, tourism police and immigration agents stormed their two luxury houses in San Sai district and discovered many laptops, smartphones and documents containing important information of the Chinese operators' unlawful work. All the Chinese suspects had lived in Chiang Mai without knowledge of the local authorities. This prompted a roundup of the Thai landlords, a local Thai couple, who were arrested on charges of accommodating foreigners without notifying immigration officials. Under Thai law, there is duty to notify immigration authorities if a foreign national rents a property. Thai authorities have recently emphasised this requirement to owners of all rented properties in an effort to tighten up internal security. It is estimated that up to 10 million baht in income is said to have circulated through this gambling network prior to the raid. The gambling was primarily concerned with online card games.
The groups including two Chinese women and four men had been renting tow luxurious houses from a Thai couple. Police observed their activities which showed that the occupants of the properties rarely ventured out except to send for food orders. When Thai police made the raid on one of the properties they found two Chinese women and a male companion engaged in online betting activity catering for Chinese punters.
The Chinese nationals were operated from the second floor of the house when they were surprised when Thai police, including a mixed team of provincial and tourist police, swooped on the premises. Thailand's Deputy Chief of the Thai Tourist Police Major General Surachate Hapkarn was pictured asking one of the Chinese men for details about how the network worked as he sat before his computer screen. The raid was the product of a  tip-off by Chinese police authorities who had become aware of the operation.
Chinese linked gambling network raided in Bangkok had racked 500 million in income
But this operation could be seen as small in comparison to a much larger Chinese-backed gambling network valued at 500 million baht that Thai police uncovered in June. According to local news outlets, again it was the Deputy Director of Thailand Tourism Police, Major General Surachate Hapkarn, who led a police raid on June 15th at the Bangkok building targeting an online gambling operation and arrested 4 Chinese people suspected of running it. The internet network operators told the Thai police that they were hired by a vague Chinese financial backer to keep track of online money transfers from Chinese chatting apps like Beetalk and WeChat. The men claimed to be paid 35,000 per month for their services. They informed the police that they had not been in Thailand for long. A quick search found that two of the Chinese men revealed that they had no passports or travel certificates indicating that they may have entered Thailand illegally.
Thai police also confiscated many laptops, phones and documents at the site.  Like the Chiang Mai case, the Thai landlord later faced questioning for housing foreigners without notifying the authorities. Subsequent police efforts to track down other members of the gang encountered some difficulty as Peter, the purported elusive Chinese owner, apparently activated an automated tracking system shortly after the raid.
July raids saw police arrest 34 targeting gambling networks and call centre operations
In cooperation with Chinese police again in July this year, the Thai authorities raided 14 different locations including premises in Bangkok, Nonthaburi and Phuket. Many of the online gambling suspects were apprehended in Phuket and included nationals from China, Myanmar as well as members of a Thai hill tribe community. The Deputy Chief of the Thai Tourist Police Major General Surachete Hapkarn again took part in the operation. He told the media, at a later press briefing, that one man in China had committed suicide after losing up 2.5 million baht to gangs like that apprehended. A representative of the police authorities in China also briefed the media. Praising the Thai police he pointed out that many innocent people in Chia were victims of this sort of crime. Police displayed a huge haul of PCs, and valuable including luxury sports cars also seized as part of the crackdown.