35-year-old Sriwipha Wattanawansap leveraged her fame to exploit others according to police. One fraud scheme involved renting two Honda cars that she herself was contracted to rent but failed to pay the owner of the vehicles.
A high profile woman who made her name in modelling being featured regularly on travel magazines, leveraged her fame to pull off a series of scams and frauds which have resulted in 9 arrest warrants being issued against her with accumulated claims of over ฿10 million. She was arrested by Thai CSD police on Saturday in Bangkok.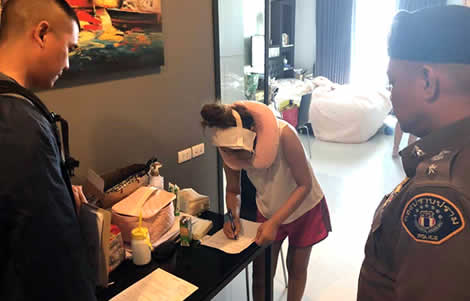 A well known Thai fashion model was arrested by Crime Suppression Division police on Saturday at her luxury condominium at Rama III road in Bangkok in the Yannawa district of the city.
Arrest warrant issued by a Bangkok court executed on Saturday at the woman's luxury condo
It is understood that the 35-year-old woman named as Sriwipha Wattanawansap is wanted in all, in connection with 9 outstanding warrants and that the total sum lost by victims of the alleged crimes reaches over ฿10 million.
Her arrest on Saturday was for colluding in fraud and was issued by the Bangkok South Municipal court.
A senior CSD officer explained that the fashion model, known also as 'Oy Take Me Out' is believed to have hired out two Honda cars on a rental basis to third parties that she herself had contracted to hire but had failed to pay for.
Fraud schemes linked to property
The model is also believed to be involved in fraudulent schemes linked with property. On June 1st last, one of the victims of her property scheme frauds who had been trying to track down the address of the fashion model known for her appearance on travel magazines finally lost patience after watching her appearance on TV in one of her glamour roles. This spurred the victim into action.
The victim, who had lost ฿1.3 million, filed a complaint with the Crime Suppression Police in Bangkok to investigate the woman.
Model presented as an astute businesswomen
The police superintendent with CSD in Bangkok subdivision 2 Police Colonel  Arun Wachirasrisukanya, explained to reporters on Saturday that the model's high visibility and profile allowed her to leverage her fame to gain people's trust and confidence.
He pointed out that Ms Sriwipha Wattanawansap held herself out as being an astute businesswoman.
Ms Sriwipha denies all charges and will only give a statement to the court at the appropriate time
Following her arrest on Saturday, the model denied all charges ranged against her. She also refused to give a statement to police saying that she would only do so to a court.
CSD police have handed over the accused to the custody of Thung Mahamek police station where legal proceedings are to be commenced based on the warrant issued by the court in Bangkok.
Further reading:
Thai man's ฿10 million credit card fraud ended Monday with his arrest by CSD police in Bangkok
Star defrocked as a monk and arrested in ฿13 million credit card fraud linked to Udon Thani hotel
Online porn star is in serious legal trouble as Thai police link her to car fraud and gambling as well