Porn star Nong Am was arrested by Thai police at her home in the Charoen area of Bangkok on Friday. The 32-year-old is reported to have performed live porn shows in a bedroom setting online. 
A Thai online porn star has explained ฿10 million in her bank account as proceeds from the sale of T-Shirts online. Last Friday, she was arrested by Thai police on foot of an arrant issued in Pattaya in April linked with the fraudulent sale of a second-hand car. Thai police, however, questioned her at length about her online performances and special access packages being sold online on a leading social network. She is also facing charges, it is understood, in relation to illegal gambling online.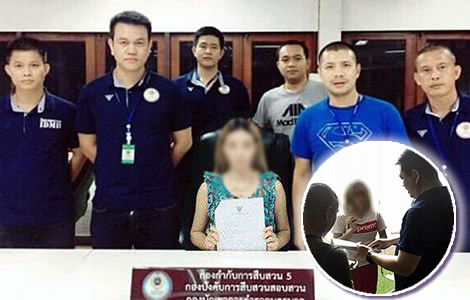 A Thai woman well known to have a popular following online and dubbed a 'net idol' was been arrested by Thai police last Friday in Bangkok. Officers raided the home of the 32-year-old star, Nong Am or Ms Jindarat 'Amp' Seripaiboonsap in the Charoen area of Bangkok on Soi 48 in Phetchkasen.
Warrant for second-hand car fraud issued in Pattaya this April against the porn star
The action by Thai police was in relation to several different lines of enquiry. One is a warrant issued in Pattaya by the district court in relation to fraud charges in April this year. It is understood that this is linked to the fraudulent sale of a second-hand car. Thai police are also investigating the online performer after inflows of ฿10 million were recorded in the young Thai woman's bank account.
Police launch major investigation into online distribution of pornography racket
Already the star is facing serious charges linked with live pornographic shows which she is reported to have been streaming online for a growing audience for fans. It is reported that customers have been paying ฿1,000 fee on a popular social network application to access online videos. 
Star explains that the ฿10 million that entered her account was from the sale of T-Shirts 
However, the enterprising star has denied some aspects of the scurrilous charges made against her. She claims that the bulk of the income of ฿10 million that passed through her account came for her most lucrative business of all, selling T-Shirts online. Thai police are also investigating the star for alleged links with betting and gambling online which is strictly illegal in Thailand.
Nong Am taken in for questioning by police at Phayathai, Bangkok on a range of issues
The star was taken to Phayathai Police station where police questioned her at length. It is understood that as well as facing charges for producing and distributing pornography on a commercial basis, prosecutors may also be looking at the activities of the social media groups that she established online.
Nong Am admitted her links with the fraudulent second-hand car sale and online porn videos 
Ms Jindarat has admitted being linked to the car fraud charge which involved a fraudulent transaction related to the sale and transfer of a second-hand car.  She also admitted to police that she is the woman in the online videos being promoted online.
Legal action being pursued by police in Bangkok and Pattaya against internet star
It is understood that legal action against the star will now be pursued by both police in Chonburi in relation to the second-hand car fraud and police in Phyayatha Bangkok, who will continue to investigate the online pornography racket. Thai police in Bangkok have also charged the online performer for her involvement with gambling rackets. It is understood that the star is facing a number of charges relating to this criminal activity.