The Thai man started to gather information on his mistress with whom he had a 12-month affair after losing contact with her following reports he received that she was dating a 'farang' boyfriend. He then began to enquire about their whereabouts.
A spurned Thai lover gunned down an Italian man on Sunday after his mistress was discovered at a hotel resort in Khon Kaen with the foreigner and riding on a motorbike that he told police he had paid for.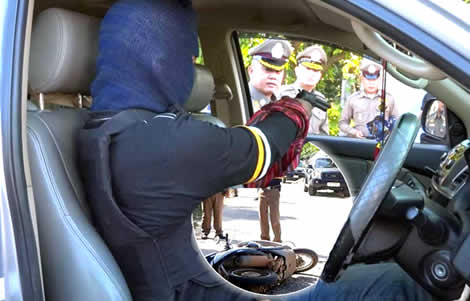 Thai police in Khon Kaen have charged a 45-year-old Thai man, a contractor, with murder following the killing of an Italian national in the Kranuan district of Khon Kaen this Sunday.
Italian man involved with the Thai woman for 12 months before last Sunday's attack
The Thai man was named by Khon Kaen police as Suchin Oomket. He told the police that he had gunned down the 58-year-old Italian because he was having an affair with his 32-year-old mistress Sumitra Sripromma for the last 12 months.
He told investigating officers that although he was married and living elsewhere with his family, he had developed a relationship with the woman which lasted over a year and he had even bought her a Honda motorcycle.
Reports reached him that his 32-year-old girlfriend had a new lover as his mistress lost interest
Then he heard reports that the younger woman was having an affair with a 'farang' or foreign man and he also found that the woman becoming adrift from him eventually without making contact at all. This prompted him to take action.
He began to investigate her whereabouts. On Sunday, he tracked her down to a hotel resort in Soi Ban Hao Chao in Kranuan where the young woman was staying with the Mario Perry, the Italian interloper who had taken his place.
Monitoring the couple on Sunday when he saw red
At length, while monitoring the couple from outside, he spotted the Italian emerging from the resort hotel riding the same Honda motorbike that he had bought for the woman the year earlier.
His anger aroused, he drove after the man in his vehicle. When alongside the Italian man, he shot at him through an open window killing him.
Fled to Hai Mek in Kalasin province
Police Major General Phutthipong Musikul, the police commissioner in Khon Kaen confirmed to the press today that the Thai man was arrested after authorities brought pressure to bear for him to surrender to police. He had fled Khon Kaen for the Huai Mek district of Kalasin province to the north.
Police later retrieved the murder weapon, a pistol, from a forest nearby in Huai Mek.
The police chief revealed that Mr Suchin had made a full confession to the murder of the Italian man. The Thai man later cooperated with police on a crime reenactment on how the killing took place.
Further reading:
Thai woman and French man say Goodbye leaving for a Thai prison after being convicted of murder
Thai murder suspect insists his Thai girlfriend played an insane game of Russian roulette