Love that went wrong: The conclusion of the Thai police investigation sees two dangerous killers sent away for a long time. The lovers will probably never meet again. It has also been revealed that the younger French man was viciously attacked by the older Thai woman in 2017 prior to the murder of her 61 year old Italian relationship partner.
Last Sunday two lovers said their goodbyes in a emotionally charged encounter at a provincial Thai police station. A French man and Thai woman, both convicted of murdering her Italian relationship partner were sent away for over 14 years each at provincial prisons in Thailand's Phichit province. They will, probably, never see each other again. It brought to an end a successful Thai police investigation into a love triangle which, in Thailand, usually spells disaster.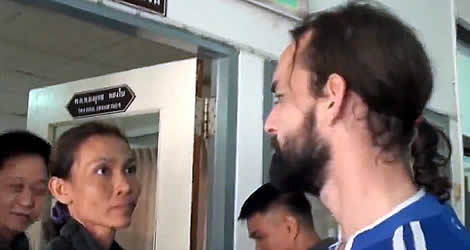 Last Sunday, an emotionally charged last glance brought to an end a disastrous love triangle that saw a 61 year old Italian man, Giuseppe De Stefani, murdered in the Bueng Na Rung area of Phichit. The Thai woman at the centre of the affair, said goodbye to her younger French lover at the Provincial Police Station the Bueng Na Rang district of Phichit province. The local police chief had formally confirmed the sentence of the provincial court, bringing to a conclusion a successful police investigation and conviction of two very dangerous killers.
As Thai police officers milled about in a central room of the police station, some holding mugs for refreshment, a bearded foreigner is led forward. Outside the police station this Sunday, all is quiet and the birds are chirping. Handcuffed at the front and holding his belongings in a plastic bag, he is surrounded by four or five Thai policemen, ready to send him on his way to begin his 14 year sentence in a Thai prison. He is Amaury Rigaud, former French soldier, immigration offender and fatal lover of an older Thai woman, 38 year old Rujira Iemlamai.
An emotional goodbye at a provincial police station in Phichit for Thai woman and foreign man
Then the door opens and a striking Thai woman, dressed in black, appears. She is gaunt looking but the signature of beauty is still there and her eyes have an obsessive glare. She is on a mission. It is Rujira. She gesticulates and seems to be giving him instructions with pointed gestures. He simply wishes to kiss her. They kiss once, then twice, for a longer time and she continues to instruct him. Finally, they stare at each other. It is an emotional goodbye. He turns and she looks outside to witness his transport to prison before decisively turning away. He looks back one last time as she is already walking away. He is led out by four Thai police officers. He looks emotional and holds his head upright. Three officers get into the air conditioned cell at the back of the police van after him and it drives off for prison. It is the end of a tragic love affair which has ruined three lives. They will, it is almost certain, never meet again.
A Thai provincial court had earlier sentenced Mr. De Stefani's former Thai partner, 38 year old Rujira to 14 years and 4 months in prison while her younger French lover, Amaury, received a sentence of 14 year and 8 months. Both had stiffer sentences, originally imposed by the Thai court of 20 years, reduced because the guilty couple had confessed to the crime and co-operated with Thai place including a reenactments of the events that led to badly burned, dismembered and charred body of Mr De Stefani being found in a wooded area near Rujira's home earlier this year on January 19th last.
Thai woman and French lover sent to provincial prisons in Phichit to serve long jail term
Police later investigated the crime and quickly identified the Thai woman and her new foreign lover as the prime suspects. At one point in the investigation, Thai police believed that there may have been others involved in the disposal of the body of the older, western man. The sentences were confirmed by the Chief of Police for the local area, Colonel Chaisathian Maneejak and were handed down by the Phichit Provincial Court. The French man, a former French army sniper, was also convicted of entering Thailand illegally on multiple occasions. The former lovers have been held at provincial prisons in Phichit and will initially serve their sentences there.
Love pair arrested at a Thai tree plantation
Phichit is a small province in the centre of Thailand about 330 km north of Bangkok. In the aftermath of the grisly find last year, Thai police and security forces were forced to mount an expansive search for the two fugitive lovers as they made an attempt to escape towards the border with Myanmar. The French man used his military skills and training to evade capture. The couple's plan was foiled by locals in Tak province, near Myanmar, who spotted the two lovers living in a tree plantation. The French man was later captured after the Thai woman was initially found hiding in a tree.
Italian man's Thai relationship partner, Rujira, was previously married to a Thai man
Police had only been able to identify the Italian man's body from a tattoo on his right leg. It was severed. They discovered that the Thai woman, Rujira Iemlamai was known to argue constantly with her older western lover with whom she was living at her home. She had previously been married to a Thai man. In the course of the trial, some attempt was made to introduce evidence to suggest that the Italian man was violent towards her and her two children but the evidence strongly suggests that she was the more violent one. She had formed a passionate relationship with the equally volatile and younger French man, Amaury Rigaud, much to the chagrin of her Italian relationship partner.
Thai woman told Italian murder victim she loved him only for money as she took a younger lover
The Italian man lived at her home in the Bueng Na Rang district of Phichit. In a search of the house following the murder, Thai police found a sad note, written by Mr De Stefani, admitting to himself that his Thai girlfriend or lover had only ever been interested in his money.  The note said: 'You told me that you loved me only because you wanted money. I have never met a bad person like you before.'
Murder in love triangles quite common in Thailand
It was also reported that the Italian man had offered the younger French love rival ฿100,000 to leave and stay away from his wife. It is a classic love triangle story, similar to many in Thailand involving beautiful Thai women, who attract more than one man in a sexual relationship. Quite often in Thailand, it is the woman who is murdered when a Thai man feels he cannot share her charms with another man and has lost his dignity. However, there are also many instances of men murdering love rivals.
Both lovers blamed each other in police interviews
In the aftermath of the police investigation, a copy of Mr De Stefani's passport emerged. It was found at the home he shared with Rujira. It shows a respectable, smart looking western man, quite a contrast to the wild, unkempt visage of the man who murdered him. Following their eventual capture by the Thai police, the Thai woman and the French man both attempted to apportion the blame for the killing on each other. The Thai woman suggested that the French man had arranged to meet Mr De Stefani in the woods for some sort parley to resolve their disagreement over her.
She explained that she was not present. She was not responsible for the murder. She suggested that a heated argument had ensued between the men leading to a fight in which the Italian man died. Similarly, Mr Rigaud suggested to police that a flaring argument had ensued between the Italian man and his Thai partner and that she had killed the older man. He had only assisted her to cover up the crime.
Love triangle trio meet in the woods
At the court hearing on October 31st last, the truth finally emerged. There had been a meeting in the wooded area between the two men alright but the Thai woman, the object of both their desires, was also present. The three involved in the love triangle had driven there by car. There was a heated argument between the two men. It escalated quickly to violence. The Italian man and the French man both got out of the car. Mr De Stefani hit the French man, whose response was to retrieve a knife from the car. He stabbed the Italian in the neck and killed him.
Thai woman was violent and slashed her younger French lover in 2017 disfiguring his face
Press reports of the tragic love triangle has drawn international coverage and interest. Friends or associates of Mr Rigaud in France have attested to the influence the Thai woman had over the younger French man. It has also been revealed that he was able to enter and leave Thailand on a number of occasions using his army trekking skills as a sniper. He was, in fact, already on a blacklist of immigration offenders and should have have been in Thailand at the time of the murder.
The French man had a unique and vicious scar across the full extent of his face. At the last engagement at Bueng Na Rang police station, where the couple said goodbye, it was hidden by an extensive growth of beard and facial hair. However it has been revealed that it was from a severe injury inflicted by his Thai lover in 2017. Rujira Iemlamai had slashed him in a frenzied attack. The resulting scar that the man suffered, runs all the way from his forehead to his lip. It is clear that, in this instance, the Thai justice system has got it right.
Love triangle murders in Thailand linked with popular TV soaps, foreigners and money