Included in the 12 arrests warrants awaiting the German man in his home country are charges of credit card fraud and financial deception of the elderly. A failed beer bar venture in Pattaya run by the 52-year-old Richard Stanislaus Kruger and his elderly patroness from his own country led to a heated argument shortly after which the woman died after taking a shower.
A bleak and distressing story of a 52-year old German man brought before the press on Tuesday was revealed by the Head of the Thai Immigration Bureau Lieutenant General Sompong Chingduang. Richard Stanislaus Kruger, fleeing from up to 12 arrest warrants in Germany, arrived in Thailand in May 2017 with a 77-year-old retiree and compatriot Margund Schaefer. Police on the 12th of January found Ms Shaefer's body wrapped in a blanket and stuffed into a wooden box floating on a canal. Police are now looking for evidence that woman may have been murdered.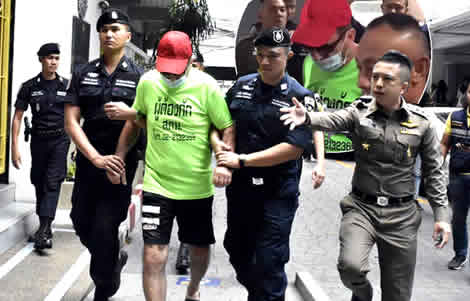 Thailand's immigration police paraded a German man arrested on Friday on suspicion of concealing and disposing of the body of an elderly German woman whose remains were found in a floating box this January. He is also charged with overstaying his tourist visa since June 2017. Police are now extraneously investigating the circumstances of the death of 77-year-old Mrs Margund Schaefer with whom Mr Kruger arrived in Thailand in May 2017.
Immigration chief briefed the media on Tuesday in the arrest of 52-year-old Richard Stanislaus Kruger
The Head of the Immigration Bureau Lieutenant General Sompong Chingduang briefed the media on the sad case on Tuesday in Bangkok. He revealed that the arrested man named as 52 year Richard Stanislaus Kruger is wanted in Germany on no less than 12 different warrants for offences ranging from credit card fraud to obtaining money by deception from elderly people.
Family of Margund Schaefer contacted German police fearing for her safety
The policeman said that it was the German police who had provoked their interest in the matter after the family of Ms Schaefer had contacted them fearing for her well being and that she may have been a victim of abuse. Their fears may have been well-founded.
German met a Thai girlfriend in December 2017
On Tuesday, Lieutenant General Sompong revealed that it appears that Mr Kruger had met a Thai woman with whom he began to live from December 2017. 
Police began investigating the German man after the elderly woman's body was found
Thai police had been preparing a case against Mr Kruger after a wooden cabinet was found floating on the water in a canal near the Mueang area of Chonburi on the 12th of January 2019. In it was stuffed the body of the elderly woman from Germany.
Police were later able to identify the body from dental records as that of Ms Shaefer.
Beer bar venture in Pattaya that failed
The immigration police chief told the press that Mr Kruger and Mrs Shaefer had opened a beer bar at one point in Pattaya but this was unsuccessful. Mr Kruger's Thai girlfriend or partner revealed to police that he was living on a portion of Ms Shaefer's monthly pension income sent from Germany.
Heated argument in the aftermath of the business failure led on to Ms Shaefer's demise
The evidence suggests that the failure of the beer bar led to a heated exchange between Mr Kruger and his elderly benefactor in January after which she is reported to have left the room and went to take a shower.
This information was provided by Mr Kruger's Thai girlfriend who also revealed that the German woman was living with the couple in the Saen Suk Subdistrict within the Mueang district of Chonburi.
Thai girlfriend told police that the German women fell in the shower but later died
Police said that Mr Kruger's girlfriend explained to them that the woman fell in the shower and that Mr Kruger had helped her to bed to take a nap. She said that he later discovered the woman was dead and then resolved to dispose of her body.
Wrapped her in a blanket and placed her in a wooden box or cabinet then dumped it in a canal
He placed it in a blanket and then put it into a wooden box or cabinet. He transported the box on a motorbike and a borrowed side trailer to the nearby Bang Prong canal at a point behind a stadium in the Saen Suk area of Chonburi.
He dumped it into the canal which led to it being found on the 12th of January 2019 and brought to the attention of police.
Immigration police had been looking for Kruger and Schaefer since June 2017 over visa overstay
Police had been trying to locate Ms Schaefer and Mr Kruger since both their visas had expired in June 2017. Their attention was further heightened by an approach from German police and later by the discovery of Ms Shaefer's body.
German man was arrested on foot of warrant on Friday the 18th October at his Chonburi home
The German man was arrested on foot of a warrant issued by Chonburi Provincial Court last Friday, the 18th of October. He was tracked down by police to a rented room in the Mueang area of Chonburi where he was found living with his Thai girlfriend.
Denies concealing and disposing of the body of the 77-year-old woman in January
On Tuesday, the German man did not address the media but Lieutenant General Sompong revealed that he is denying being the person who disposed of his friend's body and this has led police to deepen their investigation. 
This will include taking evidence from the man who had loaned his trailer to the German and tracking the bank accounts and financial transactions for the deceased woman to establish an overlap with Mr Kruger.
Police trying to establish if this was murder
Lieutenant General Sompong also suggested that it may be possible for forensic evidence to establish if the German woman had, in fact, been murdered.
He highlighted the failure of the beer bar business in Pattaya as the source of the conflict between the German fraudster and his patroness. 'That led them into an argument. A Thai witness said they had an argument before the victim went and took a shower. But whether or not the argument led to a murder, we can't say at this point,' Lieutenant General Sompong said on Tuesday.
The German is currently in detention at Saen Suk police station while the negotiation is being carried out.
Further reading:
Thai man sentenced to death for the Ko Si Chang murder of German woman Miriam Beelte in April
Foreigners in Thailand who seem to lose their sanity when things go wrong in an alien paradise