Police raided the apartment of Feng Yi Sheng and found 60 counterfeit cards, 32 of which contained data from real credit cards belonging to third parties. Police seized a laptop computer and skimming machine for obtaining credit card data.
Thai police on Friday arrested a Chinese man in Lumpini in connection with credit card fraud after being alerted to his activities on the Chaeng Watthana road in Bangkok by issuing banks who reported the use of cloned counterfeit cards for financial transactions.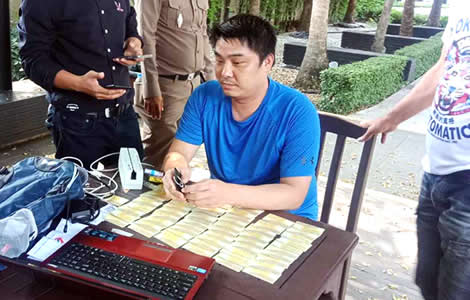 Thai police on Friday last arrested a Chinese national engaged in a credit card fraud operation using hacked credit card numbers from his condominium located in the Huai Khwang area of Bangkok.
Raided by Economic Crime Suppression Division of the Royal Thai Police
The man named by the Royal Thai Police as Feng Yi Sheng was placed under arrest at the condominium building in Lumpini place located on Rama IX road. Arresting officers were from the Economic Crime Suppression Division of the Thai police
The media was briefed by Police Colonel Padol Jandon, a superintendent with the police division.
Engaged in fraudulent financial transactions 
He said that police found 60 credit cards in the room where Mr Feng was residing. Their interest in the Chinese man was sparked by a communication from bank credit cards issuer who suspected that counterfeit versions of legitimate cards were being used at locations on the Chaeng Watthana road which extends into Nonthaburi province, north of Bangkok.
Data used belonging to Chinese cardholders
On examination of the credit cards found in the condominium in Lumpini, police ascertained that 28 of them had data installed on them which had been hacked by criminal networks from legitimate Chinese credit cardholders.
Laptop and skimming machine seized
Police seized a laptop which the man had been working on when they raided his lair together with a credit card skimmer which is a device used for obtaining credit card transaction data from legitimate cards so that they can later be counterfeited.
Chinese man confessed and cooperated with police
Mr Feng confessed to Thai police and provided a full account of his criminal activities in the kingdom as well as intelligence to police on his accomplices.
The arrest comes as a litany of similar cases have arisen in recent years involving Chinese criminal gangs coming to Thailand to further criminal enterprises in which credit card counterfeiting appears to be a speciality.
Although criminals use skimming devices and exploits to hack credit cards, data can also be bought online through the criminal underworld or dark web.
Ongoing hacks on credit card data worldwide
There are ongoing attacks on data carried out across the world by Chinese hackers targeting large databases that hold credit card information and bank account details. China is becoming synonymous with hacking activities but other countries such as Ukraine, Russia and Brazil have also developed a reputation as a home to this sort of criminality.
The biggest to date was an attack on the US Marriott Starwood Hotel group in the United States which saw data from 500 million users hacked. This was later attributed by the FBI to specialist Chinese cyber programmers.
Two Indonesian credit card scammer arrested on Friday 18th October also in Bangkok
In a separate arrest a week earlier, Bangkok police also arrested an Indonesian couple for alleged credit card fraud.
32-year-old Alexander Eddilias and 33-year-old Estie Rusdiana were found in possession of fake credit cards, stolen credit cards, and credit card skimmer used to steal credit card information.
This occurred on Friday 18th and led to the two Indonesians being charged with having counterfeit credit cards as well as using a skimming device to obtain more data.
The arrest followed an urgent request from several local banks whose customers had become victims of the two criminals.
Data purchased on the dark web
The pair, according to police sources, also purchased credit data on the dark web to propel their criminal enterprise until Thai police caught up with them.
The scale of the damage and hardship these criminals can cause can be seen from the fact that when arrested, they were found to be in possession of 24 credit card receipts and two stolen credit cards.
Further reading:
Owner of Udon Thani hotel and Manager arrested in connection with ฿13 million credit card fraud
77 Chinese tourists arrested by police in 24 hours for scams, online rackets in Bangkok and Pattaya