The story and information available so far doesn't explain the role of a Chinese national and another Thai man who were arrested by Thai police on Monday. The fraud was only carried out over a period of two months from December last year to January this year. All those arrested on Monday denied the charges of credit card forgery and embezzlement put to them.
Thai police arrested five people in Udon Thani and Bangkok on Monday linked to a ฿13 million credit card fraud which only ran for two months up to January this year. Those arrested included the owner and manager of a well-known hotel in the northern Thai city as well as a staff member. A Chinese man and another Thai national were also detained. All have, so far, denied the charges of credit card fraud and embezzlement brought against them by investigating police.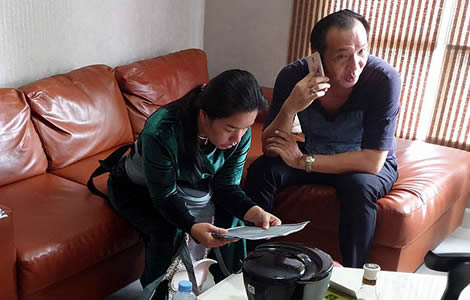 Thai police have arrested a credit card skimming gang which included the owner of a hotel in Udon Thani. The extent of the fraud scheme amounts to ฿13 million ($420,000). It is understood that one of the key players behind the operation is a Chinese man according to Thai police. It is reported that forged credit cards were used by the owner and staff of the hotel in the northern Thai city so that large sums could be transacted and later cleared into the bank account of the hotel. These funds were later shared out between the gang. Police Colonel Padol Chandon, who is a commander of the Economic Crime Suppression Division, briefed the media on Tuesday.
Gang of 5 arrested for credit card fraud at a well known Udon Thani hotel on Monday
The arrest of the gang occurred on Monday. Among those arrested was 48-year-old Chinese national Liu Chi Chung and 38 year old Thai national named as Thappapop Ruangpradit. Both are reported to have been arrested in Bangkok. In addition, the owner of the Lotus Condotel Hotel in Udon Thani together with two staff working at the hotel, have also been arrested by investigating Thai police.
Owner and Manager of hotel as well as staff member among those arrested by Thai police
The owner of the hotel, Thanawut Isarangkun na Ayutthaya, has been charged by police in connection with the fraud as well as the manager Sakda Pongpetra and staff member Panisa Seeho.
All those involved with the racket have been charged with credit card forgery and embezzlement. Thai police are reporting that, at this time, the suspects arrested are denying the charges. Credit card fraud involving Chinese groups with access to stolen credit card data is becoming a pattern in Thailand following a number of huge data breaches engineered by hackers in China in recent times. This is a new approach to crime.
Fraud ran only for two months and netted over ฿13 million which police say was shared
The fraud ran from December last year to January this year. Police revealed that it involved 144 bogus transactions that were entered into the credit card system by keyboard entry, a facility open to some business types, particularly in the tourism sector. Some of the transactions are reported to relate to both real and purported customers at the hotel which previously has had a good reputation in Udon Thani as a hotel offering value for money on the outskirts of the town. The hotel was known however to be a bit run down. It is understood that among the charges processed were also some genuine payments from hotel customers.
Documentation on each bogus charge kept by hotel staff to provide evidence to banks
Thai police report that copies of guests reservations forms, credit cards and passports were kept by office staff at the hotel. The purpose of this was to provide evidence to issuing banks in case of chargebacks requested by credit cardholders who may have subsequently queried the charges on their bills.
Court issues arrest warrants for two Thai men using a stolen Jordanian man's credit card
In Chiang Mai on Monday, in a sperate case of credit card fraud, a provincial court issued an arrest warrant for two Thai men involved in using a stolen credit card belonging to a Jordanian tourist to Thailand. The Visa credit card was the property of 37-year-old Jordanian Mr Hani M. Alabad according to investigating Thai police. Arrest warrants were sought in connection with credit card fraud.
One man was named as Mr Nantawat Boonsathi who is 28 year of age from Sukhothai province and the other was named as 18-year-old Mr Panakarn Kong Krankaew from Chaing Mai.
Jordanian reported the matter to Thai police in Chiang Mai after getting a call from Visa
Both men were arrested in connection with the unlawful use of a credit card, the property of a Jordanian tourist, to go on a spending spree on Sunday last, in Chiang Mai. The use of the card was reported to the police in Chiang Mai by the Jordanian man after he received calls from Visa card concerning the use of his card in the northern Thai city.
Both men engaged in a spending spree on Sunday
The tourist's card was repeatedly used at a 7-Eleven convenience store at Rajapakinai Road at 2.22 pm and over 30 minutes later at the Central Airport Plaza where ฿10,000 was charged against the card. Thai police responded quickly and captured an image of the credit card fraudster from CCTV at the 7-Eleven Store. The man involved was wearing a red hat and police reported his physique was that of a tall and then body. A person matching the description was also alter identified at Central plaza purchasing a ring.
Two men seen on CCTV using the credit card
Further investigation led police to discover that the visa credit card had also been used the day before at a string of convenience stores in Chiang Mai. This appeared to be a different character. On one occasion CCTV footage shows two Thai males using the Jordanian's credit card to make purchases.
Arrests led to the discovery of marijuana as both men are held by police in Chiang Mai
Thai police later procured warrants for the arrest of the individuals involved in the fraud. In executing them, they also found a quantity of marijuana concealed in a pouch within a Robinsons Shopping bag.
Both men confessed to the crimes and were lodged in custody at Chiang Mai Police station where legal proceedings to prosecute them have been commenced by police.