Key Cambodian leaders have said that they will return to Cambodia on November 9th via Thailand in recent days. Sam Rainsy, the founder of the dissolved opposition political party, the Cambodian National Rescue Party has vowed to be back in his home country to lead a people's power movement on its independence day against the long-time ruler and former Khmer Rouge member Hun Sen who now leads a one-party state.
A threat by Cambodian opposition leaders to use Thailand as a base to launch a people's power move to overthrow long-time strong man Hun Sen has seen trade in Thailand's Sa Kaeo province disrupted this week and a firm response from Thailand's prime minister that such a move would not be tolerated on Thailand's side of the border.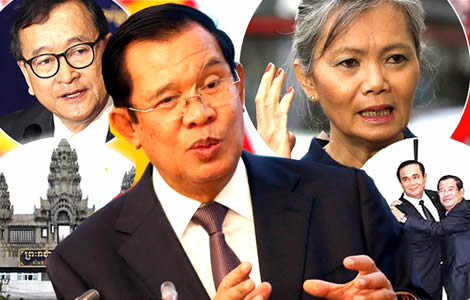 Cross border trade between Thailand and Cambodia has been disrupting this week as security forces on both sides of the border react to a plan by Cambodian opposition parties to return to that kingdom on November 9th in what is seen as a concerted effort to oust the country's strongman Hun Sen who has been in power in the country for the last thirty five years and the upper echelons of government for 40 years.
Hun Sen is now the longest-serving government leader in the world.
Opposition leader in exile in France since 2015
The heightened tensions have been caused by plans by key opposition leader Sam Rainsy who has been living in exile in France since 2015 after a Cambodian court convicted him on defamation charges ordering him to pay $1 million. 
The Cambodian leader who is a member of the Cambodian National Rescue Party which was dissolved by the courts in Cambodia in 2017 before the last general election there in which the lone party of Hun Sen, the Cambodian People's Party, took all the seats in Parliament. 
EU and US still have strong trade ties with Cambodia
The European Union and the United States has long grappled with the increasingly authoritarian regime in Phnom Penh encouraging reform but have met with trenchant resistance from Hun Sen's government which consistently points out that western democracy and its standards cannot be implemented in Cambodia.
At a speech given in Phnom Penh earlier this year, Hun Sen said: 'You eat bread, I eat rice. It's not the same. We hope we can understand each other,' as he called for respect from western powers for Cambodia and its laws.
Cambodia benefits from the US General System of Preferences which Thailand is to be excluded from
Despite the condemnation and threats of western powers, Cambodia has extensive trade links with the European Union which is its second-largest market, as well as the United States where it's clothing, apparel and luggage making industry benefits from the Generalised System of trade preferences access to which, was withdrawn in recent weeks from Thailand to become effective in April next year.
Cambodian authorities take opposition threat very seriously seeking arrests on foreign soil
This recent push by the opposition activists outside Cambodia's borders is being treated urgently by Cambodian authorities who maintain an aggressive posture to such moves often the requesting Thai government's help to arrest opposition activists on Thai soil.
Opposition activist arrested in Thailand in 2018 and deported back to Denmark
In May 2018, a Cambodian opposition activist who had refugee status in Denmark Sam Sery was deported from Thailand after he was arrested for overstaying his visa at an immigration centre.
Cambodia had moved fast and urgently requested that Mr Sery be handed over to Cambodian officials as the activist faced a prison sentence in his home country. Thailand demurred and won praise from human rights groups for its decision.
Mr Sery had claimed that his younger brother Yean Yoeurb, arrested and held in a Cambodian prison, died under mysterious circumstances in December 2016.
Ongoing campaign to suppress political dissidents in Cambodia becoming more oppressive
There is reported to be an ongoing campaign of repression against political opponents of the Hun Sen regime including the arrest last month of six opposition figures with 30 having been arrested this year. 
The leader of the now-dissolved opposition Cambodian National Rescue Party Kem Sokha is currently being held under house arrest in the country and has been held for the last two years. He faces charges of plotting to overthrow the government.
Sam Rainsy tells social media he is going home 
The current crisis centres on a threat by Sam Rainsy and other opposition figures to return to Cambodia next Saturday which is the day Cambodians celebrate independence from France, the former colonial power. 
Mr Rainsy, the founder of the opposition party has issued a social media statement which says:  'I will depart from Paris on Thursday, November 7. I will arrive in Bangkok on Friday, November 8 to be ready to enter Cambodia on Saturday, November 9.'
Mr Rainsey also showed a picture of plane tickets and itinerary.
Thai Prime Minister says Cambodia activists will not be allowed into the kingdom
This drew an immediate warning from the Thai Prime Minister Prayut Chan ocha who stated unequivocally that the Cambodian opposition figures will not be allowed entry in Thailand.
'According to our commitment to ASEAN, we will not interfere in each other's internal affairs, and we will not allow an anti-government person to use Thailand for activism,' General Prayut said ' I have ordered this, so he probably won't get in.' 
End of October saw Cambodian opposition figure turned around at Suvarnabhumi Airport
Earlier at the end of October, Mu Sochua the Vice President of the banned Cambodian Rescue Party was denied entry at Suvarnabhumi Airport on Sunday afternoon the 20th October and flew back again to her country of origin.
The political leader was not taken into custody but allowed to book a flight back to where she is living in exile.
Cambodian opposition leader says she will be back
Now Ms Sochu has also announced at a press conference in Jakarta, Indonesia that she will also be returning to Cambodia on Saturday.
The opposition figure has denied comments from Phnom Penh which describe the threat as an attempted coup d'etat against the established Comabiodjan government.
'We are risking our lives. We will go to Cambodia empty-handed with bare hands,' Ms Sochua told reporters.
Press conference in Jakarta condemned by Cambodian ambassador to Indonesia
Her press conference in Jakarta was vigorously opposed by the Cambodian ambassador to Indonesia who described it as an 'illegal' event. The ambassador urged authorities there to arrest Ms Sochua and her associates who took part in the gathering which was the subject of a live internet broadcast.
Opposition feels people are ready to revolt
There has long been a body of opinion among opposition parties outside Cambodia that the population is waiting for a signal to rise and overthrow the current Cambodian regime which is thought to have become deeply unpopular in the country for its increasingly authoritarian methods and its closer relationship with China which has seen huge numbers of Chinese investors and businessmen flocking to the country.
There are also reports that members of Hun Sen's family and the political elite in the country have stashed away money and purchased citizenship in Cyprus by investing in the EU territory as an escape route if the regime is toppled.
Thai traders in Aranyaprathet district in Sa Kaeo losing business through chaos on the border
In the short term, many small traders in Thailand's Aranyaprathet district in Sa Kaeo this week have reported disruption to normal trade linked to security activities on both sides of the border. 
Cambodian Intelligence is reporting that the popular border crossing area could become a focal point for the opposition parties as they fear they may attempt to enter Cambodia there and rally support within the country.
Thai officials approached by Cambodian authorities
Cambodian officials have also told Thai authorities that they fear thousands of Cambodian workers from the Thai side of the border may join the move.
Police Colonel Benjapol Rodsawat of the Sa Kaeo Immigration Police has confirmed that Thai officials have been approached Canadian officials in Poipet and the Cambodian military seeking their cooperation.
Business postponed by local traders
He said that he had sent Thai police unit to the area but traders had fled the scene.
This is also being confirmed by Thai traders including many outside Sa Kaeo who travel to the border town. They are reporting that they have had to postpone business activities this week because of the tensions which have thrown normal trade at the key border area into a flux.
No political threat in Thailand say officials
Thai police, however, have formed the view that there is no political activity linked with the market traders despite the disruption caused by the planned events and concerns expressed by Cambodia security agencies that thousands of Cambodian my turn up on the Thai side of the border to support the opposition. 
The tensions have seen Cambodia send more military personnel to the area and Prime Minister Hun has threatened even further troop deployments.
Cambodian nationals very sensitive to political rhetoric
Cambodia has a tragic history stemming from the Pol Pot era and its population is very sensitive to political moves and threats of instability on both sides of the border.
At one point, huge numbers of Cambodian informal workers necessary for the Thai economy fled Thailand based on a government's announcement of a tightening of immigration policy.
Cambodian opposition leader vows to risk imprisonment or even death to fight the regime
Meanwhile, Sam Rainsy has told international newswires including the Associated Press that his plan is indeed to trigger a people's movement and uprising against what he terms is a one-party state of tyranny in the kingdom which is one of Thailand's closest neighbours.
He has vowed to press on with his plans even at the risk of imprisonment or even death.
Further reading:
Who is Sam Serey the Cambodian dissident deported from Thailand recently?