China's huge Covid wave continues unabated with more countries requiring testing for Chinese arrivals. Thailand's Minister of Public Health Anutin however has insisted that all arrivals to Thailand be treated equally. This principle has been upheld despite Monday's reversal of a vaccine requirement for arrivals which came into effect at 1 am causing panic throughout the world as it emerged that a significant minority of travellers to Thailand are not vaccinated threatening massive disruption and cancellations.
On Monday morning, Deputy Prime Minister and Minister of Public Health Anutin Charnvirakul confirmed reports that a controversial entry restriction to Thailand for unvaccinated foreign tourists had been rescinded and that the country was now open without restriction to visitors from all countries on an equal footing including China due to bolstered immunity from Covid globally. The move followed an emergency Monday morning meeting after a weekend of chaos and urgent calls from the foreign tourism industry to avoid disruption to a recovery underway now buoyed by Chinese arrivals.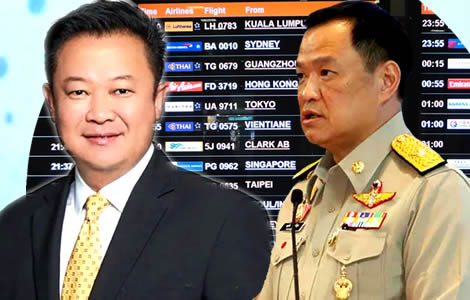 The Thai government on Monday reversed its controversial measures requiring that all arrivals to the country have proof of vaccination just under 24 hours after the requirement took effect on airlines flying into its international airports.
From 1 am on Monday, the rule was to be imposed for all flight arrivals but it is understood that direct intervention by the Tourism Authority of Thailand (TAT) Director-general Yuthasak Supasorn on Friday may have resulted in tempering the conditions while an urgent meeting was called at the Ministry of Public Health on Monday morning at 9 am.
Emergency meeting agreed to suspend the controversial and biting requirement implemented this weekend through the civil aviation authority
That meeting agreed to suspend the measure which had generated storms of protest across the world within the travel industry, particularly in European and Scandinavian countries which are a key source of high spending long haul tourists to Thailand at this time.
The requirement had been relayed to airlines through the Civil Aviation Authority of Thailand (CAAT) requiring them to stop passengers boarding planes to the kingdom who were not vaccinated.
On Sunday, Minister of Public Health Anutin Charnvirakul was on hand personally to welcome travellers off a Xiamen Airlines flight which landed at Suvarnabhumi Airport from China with 200 Chinese visitors aboard, the first of an estimated 350,000 who are expected in the kingdom over the first three months of 2023 with numbers and flights expected to increase substantially leading to somewhere between 5 million and 10 million foreign tourist arrivals from China in 2023.
China to again become the kingdom's dominant foreign tourism market after flights resumed
The resumption of this foreign tourism activity is bound to establish China in 2023 as Thailand's largest foreign tourism market and help the kingdom bolster a somewhat weak recovery of its critical foreign tourism industry which was completely shut down by the government in response to the unfolding pandemic in April 2020 and which, according to economists, is responsible for generating somewhere between 20 and 20% of Thailand's GDP through direct and indirect sources.
Minister Anutin, on Monday, confirmed to reporters that unvaccinated passengers arriving in Thailand would now be welcomed to the kingdom without restriction while the country still maintains its policy of non-discrimination against any passengers because of where they are travelling from, a key principle for the deputy prime minister in Thursday's deliberations which imposed the controversial vaccine requirement.
Over the weekend, the President of the Phuket Tourist Association, Thaneth Tantipiriyakij had written to Prime Minister Prayut Chan ocha urging a swift reversal of the entry requirements that were being put in place at the same time administered by the Civil Aviation Authority of Thailand (CAAT) which caused consternation as it emerged that between 15 to 25% of the tens of thousands soon to be boarding travellers to Thailand were not vaccinated with a figure of 50% estimated in respect of chartered flights from Russia.
Minister of Public Health confirms the U-Turn
On Monday morning, Minister Anutin explained that there was now sufficient immunity worldwide from the virus so as not to require that all arrivals be vaccinated.
The move means that Thailand now welcomes all foreign tourist arrivals without restriction although Chinese arrivals will face an RT-PCR test on arrival back to their own country.
Test requirements on Chinese tourists as the virus rages with 89% of people in Henan province infected
It comes as countries around the world have imposed test restrictions on Chinese tourists including the United States, United Kingdom, European Union, France, Germany, Belgium, Italy, Malaysia, India, South Korea, Portugal, Qatar, the Philippines, Spain, Japan and Canada while Morocco, a key tourist destination for Asian travellers, banned all Chinese arrivals from January 3rd.
It comes as the virus wave continues unabated in China with news from Beijing last week confirming that 89% of the 99.4 million people in the country's most populous Henan province had contracted Covid.
This was according to Kan Quancheng, the Director of Henan's Health Commission.
Further reading:
Covid chaos descends again on Thailand's foreign tourism sector amid cancellations and complaints
Tourism industry blow: Entry criteria for all arrivals reimposed in response to the arrival of Chinese tourists
Tourism minister's plan to offer vaccines to foreign tourists as recovery mired at 29% of 2019
Airline boss pleads with government to delay the Thailand Tourism Fee (TTF) due later this year
Tourist levy hits further turbulence with fears it could harm airline's effort to boost flight numbers
Negative reaction and horror at Thailand's plan to charge foreigners more than locals at hotels
Anutin: time to halt foreign tourism price deals, Thailand to be the Louis Vuitton of the world travel market
Good news from airports as arrivals help offset damage from inflation and supply chain blocks caused by war
Fears for the baht as it hits a 15-year low and Thai economic performance in the medium term with chronic ills
World inflation crisis may lead Bank of Thailand to act before August and raise interest rates more sharply
Concern for the Thai baht and liquidity if Thailand does not move swiftly to raise interest rates
Thai bond yields spike 20% as kingdom adopts a confident, pro growth pose amid capital flight
Good economic news, test now is how to emerge from stagflation with large price shock looming as inflation rises
Prolonged Ukraine war to see Thai inflation at 6.3%, a stalled economy and a possible downgrade
Travel sector calls for endemic status, scrapping of Thailand Pass and full normality on entry
Oil still boss as Thailand's economy faces a return to 1970s stagflation over the ongoing Ukraine war
Fears for Thailand's economy over Ukraine war with rising inflation rates and loss of confidence
Thailand should move more towards a circular economy as the country faces intractable hurdles
Inflationary fears for Thailand more muted than in the United States but planners should prepare
A cautious recovery in 2022 says Bank of Thailand boss but PM strikes a mildy more optimistic note
With Omicron hovering, firms already suffering a cash flow crunch with the economy again in peril
Shaky economic recovery as planners target only a 1% gain in 2021 with rising headwinds in Quarter 4
Economy climbing out 'of a hole', foreign firm's confidence levels rose sharply during October
Economic fears rising as Thailand faces a bigger crisis than 1997 with rising job losses and debt
Central bank to lower GDP growth forecast as its attention turns to private sector debt management
Thailand to reopen to 'big fish' tourists as a cryptocurrency friendly haven says promotion agency boss
Baht to strengthen later in the year even after July as foreign tourists will return says top bank economist
Industry leaders and central bank all warn that foreign tourism must return to avoid a collapse
Fact – only 6,556 visitors arrived in Thailand last month compared to 3.95 million in December 2019
Desperate foreign tourism business concerns are clinging to straws as they try to survive the crisis