Thailand finds itself still impacted by a global economic downturn which has left it too dependent on a rapid foreign tourism rebound assisted by China's reopening this year. The reopening of the Chinese economy is already presenting challenges with higher airfares being charged by relaunching airlines and increased competition in the export market from Chinese factories.
The chances of Thailand entering into a technical recession in the first quarter of the year rose on Thursday when the country's exports for January fell by 4.5%, a sharper drop than expected leaving the kingdom with a near-record trade deficit of $4.65 billion for the month. The rising economic headwinds caused by heightened inflation in its export markets now leave the kingdom precariously dependent on accelerated foreign tourism growth this year.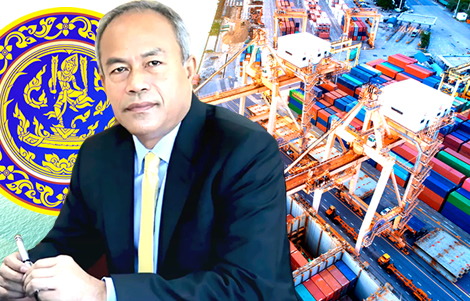 Thailand posted its largest trade deficit in ten years on Thursday when the Ministry of Commerce revealed that exports for January had contracted at a sharper-than-expected rate of 4.5%.
A Reuters poll had earlier forecast a 1% drop.
One of the reasons for the poorer-than-expected outcome was the steep rise in the value of the Thai baht in the opening days of the year which went as high as only ฿32 to the dollar. 
Wildly fluctuating Thai currency stung the country's export drive in January when its value against the dollar soared, 37.6% drop in Thai rubber exports
The Thai currency, which only last October was priced as low as ฿38.2 baht to the dollar, has fallen back since to ฿34.77 with a consensus that it may weaken further in the coming weeks. 
The Bank of Thailand has promised to work to stabilise the value of the currency going forward this year.
A summary of the export and trade performance was given by the Deputy Ministry of Commerce Sinit Lertkrai.
He revealed that agricultural exports had declined in January including a 37.6% drop in rubber sales and a 7.6% contraction in cassava output with chilled and frozen seafood off by 12.6%.
Overall, Agricultural products fell by 2.2% while industrial output linked to the sector was off by 3.3%.
Exports to China down by 11.4%, a surprising 2.2% rise in output to Europe, the kingdom's fourth market
Exports to China in the first month of 2023 dived by 11.4% while the US, Thailand's largest export market, was off by 5.3%.
Thailand's exports to Japan and the Asean community also suffered, falling by 9.2% and 3.5% respectively.
The only bright spot for the kingdom's export drive was a surprising rebound in exports to Europe by 2.2%.
The European Union is Thailand's fourth largest market.
In December 2022, it signed a Partnership and Cooperation Agreement while negotiations resumed on a proposed free trade agreement which began in 2013 but stalled after the 2014 coup.
Consumers in export markets put off purchases due to impeded spending power brought on by inflation
The minister told reporters however that the main reason for the fall in exports in the opening month of the year was related to manufacturing goods as consumers in export markets were put off spending due to rising inflation worldwide which dented their spending power.
'Exports in January fell because they were impacted by many factors such as high trading partner inflation causing consumers to postpone their purchases of new and luxury products. Therefore, the export products are computers and equipment and gems and jewellery while the world's manufacturing sector contracted causing trading partners to reduce imports of new products in the manufacturing sector, such as chemicals, electronic equipment and machinery.'
Trade deficit boosted by more expensive oil but there are hopes that Chinese output is on the rise and hence demand but it is a double-edged sword
The Chairman of the Thai National Shippers' Council Mr Chaichan Chareonsuk was optimistic and blamed the deterioration in the country's performance squarely on the elevated value of the baht in January.
He was more optimistic about the coming months and pointed to reduced freight costs, a weaker baht and reports that manufacturing in China in recent weeks has grown at its fastest pace in 10 years.
Some experts have cautioned, however, that this growth in Chinese output may, in fact, displace Thai exports by causing cut-price competition in the manufacturing sector for Thai exporters.
The figures released by the ministry show that Thailand notched up a trade deficit of $4.649 billion in January as the kingdom saw strong energy imports with rising domestic activity while the price of a barrel of imported oil rose from $77 a barrel in December to $84 a barrel in January.
Hopes of a gain in exports in 2023 appear dashed by latest data making the kingdom's potential economic growth entirely dependent on foreign tourism 
The figures just released for the first month of the year were worse than expected and already economic analysts are pointing out that it is now likely that exports will fall by at least 1% in 2023 compared to an earlier projection of a 1% gain for the year.
Forecasters are now suggesting that it will be the third quarter before export growth resumes leaving the economy entirely dependent on foreign tourism growth in 2023 with a target of 28 million visitors compared to 11.15 million in 2022.
However, manufacturing and exports account for 60% of the Thai economy.
Export growth was only 4 to 5% in 2022 following revised figures which now show a staggering 14.5% slump in exports hitting the economy in the last month of the year, throwing economic predictions out of kilter and reducing overall GDP growth for the year to just 2.6%.
Concern about the growth in Chinese visitors as airfares from China have shot up by 50% to 100% as airlines use artificial demand to fund a re-launch
Already there are concerns about the foreign tourism figures for 2023 despite 2.14 million visitors entering the kingdom in the opening month although a significant proportion of these visitors came from Malaysia, Laos, South Korea, Russia and China which accounted for 91,841 arrivals.
The number of visitors coming across the border from Malaysia was 288,745 with many visiting Hat Yai while Russians, who are traditionally a leading segment in January, accounted for 202,759 arrivals. South Korea sent 169,242 tourists.
The figures released last week followed bullish estimates from the government and Prime Minister Prayut Chan ocha in recent weeks of up to 30 million visitors this year.
However, on Thursday, Tourism Authority of Thailand (TAT) Director-general Yuthasak Supasorn warned that the anticipated bonanza of tourist trade from China may be hampered somewhat by higher airfares from Chinese cities and regions, which like other flights from points of origin worldwide, have gone up by 50% to 100% in some cases in a changed post-pandemic airline sector.
In recent weeks, aviation experts have suggested that Chinese airlines are prioritising long-distance routes across the world as the communist country fully reopens while taking advantage of artificial demand for Thai routes due to restrictions on travellers imposed by Beijing to increase load factors and thereby squeeze maximum revenue from the market.
The gathering economic storm, even after just one month into the new year, has already seen the National Economic and Social Development Council (NESDC) scale back growth forecasts for 2023 to between 2.7% at the lower end and 3.7% at the higher end of the spectrum.
Fears of a technical recession have been heightened with this latest economic data as industry chief warns of continued impact of the war in Ukraine
The disappointing news concerning January's export sales and the higher trade deficit is coming as there is nervousness that the economy may suffer a second quarter of negative economic growth or a GDP contraction meaning a technical recession in the opening months of 2023.
The Chairman of the Federation of Thai Industries (FTI) representing the Joint Standing Committee on Commerce, Industry and Banking (JSCCIB) Kriengkrai Thiennukul, on Thursday, warned against assuming export output will pick up quickly given the insecurities caused by the Russian-Ukraine war and persistently high inflation levels in key export markets except for China. 
Thailand's relatively lower inflation in 2023
He feared manufacturers would have to scale back production in Thailand.
'The JSCCIB is concerned the global economy will enter a recession, making it difficult for exporters to sell products as usual and causing manufacturers to reduce production,' Mr Kriengkrai explained.
Despite this, the industry leader still projected Thailand's economy to grow between 3% and 3.5% in 2023 with the kingdom enjoying a relatively lower inflation rate compared to western countries at 2.7% to 3.5%.
Inflation for January was 6.4% in the United States and a sky-high 9.2% in the United Kingdom which has been beset with supply problems exacerbated by geo-political tensions and the impact of Brexit.
Further reading:
Credit crunch as firms seek more bank loans with tightened lending criteria and recession fears
Even as the baht surges, Thailand faces economic recession in mid-2023 with lower earnings
Soaring baht as the Thai economic spirit rises with one of the world's lowest levels of inflation
Finance Ministry unveils green bonds as it seeks ฿900 billion for investment over four years
Thailand feels the pinch of lower tourism earnings as second ex-minister queries economic data
Former minister questions export growth data as Bank of Thailand plans to rein in consumer loans
Warning to central bank to preserve Thai foreign exchange reserves for a brewing 2023 economic storm
Baht slide continues as Bank of Thailand sticks to its dovish and soft approach to interest rates
Choppy waters for the economy as central bank tries to cling to its benign interest rate policy
Prawit stuns the cabinet demanding a ฿35 to the dollar rate and action from the Finance Minister to stop the slide
Low spending tourists and slowing export growth but 'intact' economic recovery stays on track say officials
Central bank reassurances as ex-minister raises loan quality with China's economy in trouble
Thailand with a falling baht caught in stagflation spiral with high inflation and low GDP growth this year
Fears for the baht as it hits a 15-year low and Thai economic performance in the medium term with chronic ills
Good economic news, test now is how to emerge from stagflation with large price shock looming as inflation rises
Prolonged Ukraine war to see Thai inflation at 6.3%, a stalled economy and a possible downgrade
Oil still boss as Thailand's economy faces a return to 1970s stagflation over the ongoing Ukraine war
Fears for Thailand's economy over Ukraine war with rising inflation rates and loss of confidence
Thailand should move more towards a circular economy as the country faces intractable hurdles
Inflationary fears for Thailand more muted than in the United States but planners should prepare
A cautious recovery in 2022 says Bank of Thailand boss but PM strikes a mildy more optimistic note
Foreigners in Thailand have nearly ฿600 billion in the bank as inequality and poverty rise alarmingly
A dead mother beside her children and a taxi driver who slept, show us a nation riven by an extended crisis
Economic fears rising as Thailand faces a bigger crisis than 1997 with rising job losses and debt
Thailand to reopen to 'big fish' tourists as a cryptocurrency friendly haven says promotion agency boss
IMF urges government to loosen nation's purse strings as finances tighten with the tax take down