The woman's decomposing body was found on May 20th last at an apartment complex on Soi Buakhao in the heart of Pattaya when residents complained of a stench in its environs, four days after her death. Police quickly identified the perpetrator and arrested him this week.
Thai police investigators in Pattaya are still examining the evidence in the bloody and tragic death of a former beer bar hostess in the early hours of May 16th last following the arrest of her on-and-off boyfriend on Tuesday as he sought refuge in his home province of Samut Sakhon near Bangkok. Her 39-year-old killer pierced his girlfriend with a shard of glass behind her right ear in one of four stab wounds which proved fatal after he claimed she had used it first to attack him in a row that turned violent.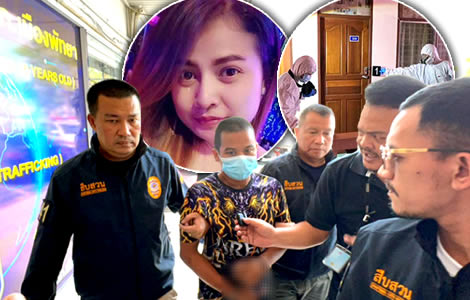 Thai police arrested a 39-year-old man in Sakon Nakhon on Tuesday on charges relating to the violent death of a 32-year-old woman whose decomposing body was found on Saturday, May 20th last, at an apartment on Soi Buakhao in the heart of Pattaya.
The victim was named as Ms Rattana Thammarak or 'Rat' who up to recently was a beer bar hostess in the resort city known for her outgoing and cheerful personality.
32-year-old deceased woman was a native of Buriram province but was trying to find alternative work after losing her beer bar job recently in Pattaya
Ms Rat was a native of Buriram province where her mother lived.
It is understood that the young woman had recently lost her job at the beer bar establishment but was trying to avoid returning home and seeking an alternative source of income.
An investigation was launched by Pattaya Police Station led by Deputy Chief of Investigations, Police Lieutenant Colonel Thananon Athipansi.
Police were called to the apartment complex by the housekeeper of the facility, a 61-year-old who officers referred to as Ms Suwapetch after residents had complained for several days of a bad stench in the building emanating from Room 308.
When opened, the body of the young woman was found decaying and bloated amid signs of a struggle, blood and shards of glass from a wall picture that had been broken.
Apartment complex housekeeper told police she noticed a blood trail on May 16th but thought it was due to animals such as cats fighting or attacking prey
The housekeeper did reveal that a blood trail was found in the vicinity of the apartment on May 16th last but this had been attributed to animals such as cats fighting nearby or killing prey.
Residents in the building, however, told police that on the morning of May 16th, they heard a woman crying and a man shouting from the apartment.
Police were able to identify a man, said to be known to them, leaving the apartment in the early hours and the complex on a motorbike.
In the immediate aftermath of the homicide investigation being opened on May 20th, police told the press that they had three suspects in the case.
32-year-old woman stabbed four times by her attacker police revealed as they initially pursued three suspects after opening a homicide investigation
The Superintendent of Pattaya Police Station Police Colonel Thanapong Phothi also revealed that the young woman had been stabbed multiple times in the face, arm, neck and shoulder areas but that a stab wound behind her right ear had caused her death.
Police were tracking their suspects by questioning witnesses and the use of CCTV footage.
Within hours investigators had applied to the Pattaya Provincial Court for an arrest warrant for 39-year-old Watcharapol Ansongkram also known as 'Kik Kilo 10' or 'Kik', his nickname.
Mr Kik was apprehended on Tuesday 23rd May by police in nearby Sakon Nakhon province where he had fled seeking help from his family and returned to Pattaya for questioning by officers.
Accused man confessed to police as to what had happened in the early hours of May 16th last and had physical evidence to support his story
The accused men confessed to police what had happened in the morning of May 16th at Apartment 308 within the complex on Soi Buakhao where he had arrived in the early hours at Ms Rat's apartment.
The pair had been in a relationship but it petered out so that both just visited each other intermittently.
Mr Kik has also recently been made unemployed and was experiencing financial difficulties of his own.
He said an argument arose over a ฿30,000 debt owed to him by the young woman which she kept deflecting when it arose for discussion.
He said, on this occasion, the woman had been rude and abrasive towards him and began to make noise. He had used his hands to cover her mouth but she had bit him viciously.
There was a violent ruckus between the pair during which a large picture frame on the wall was knocked to the ground leaving broken shards of glass.
Irate girlfriend stabbed him at least once with glass
The victim had picked one up and begun to attack him, he explained to the police. He said that the woman had stabbed him at least once.
He explained he had responded to this uncontrolled situation with alarm and used some of the glass to stab her some three to four times, by his estimation, until she collapsed on the floor.
Police have told reporters that they are investigating the facts in the case as proposed by the arrested man to determine what charges will be pursued against him.
It is reported that the man showed signs of having been injured with glass fragments in his hand while he also had injuries consistent with bite marks and a stab wound.
He was arrested this week by police on a charge of assault leading to the death of Ms Rat in the early hours of May 16th just days after Ms Rat was seen for the last time on the day of Thailand's General Election on May 14th.
Further reading:
Disabled beachfront mat renter brutally murdered in Pattaya in a petty squabble over a ฿500 loan
Woman's gold led to her brutal murder as police in Samut Prakan nab the killer within 48 hours
Crazed man sets wife ablaze in front of onlookers and knifed her to death afterwards in a Samut Prakan ravine
35-year-old man murdered and dismembered his lover after she wanted out of their secret liaison
Mother of murdered woman at the hands of a suspected serial killer calls for the death penalty to be meted out
Crazed married man who murdered 23-year-old woman on Christmas Day was high on illicit drugs
Murder and rape suspected in Rayong after body of a 19-year-old woman was found in a local pond
Sexual jealousy and love rivalry behind horrific murder-suicide act of senior Bangkok policeman
Corrupt policeman refused arrest insisting that he was innocent of abduction and extortion claims
Police chief to expedite the removal of 'Ferrari Joe' as capital murder charges are due to be filed in court
Assistant Attorney General in Red Bull case named as a senior prosecutor to central Bangkok district
US businessman in Bangkok kidnap plot seeks justice as police link him to damaging American TV report
'Ferrari Joe' bipolar mental condition treated with scepticism by the senior policeman in charge of the case
Fears grow that Ferrari Jo will evade justice as local monk offers him support as a 'peacekeeper'
Senior police officer arrested and charged linked with the illegal abduction of a Taiwanese man
Criminal probe launched in Bangkok after six drug users were found dead after suffering acute cardiac issues