On Monday, Chuwit clarified that not all the 3 million new Chinese residents arriving here to do business were either bad or grey actors. Many were good people seeking to establish concerns beneficial to the economy and make a new life in Thailand.
Thailand has over 3 million Chinese immigrants who have entered the country in recent years to do business and make new lives according to former politician and massage parlour boss Chuwit Kamolvisit speaking on Thai TV on Monday afternoon. He was referring to last Friday's early morning raid in the Huai Khwang area of Bangkok where another elite drug entertainment venue was raided by police which catered to an exclusively Chinese affluent clientele. Chuwit told viewers that if only 1% of the Chinese who arrived in Thailand with capital were bad, then that was 30,000 wrongdoers in what he described as a Chinese invasion of Thailand with large numbers entering in a torrent.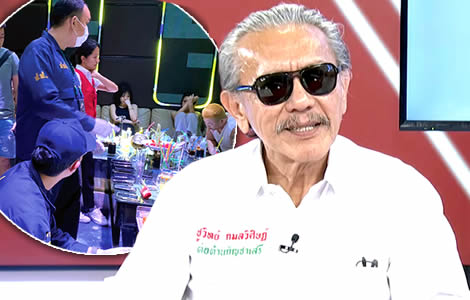 Whistleblower Chuwit Kamolvisit is warning that Thailand now has over three million Chinese people who have come to live in the kingdom over the last ten years and particularly since the pandemic of 2020.
He made the startling claims when appearing on a Monday afternoon popular Thai TV show hosted by Thai Rath, Thailand's popular mass-market daily newspaper.
Former massage parlour open for 50 years raided early on Friday morning after lately becoming a drug entertainment emporium for elite Chinese Hi Sos
His comments came after an early Friday morning raid by the Metropolitan Police Bureau of a former massage parlour premises which had been converted into an entertainment venue for drug taking aimed at a wealthy and upmarket Chinese clientele.
The raid in the Huai Khwang district on the New Phetchaburi Road by a police task force including officers with the Narcotics Control Board (NCB) by Saturday had resulted in two senior officers at Makkasan Police Station including the station commander and head of investigations, removed to an inactive post at local headquarters.
The raid, which took place at 3 am on Friday, was led by Police Major General Thirasak Chantrapipat, the Chief of the Children and Women Protection Division of the Royal Thai Police.
56 people were arrested at the licensed massage parlour which was first given a permit by local authorities over 50 years ago.
Application for the operation of an entertainment venue refused by local authorities on safety grounds but the owners went ahead, it is now closed
It is understood that the premises had been purchased recently by Chinese investors and an application was submitted more recently to have the premises converted to an entertainment venue.
The application failed on safety grounds.
On Friday, the premises were closed with an order from the Bangkok Metropolitan Administration placed on the doors meaning it may not be used for five years.
Raiding police arrested 56 people during the early morning operation including a security guard with an unlicensed firearm.
Case is very similar to the infamous raid on Jingling pub in Yannawa area of Bangkok on October 26th 2022 which led to a crackdown and billions seized
Mr Chuwit, on Monday, noted that the raid has all the characteristics of the infamous raid on October 26th last when a large Metropolitan Police Bureau force raided almost identical premises, the Jinling pub, operating in the Yannawa district of Bangkok and providing the same drug club service in a neon light environment.
This led to a huge criminal probe into hundreds of Chinese gangsters and the discovery of thousands of Chinese tourists who, it emerged later, in the course of a huge police investigation with prosecutions still pending, had been able to convert tourist visas into long stay one-year visas, many of them student visas, thought rampant corruption within the Immigration Bureau which is still being investigated.
Of the 56 detained, 28 were Chinese patrons of the establishment who had paid between ฿6,500 and ฿15,000 for access and a drugs service with drinks and beverages charged extra.
Police seized large quantities of cocaine, ketamine, ecstasy and a 'happy water' drug cocktail just as happened last October.
Many of those tested on the spot returned positive results for illegal drugs.
The raid has been planned by police for two weeks as they gathered evidence.
Part Two of the tale of Chinese gangsterism in Thailand is about to begin Mr Chuwit told his TV audience on Monday with over 3 million living here
On Monday, Mr Chuwit described the latest eye-opening raid as Part Two of the story unleashed last October which led to a spate of exposés and billions of baht seized, after which, former Minister of Justice Somsak Thepsutin confirmed that the whistleblower was entitled to nearly half a billion baht in reward money which Mr Chuwit, a former politician and massage parlour tycoon, has promised to donate to hospitals in the capital.
He noted that the three million Chinese that had entered Thailand from Communist China were currently living in tourist hotspots such as Bangkok, Pattaya, Phuket and Chiang Mai.
He accepted that not all the arrivals seeking a new life in Thailand were bad, saying that out of the 3 million some were good, others were grey and another proportion were bad.
Chuwit accepted that many of these people were good people seeking a new life in Thailand and many established new business concerns which benefit the economy.
The Good, the grey and the bad but if only 1% are bad, that's 30,000 well-capitalised crooks operating in Thailand's major tourist areas says Chuwit
Chuwit insisted, however, that if only 1% were bad, that means 30,000 wrongdoers and new crime actors were imported into the country.
He described it as a Chinese invasion of Thailand. He said that many of these Chinese illegal business operators sought out businesses with existing licences even if the licences were outdated or not sustainable for the type of establishments they planned on developing.
Over the weekend, it was reported that police involved in the raid in Huai Khwang had seized five cars as part of the probe, some of which were found to contain illegal narcotics.
Police are now reviewing intelligence gained from the raid including a detailed review of all the people detained and in particular their immigration status.
Further reading:
Charges brought against Chinese mafia kingpin as Chuwit warns witnesses are put under pressure
DSI chief removed from his post as scandal over a raid on a former diplomatic residence grows
Police officer, wife of Du Hao kingpin and niece of former police chief arrested and grilled by prosecutors
Chinese gangs approaching expectant Thai fathers in private hospitals seeking identity transfers
Chinese mafia case taken over by police chief with top officers assigned to different key roles on the probe
Top Immigration Bureau officers investigated by high-level panel over Chinese corruption claims
Chinese-controlled Thai language schools used by criminal network to obtain visas for associates
Police and drug control agency act to seize assets of Chinese drug kingpin 'Du Hao' and his police officer wife
Arrest and detention of alleged Chinese crime boss puts political pressure on Palang Pracharat Party
Chuvit claims Chinese gangster billionaire may be still at large in Thailand as is his executive jet
Net set to widen on Chinese money gangs, top police officer warns of powerful financial interests
Colourful Bangkok former sex industry tycoon Chuwit told to quit sniping by an aide to the PM
Chinese businessman in the heart of Bangkok with a fake Chinese Embassy car and police escort arrested
Police unearth huge new threat from Chinese drug cartels with ฿300 million seized in Bangkok
Chinese links to nightlife underworld and police collusion being investigated in drugs crackdown
Drugs showdown in the works bound to prompt memories of decisive 2003 crackdown by Thaksin government
Evil drugs trade in Songkhla sees Thai woman burned alive by her family for 300 grams of ice missing in village
UK man arrested on drugs charges by CSD police in Pattaya claims ex Thai wife set him up