The Immigration Bureau has also expressed concern about queues and pressure at Suvarnabhumi Airport caused by the large number of Chinese arrivals expected to avail of visa-free travel. Senior officers call for special lanes for Chinese tourists and promise to provide 200 more staff to cope with the demand. 
It is accepted even by police that a new policy ordered by the incoming Pheu Thai government to offer visa-free access to Chinese visitors from October 1st will see more criminal elements from China entering the kingdom. On Monday, senior officers with the Immigration Bureau flew to China to meet with police and security officials there to help minimise the threat from October 1st.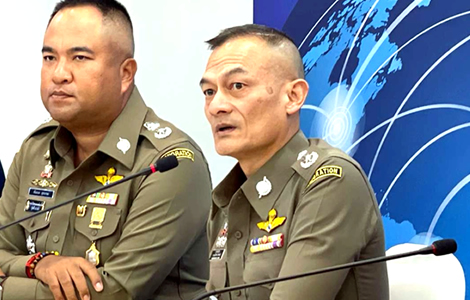 Senior officers with the Immigration Bureau of the Royal Thai Police on Monday made it clear that they are ready to cooperate with a new policy introduced by Prime Minister Srettha Thavisin to issue a visa-free dispensation to Chinese tourists from October 1st.
The move, a short-term measure to boost foreign tourism, is expected to see an increase in the number of Chinese visitors to the kingdom this year by 700,000 people after arrivals from China have been disappointing due to tighter screening introduced earlier in the year with an economic downturn and loss of consumer confidence in the Communist country.  
Stricter screening and a tighter visa regime introduced in May this year after a crime wave saw several high-profile outrages damage Thai tourism
The new policy flies in the face of strict controls introduced by outgoing National Police Chief General Damrongsak Kittiprapas in April and May following a significant rise in criminal activity in Bangkok, Pattaya and other tourist centres which were found to be directly linked to the number of Chinese arrivals in the kingdom. 
The crime outbreak earlier this year resulted in a series of shocking cases that were widely publicised in the People's Republic of China, leading to negative coverage of Thailand and indeed a social network campaign launched among netizens warning the Chinese public not to visit the kingdom for fear of being kidnapped or murdered.
In a briefing to the media on Monday, Police Major General Panthana Nuchanart, the Deputy Commander and Chief of the Immigration Bureau, told reporters that senior officers were flying out on Monday to China to meet with Chinese officials to put in place robust measures to protect against the dangers posed by the new visa-free regime which is likely to be abused by organised crime elements in China and Thailand.
Immigration Bureau police travel to Beijing seeking help to weed out undesirable elements who will target Thailand as capital takes flight from China
This includes grey capital groups who have been targeting Thailand since the COVID-19 pandemic, a situation which has seen tens of thousands of Chinese people moving to live in Thailand to establish businesses that are linked to criminality and funded by the proceeds of crime, hot money and even legitimate Chinese nationals anxious to leave their country.
At this time, many Chinese nationals are anxious to move funds and assets offshore given the country's imploding economy and also a security crackdown by Chinese law enforcement and elements of the Communist Party using advanced surveillance techniques to root out both dissent and criminality.
It is being reported that many in Thailand are dubious about the new initiative from the incoming government with real concern that the influx of additional Chinese visitors may be counterproductive.
Thai economy is nose-diving with the fragile recovery threatened as exports and earnings plummet 
The move to boost tourism numbers is coming at a time when the Thai economic recovery is stalling with the current account deficit in July reported at $444.94 million and a massive 6.2% reduction in exports not being able to be corrected by the country's ability to earn tourism income and foreign exchange which is already impeded because the market for foreign tourism in the country has become more focused on Asian visitors who spend less. 
Immigration Bureau officers, on Monday, particularly addressed the fears that large numbers of Chinese arrivals at Suvarnabhumi Airport and other international airports in the Kingdom may overwhelm facilities, particularly at peak hours.
At Suvarnabhumi Airport, the Deputy Immigration Bureau Police Chief  Panthana Nuchanart highlighted that there were currently 119 immigration lanes and the police have been informed by the Airports of Thailand (AOT) that it is not possible to increase the space available for such facilities at this time. 
The Immigration Bureau has called for special immigration lanes to deal with visa-free arrivals from China so as not to disturb existing tourist traffic.
He revealed that the Immigration Bureau was recruiting 200 additional officers to deal with the increased workload to cope with the new short-term policy.
More resources deployed at airports as Immigration Bureau dusts off Covid era tracking systems to monitor Chinese tourist arrivals from October 1st
Police Major General Panthana also explained that the Immigration Bureau was updating its database tracking facilities and planned to deploy a system, with some modifications, used for the Phuket Sandbox initiative during the COVID-19 crisis which together with data furnished by incoming tourists, allows the Immigration Bureau to track visitors more effectively throughout the kingdom.
The senior police officer said that the Immigration Bureau planned to have this new facility in place within a month to deal with the challenge of Chinese arrivals who will not be screened in the normal way following new guidelines issued in May this year by the Royal Thai Police in conjunction with  Chinese police authorities aimed at reducing the number of persona non grata who had been entering the kingdom from January up to that point, leading to the crime wave that was experienced.
Nevertheless, on Monday, it was accepted that the new visa-free regime would undoubtedly allow more criminals and those associated with Chinese grey capital to enter the kingdom from October 1st until the new visa-free dispensation ends.
Further reading:
Crackdown on crime wave against Chinese tourists in Bangkok as concerns also raised on cannabis
Incoming tourism growth slows amid visas, airfares and attacks on Chinese nationals which have caused jitters
Economic recovery shaky despite strong foreign tourism as global economic outlook deteriorates
Chinese kidnapping victim held by Immigration police and facing extradition over fraud case
Recession fears rise as growth projections are cut and export output continues to decline in 2023
Good news on foreign investment at the start of 2023 fails to mask stunted competitiveness issue for economy
Economy faces export clogs with rules in China and 'green imperialism' from European Union
Vital European Union free trade deal with Thailand with stiff demands from Brussels to take time
Thailand's financials are sound but the economy is exposed if another world banking crisis emerges
Thai economic woes grow with a 10-year high trade deficit as January exports slumped by 4.5%
Credit crunch as firms seek more bank loans with tightened lending criteria and recession fears
Even as the baht surges, Thailand faces economic recession in mid-2023 with lower earnings
Soaring baht as the Thai economic spirit rises with one of the world's lowest levels of inflation
Thailand in direct trade talks with 12 Indian states which could also boost the tourism industry here in 2021
World's biggest free trade deal just signed will be a huge boost for the Thai economy and exports
Thailand's trade agenda may be complicated and thwarted by raised tensions in the Indo Pacific region
US is a better friend for Thailand than China says US ambassador as tensions grow between the 2 powers
MPs warned of an economic colony as opposition zeroed in on Thailand's impaired relationship with China