In the last two or three years, Thailand has begun to see an astonishing shift to online business and shopping platforms. This follows a decade which has seen a 300% growth is users and the emergence of range of strong service offerings from banking, payments and logistics services to a new range of shopping channels and media platforms. In fact, last year, Thailand recorded the strongest growth in online sales activity from among the 10 nation Southeast Asian ASEAN community. It points towards an emerging tech savvy nation ready to make the Thai government's Thailand 4.0 not just a pipe dream but a reality. To many Thai people the internet is a spring board to increased prosperity and even a new society.
Thailand's business and retail world is being transformed by the internet. Since 2008 alone, online users are up by 300%. Money and business is moving online. With a government target to introduce 5G technology by 2020, the change that is coming will see an amalgamation of news, TV, entertainment and shopping into an exciting online virtual reality.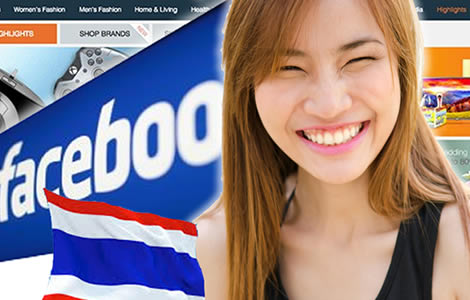 Thailand's online commercial market is booming. Figures recently released show huge gains with online sales and subscribers to online services reaching record levels. For 2018, the growth recorded was 14%. That was ฿3.2 trillion according to figures confirmed by the Thai Electronic Transactions Development Agency or ETDA.
The impressive figures actually reflect the highest growth in the 10 nations string ASEAN community of nations in Southeast Asia. Growth is projected to be up to 20% in 2019. The huge growth is coming from a more confident ad tech savvy consumer base in Thailand. Growth since the new Thai government agency began recording has climbed from ฿2.24 billion in 2015 with incremental increases to last year's newly confirmed figure.
Thai online users rises 300% in 10 years
This new and active Thai consumer base had been brought about by a rapid rise in online users over the last 10 years in Thailand. During that period, users are up 300%. Accompanying this has been a proliferation of online sales sites, faster and more secure payment systems and very impressive network of delivery services within the kingdom. These developments have greatly buoyed consumer confidence with online sites offering better deals, more choice and more convenience when ordering online or even taking out and managing subscription services. Thai authorities have been monitoring this shift and have detailed these advances in a new report published by the Electronic Transactions Development Agency.
The smartphone has changed life in Thailand
The President of the agency has noted that online internet sales in Thailand have grown on average by 8 to 10% a year with what appears to be an acceleration in growth. The agency only began its analysis in 2014. The latest figures for internet users in Thailand are from 2017 which showed over 45 million users. This was a dramatic increase from 2008 when the figure was just over 16 million. This change has been attributed primarily to the availability of highly engineered and quite inexpensive smartphones which have allowed Thai people, from all backgrounds, inexpensive personal access to the internet.
Growing confidence in online sales and service among Thai public joined by a more sites has caused a surge in sales and online financial activity
The impact of this development is being felt beyond the commercial world of e commerce and online sales. But in this area, there is now a decided move by consumers toward doing business and financial transactions online.
The growing online market is being matched by better and easier to use online offerings from banks to internet service providers themselves. In this area, the role of social media has emerged as a new force providing not only marketing opportunities but also sales and even payment services. Thai consumers are now enjoying a greater range of online services being provided not only by leading brands and established names in Thailand but also international firms. This is resulting in more competition for long established Thai firms particularly in the banking market. It is thought that, over time, this will spread across all sectors with retail being an immediate and key battleground.
Online department stores popular with Thai shoppers
One popular area of growth new online department stores. The online shops offer greater convenience and choice at better prices utilizing advanced logistics services and a range of tools for users to identify the right product to satisfy any need. This is becoming an increasingly popular option for the purchase of electronics and apparel in Thailand. It is also reported to be a boom area for beauty prospects and cosmetics, always a key area for Thai women.
Facebook has emerged as a key advertising and marketing force in Thailand at all levels
Another significant outcome in the last few years has been the emergence of Facebook as a more influential marketing and advertising tool. The ability of the giant social network, which has very high levels of penetration in Thailand, offers advertisers advertising opportunities to selected groups through contextual advertising. The ability to refine target audiences and test lower advertising budgets has made Facebook a major player in Thailand's advertising market at all levels.
Just last month, one of Thailand's largest advertising firms, Mindshare, projected a growth in online advertising to ฿18 billion or 15% of the annual spend by established national advertisers for 2019. The ability to target advertisers in groups or subsets through Facebook and on the market leader in keyword and display advertising Google, is of course, driven by data popularly known in Thailand and Asia as 'Big Data'.
Online advertising is booming in Thailand
The growth of online advertising is already reported to be up by 70% in the last two years. All local companies are surveyed by the Thai agency responsible for developing online transactions. The agency reported recently that nearly 93% of the companies in its annual survey had used 'big data' to prepare marketing strategies and plans. They even use the data to determine the best choice of products and design of service offerings. Nearly 86% use the data to implement their online services and sites so as to generate an optimum level of sales.
AI is now becoming a reality of Thai commerce
The Thai online sales environment has also seen the deployment of AI to sell and market products and services. Initially, this is rather basic being utilized in Chatbots with online service offerings where there has been a mixed response. However, it is thought that these services will improve with more accurate and authentic responses in time. In the financial sector and even within the marketing area itself, AI is being used very effectively and combined with automation to make online processes more intuitive and productive.
Thai government wants to see 5G technology by 2020 and that will introduce whole new ball game for online media with more streaming ad virtual reality
The Thai government is committed to introducing 5G technology in Thailand as early as 2020. This will bring a whole new world to online activities. With this technology, we can look forward to more streaming interaction including virtual reality solutions as well an amalgamation of media into one live streaming world of news, entertainment and shopping. The obvious areas to platform such offerings now look like social media networks but nothing can be taken for granted. Technology has a habit, even in a short time frame, of throwing up surprises. There are now a gob smacking 125 million subscriptions to social media and other services in Thailand including users on such platforms as LINE and Facebook. This is expected to skyrocket in the next 2 to 3 years.
Thailand aims to be an online center of excellence
The Thai government through its Thailand 4.0 economic program is anxious to find Thai firms leading the charge in online sales and even the development of new social media platforms. The new technology and confidence in the online world will open up exciting new opportunities for entrepreneurs and some existing internet firms. Bangkok is experiencing an exciting rush as investors seek out new Thai startups. All are looking for the next big thing that will take the internet by storm and which originates from and puts Thailand on the map as an online center of excellence.
Holiday and tourism a key target area
Many Thai tech entrepreneurs are attracted to the international holiday market. The success for the Thai Tourism Authority in decentralized Thailand's tourist trade in recent years has been achieved through online booking and reservations technology. This has seen new visitors flocking to Thailand using online services to book flights, travel and accommodation in the kingdom. However, like everything we have seen about the internet so far, it is often from the most surprising quarters that the greatest successes emerge.
Thailand's advertisers power the shift to online media in 2019 as print loses out to the internet
Thailand faces an economic threat from a fast paced shift to a digital economy – 3 million jobs in peril
Facebook pushes Thailand's emerging gaming industry now being backed by government and industry
Thai Government warns about fake news online as political discourse picks up before elections
Thailand is a highly connected society and powerful force on the internet