Gaming is increasingly seen as a valuable area of activity for Thailand's emerging new technologically advanced society and is being championed by those with influence in government, education and business
Facebook, this year, introduced a gaming initiative for Thai gaming content creators allowing them to air their products online while also providing a monetisation  feature as part of the platform. It is another initiative among many, which sees the emergence of a Thai gaming industry and esports audience with over 18 million young Thai people now actively involved in the activity.
Facebook is big in Thailand with a reported 51 million users connected but it is facing stiff competition from other social media giants and networks for Thailand's younger market. The marketing analysis company Wisesight has pointed to a noticeable trend among young Thai people towards Twitter and the increasing importance of Instagram, with its emphasis on photos, fashion and style. Younger Thai people are very clued in to the latest trends and Instagram is emerging as a hot new favourite. The introduction of the gaming revenue platform for Thailand ahead of other Asian countries is similar to Facebook's announcement in recent weeks that Thailand would also be the first country in Asia to use its dating application making it the second country in the world after Colombia.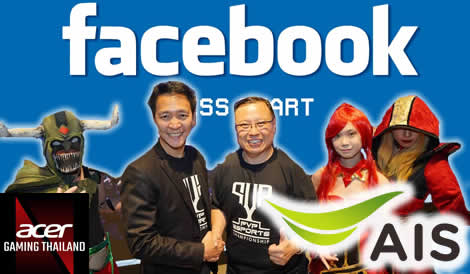 The Facebook announcement that it is prioritising Thailand with the new gaming initiative which aims to provide a platform for the country's growing gaming community not only to pursue gaming for leisure but also to make a profit. With 18 million gamers, Thailand is becoming a new centre for the world of gaming along with most Asian countries.
Facebook is emerging in Thailand is more than a social network
For many Thai gamers and game developers, Facebook will no longer be merely a tool for connection or recreation. The most popular social networking site in the country announced that it would allow gamers to make their money off their 'livestreams' by introducing the Facebook Stars feature. Facebook users who want to support their favorite gamers or gaming creators after viewing their videos can make a donation by sending 'stars' to them. Each star is equivalent of 0.99 baht and will be charged to the viewer's credit card or mobile phone bill upon being sent. Currently, Thailand has approximately 18.3 million gamers, with about 1,000 of them regularly livestreaming or providing live commentary of a game, a job known as game casting. The new feature is aimed at helping game casters better engage with their audiences and increase their fanbase. The most popular games among Thai casters are Garena RoV, PUBG, GTA V and Minecraft. In the future, game casters can earn extra income from advertising and offering subscription programs.
Facebook in competition with Instagram and more significantly You Tube in Thailand and a new gaming network called 'Twitch'
Thailand is the first country in Asia-Pacific to experience the Stars feature. The announcement came at a time when the social media appears to be falling out of favor with Thai young people who are increasingly choosing other networking sites like Twitter and Instagram. The efforts that Facebook has put into appealing to game casters are hoped to help it compete better with other video-streaming platforms, such as Twitch and YouTube. The two websites are attracting more and more attention from Asian gaming communities.
With the latest venture into game casting, Facebook is also expected to tap into the huge revenue potential of Thailand's ฿29.6 billion eSports industry. Previously associated with gaming addiction, compulsion and the resulting social stigma, professional gamers are now generally considered by Thai public as athletes who have a serious career. With changing perception come greater acceptance and heightened public interest. Many Thai colleges have established their eSports teams and introduced eSports-related study programs. Commerce. Gamers have also received official recognition as the Ministry of Tourism and Sports has recently decided to include eSports in the national plan of sports development.
It's money or Thai baht that will drive Thai gaming in the end of the day and that has begun

The growth of esports and gaming in Thailand over the last few years has been spectacular. In the end of the day it's all about generating income or Thai baht. There are now even professional esport gamers, young Thais who previously were considered gaming addicts and a drain on society in a country with less than 1% unemployment. The country is ranked at 20th in the world when it comes to gaming according to a 2017 report conducted by a company called Newzoo. The gaming and esports industry is growing at an astronomical rate and many young Thais and indeed clever Thai business people want to get in on the act.
The growth rate projected from 2018 is a whopping 38% per annum on a base value for the industry at nearly ฿30 billion or approaching $1 billion. However many pundits think this is small change compared to the expected value. One industry source quotes the value of Thailand's gaming market at already at nearly ฿10 billion alone for 2017. That's big money and there are a lot of determined young Thai people getting in on the act. By 2020 it is estimated the worldwide fan base of viewers of gaming sports online will approaching 400 million fans.
Thailand's economic conditions and challenges make gaming a good bet for some young people

The growth of the gaming industry is fastest in South east Asia. Here alone the fanbase for viewers of gaming sports is projected at nearly 300 million by 2021. South east Asia is becoming the focus for this new activity. It's partly a matter of demographics but it is also cultural as the region is has prospered economically with the coming of the digital age and the demographics are better in Asia even if beginning to decline as in western countries.
Thailand is determined that it will not miss out on this opportunity. The Thai government has shown, in its earnest activities, that its vision to transform the country into a high value technology driven society over the next 20 years. It is an innovative plan that is making progress.
Gaming comes at a time of great change in Thailand and improvements required in education
However it is also a plan that is highly necessary as Thailand is an Asian country that is losing the race economically by adapting more traditional economic development paths. A recent Unicef survey showed that 67% of Thailand's children centres do not meet international standards while Thailand, following a disastrous UN population control programme, is facing a huge demographic challenge. Second only to Japan in Asia but without the same level of wealth. There are other issues such as a fall in rankings for Thai universities, the lack of recognition of Thai education qualifications abroad and a huge balance in Thai graduates with degrees as opposed to vocational training.
Currently only 32% of Thai young people emerging from third level have the industrial skills so badly needed by Thailand's current economy. There are also concerns about Thailand's productivity at the workforce ages and while Thailand is reducing poverty successfully, a recent report pointed to 16% of the younger population being deprived though poverty, proper health care and funding for education. Putting aside this, we now have 18.3 million young Thai people active in online gaming and you can see the opportunity.
Huge goodwill towards esports and the gaming industry in Thailand as executives eye potential

This explains why the Thai authorities are enthusiastically embracing the emergence of a gaming economy. And It's not just lip service either. Thailand has set up a Digital Economy Promotion Agency. This agency is looking actively at the sector and confirms the current value of the industry in Thailand at ฿30 billion. It projects a growth rate of 12% per annum. Not only that, but the industry is now being driven in Thailand by a range of powerful forces. From Thailand's internet and mobile phone companies who have invested heavily in data and 4G technology, to Thailand's universities and even device makers who sell high powered gaming machines to the Thai market, there is huge goodwill towards the industry and an anticipation of a return. Some Thai universities have even signed an agreement with each other to champion the future of gaming. These institutions include Bangkok University, the innovative Dhurakij Pundit University the influential University of the Thai Chamber of Commerce and Sripatum University, one of the oldest universities in Thailand.
Thailand's AIS partnered with Singapore's SingTel for Championship tournament held in October

While Thai internet giants like True and AIS support the gaming community in Thailand along with other partners, the country is catching up even within Asia. The Chief Consumer Business Officer with AIS, Pratthana Leelapanang, this summer highlighted AIS's offerings designed specifically for the gaming industry. As well as the fastest network with the lowest recorded latency times, the network offers its own payment system as well as contents designed specifically for gaming enthusiasts. The company partnered with Singapore's SingTel Group this year to run a competition with a prize fund valued at nearly ฿12 million in conjunction with other gaming heavyweights including platforms. The PVP Esports Championship took place in Singapore in October and it was a huge success attended by an enthusiastic community including cosplay participants and the Thai team Hashtag?.DOTA who won 1st prize of ฿300,000 at the Thai finals in September.
South Korea still the dominant force in gaming
The leaders in gaming are undoubtedly the South Koreans followed by Taiwan and China. The gaming world championships this year were held in South Korea having been previously been co hosted by Taiwan and Singapore in 2014. However what is new is the growth of the games development industry ay lower levels. Thailand has a talent base in this regard withmany skilled animators and programmers in the country.
Gaming industry supports draw a line between gaming sports and user gaming addiction
The allure of the new opportunity is in the development of new games but also the increasingly popularity of the games as a viewer sport. Many very wealthy investors in Thailand and within Thai industry want to get in on the act. It is also a huge and highly valuable arena for companies looking to reach the younger audiences who appear to be deserting normal mass market advertising media. Nitipat Praweenwongwuthi is the Marketing Director of one of Asia's most popular laptop or PC device brands, Acer computer. The company has specialised in the last few years in the supply of high performance equipment to the esports industry. Like many proponents of the industry, Mr. Praweenwongwuthi and his company, are keen to draw a line between the activity of professional gaming and the real problem of gaming addiction where users get lost mentally in a pursuit which is not linked to reality. Gaming sports is a very real competitive activity and requires strong mental agility and discipline to perform well.
Moves for Thailand to field gaming teams for international competitions have been made

The industry is now at a point in Thailand where efforts are being made to form teams and develop structures for leagues and competitions. The take up of gaming by so many young Thai people has also a produced a market for super high powered PC devices which can be seen in the corner of any Thai PC or appliance store in 2018. Another strong player in the industry is Thailand's AIS, one of he leading internet service providers in Thailand. AIS is working to organise tournaments and championships so that Thailand can field its best teams in international competition.
It's a start – Industry already has professional gamers in Thailand earning relatively good pay

Thailand now also has its own gaming arena, a 1,000 square metre facility in Bangkok's Ratchada area. The facility, developed by a company called Infofed cost ฿50 million baht and can host competitions and tournaments round the clock. The gaming arena, it is hoped, will allow Thailand to develop its best talent to the highest international standards. The emergence of gaming, as both a sport and industry, must also occur at the same time to allow Thai people and Thai young people to grasp the opportunity of the industry and differentiate it from the negative perception held by many in Thailand towards gaming addiction, the nightmare and fear of many Thai mothers whose sons, before devices became cheap, used to run the the internet cafe. It also notable in Thailand and in Asia that most of the gaming players ae young men although there are some young women. Some of the Thai players have already gone professional and are playing full time for newly established esports teams. It is hard work with many would players reportedly practicing for up to 12 hours  a day but the pay is good by Thai standards with some of the young players, in their early twenties, earning ฿40,000 to ฿60,000 per month.