Thailand is an advanced country for internet usage with Thai women leading the way
Thailand continues to be placed in the top 10 worldwide for active users of social media. Thai people's enormous interest in Facebook and the likes have considerable influence in Thai social life and politics. While the Thai government has moved to regulate the internet and enforces the country's strict lese majeste laws, the Thai online world have more freedom than many European countries.
It's time for a quick quiz: What are the 5 most populated cities in the world? Got your answer? According to 2016 statistics, they are, in descending order: Tokyo, Delhi, Shanghai, Mumbai and São Paulo, the last one has approximately 21 million people. So naturally one of these five must be the biggest city in terms of Facebook usage, right? Not at all. Surprising as it may seem, the crown is taken by Bangkok with its 15 million city-dwellers. The capital reflects Thailand's affection for one of the most transformative inventions of the digital age.
Thai Facebookers spend three hours a day on the website with a huge Bangkok reach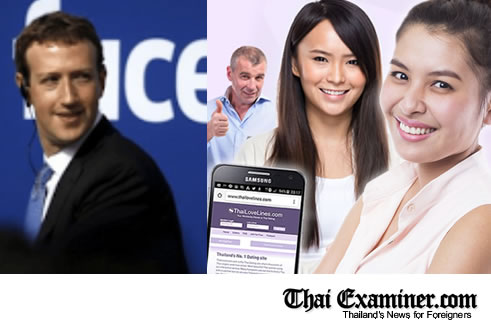 According to Thoth Zocial, a Bangkok-based social media analytics developer, Thailand had 47 million Facebook users, also known as Facebookers, by May 2017, 8 million more than the previous year, solidifying Facebook's status as the most popular social network platform in the country. Thai Facebook users are concentrated in Bangkok that accounted for nearly 60% of accounts nationwide. The demographics of Thailand's Facebook users are very interesting as Thai men seem to be represented in social media activity as much as women, a positive sign for gender equality while half of the accounts belong to people younger than 35 years old. This is unusual as Thailand has for many years seen Thai women lead the way on the internet. Generally, Thai Facebookers spent about three hours every day on the social network, mainly for reading news or looking for entertaining content, which helps explain the fact that they are most active between 6 PM and 11 PM.
Popular social media app LINE caused hysteria when it went down in May
However, it is wrong to assume that Thai people's love for social media is not confined to Facebook alone. They are also fond of Twitter, Instagram and other platforms. It was estimated in 2017 that Thailand had 11 million Instagram users and 9 million Twitter users, both social networks have experienced substantial growth in recent years. In terms of chatting apps, 68% of Thai population use LINE, a big difference from the share of the second most widely-used app, the giant Facebook Messenger (it had 55%). The scale of social networking in Thailand was exemplified when a short collapse of Japanese owned LINE in May left many users near hysterical.  The breakdown, which lasted only a few hours, sparked a lot of angry reactions from the Thai online community. Thai Twitter accounts were soon flooded with #LineDown hashtag. The strength of the social networks and internet platforms that neage Thai audiences can be seen from regular viral short films which are sponsored by large Thai corporate and consumer firms. The well ame movies executed to the highest artistic standard tell short stories, full of emotional appeal, that highlight the unique and wonderful nature of Thai culture and society
Thai population and foreigners use a spectrum of websites for education, trading and dating with emerging new patterns

Social media users in Thailand are not only great in number but also very diverse in their purposes. Consumer goods retailers and financial firms have long used them as a marketing tool that is cheap but capable of reaching a huge audience. Banks like SCB took to LINE to attract more clients. Foreigners in Thailand also have their own social networking, news and dating sites, notably ThaiCupid, ThaiFriendly and ThaiLoveLines. ThaiVisa is highly popular forum and news source for expats living in Thailand and also regular visitors. It is actually Thailand's biggest English language website. This news website for foreigners to Thailand is part of the AtlanticThai network which includes a World internet music radio station aimed at a middle aged market. Capitol.fm has a strong listening base in Thailand, Germany and EU countries (261,000 for May 2018). It also includes the international dating site ThaiLoveLines and reaches over 1,000,000 users a month.They serve as a focal point for the 2.9 million – strong expat community. Thai women across the country use social media and specialised sites for dating, trading online and education. Even the government is interested in social network platforms as a communication form between officials and ordinary people. The large numbers of Thai women who now live outside Thailand across the world are in daily or almost continuous contact with Thailand. Now, numbering many hundreds of thousands, these women, mainly wives and spouses of western or foreign men, are now a powerful positive force for promoting Thailand abroad and channeling investment into Thailand. This community is being created and maintained through the internet.
Thai government tightens regulation on internet usage for security and safety
Last year, the military government, officially known as the National Council for Peace and Order (NCPO), adopted a set of new rules for the use of mobile phones and the Internet. The new measures mandate that every owner of a mobile phone register their biological data, including fingerprints and facial recognition, to continue using their devices. Previously, only citizen identification number for Thai citizens and passport information for foreigners were required. This is intended to identify the users when they engage in social network activities so that the originators and distributors of offensive content can be held accountable under Thai law. There is no doubt that social media is now a powerful political tool or weapon. There has been concern that moves by the Thai military government would lead to a freezing of online news and commentary. This has not happened and there remains an active and healthy spread of online opinion and commentary in Thailand.
Thai government engaging with large internet service providers with positive results

The Thai government since coming to power in 2014 ha smanged to reach an accommodation with large internet companies such as Google, Microsoft and Facebook with whom it has an ongoing dialogue. Provisions were removed from proposed legislation earlier this year which would have imposed increased liability on internet service platforms for offensive material. This move was widely welcomed. A single gateway proposal, which would have allowed increased scrutiny and censorship, has not yet been activated despite an insistence by some senior government officials that it is necessary. Fears have been expressed that such a move would reduce internet speeds in Thailand.
Social media freedom in Thailand compares well to Europe as Sweden and the UK curtail free speech

Thailand is a country living under a military junta charged with maintaining peace and order in the Kingdom. In that capacity it is no surprise that there have been moved to regulate and police online content. Thailand does not enjoy the same freedom of expression such as exists in the United States where that country's 1st Constitutional Amendment allows unrestricted commentary not matter how offensive or even hateful. While the new rules introduced by the government in Thailand give rise to concerns of censorship, they are seen as necessary in the fight against abuses of social network platforms that have alarmed many in the western countries. In recent months, many commentators in the European and even the American media have begun to ask some serious questions about social media and its impact on society. Free speech activists are horrified to see that governments in such progressive countries like Sweden and the UK have begun to aggressively prosecute online users for hate speech and online commentary which can be considered offensive by certain segments of society. While Thai authorities have enforced an aggressive stance on enforcement of Thailand's draconian lese majeste laws, it is now true to say that there is as much if not more freedom of expression online in Thailand than in many European countries.