Proposal for Chinese police in Thailand has raised extended questions about Chinese overseas police patrols, which are currently only sanctioned in Croatia and Serbia after being axed in Italy in December 2022 with strong concerns over unauthorised Chinese police stations.
The proposal to allow Chinese police to patrol Thai streets with the Royal Thai Police and even the presence of Chinese police personnel in the Kingdom has been rejected out of hand by the government with this confirmed on Tuesday by the Minister of Tourism and Sports Sudawan Wang-Suphakitkosol in response to a growing public backlash with strong concerns over sovereignty. The news followed a proposal from the new Tourism Authority of Thailand (TAT) Governor Thapanee Kiatphaibool to that effect over the weekend following discussions in China with tour groups as Thailand's tourism trade with China has been flagging despite high hopes in September when a visa fee waiver was introduced and personally promoted by the Prime Minister at Suvarnabhumi Airport.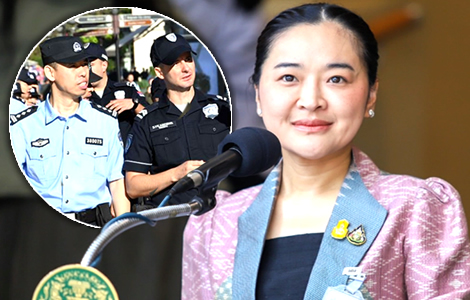 The government on Monday and Tuesday moved to scotch a rising controversy over Chinese police operating in Thailand.
Prime Minister Srettha Thavisin on Monday from San Francisco knocked on the head any plan to allow the proposed police patrols on Thai streets.
In California for the Asia-Pacific Economic Cooperation (APEC) Summit, he described the reports that have caused unease and consternation in Bangkok and throughout the kingdom, as a miscommunication matter. 
PM assures the public there will be no Chinese police personnel on Thai soil but the kingdom will work to provide adequate security for all tourists
Moreover, the Prime Minister went further and assured the public that any cooperation being proposed between Thailand and China would not extend to allowing Chinese police personnel to work on Thai soil.
On Tuesday, similar assurances were given by the Minister of Tourism and Sports, Ms Sudawan Wang-Suphakitkosol at Government House. The minister rejected out of hand any proposed policy to allow Chinese police to patrol Thai streets.
To begin with, the need for such a response came from a proposal that had been made by the Governor of the Tourism Authority of Thailand, Ms Thapanee Kiatphaibool. 
Proposal for Chinese police patrols in Thailand arose from discussions with Chinese tour firms in mainland China as tourist arrival numbers disappoint
The newly appointed Tourism chief has come under intense pressure in recent days as public and political opposition to her proposal made itself felt.
The Governor clarified that her suggestion was aimed at strengthening declining confidence among Chinese tourists on the mainland due to criminality in Thailand, a factor which has now been acknowledged concerning the disappointing Chinese foreign tourist arrival numbers while the deterioration of the Chinese economy, despite discredited economic data out of Beijing, is perhaps an even bigger one.
Ms Thapanee said the proposal originated from discussions between Tourism Authority of Thailand (TAT) officials in China and the Communist country's various tour operators who suggested such an approach may help to boost confidence. 
Nevertheless, on Tuesday, the Tourism Minister Ms Sudawan suggested such patrols were common in many countries but this is not the case.
Currently, Chinese police patrols are seen only in Serbia and Croatia with less than a dozen officers working in both countries alongside its police patrols to boost security for Chinese tourists and interests.
Rising suspicion surrounds China's overseas police activities with only two countries allowing very limited Chinese police patrols, Croatia and Serbia
Even these limited operations are coming under scrutiny as a storm of suspicion and doubt has arisen over China's surreptitious activities in over 100 different states worldwide.
Italy ordered the cessation of joint patrols with Chinese police in Italian cities in December 2022 by order of Interior Minister Matteo Piantedosi.
These patrols commenced in 2016 alongside closer ties between China and the European Union member state which have since unravelled.
At length, rising concern has stemmed from reports of illegal Chinese overseas police operations around the world, including reports of the Chinese secret police working in both Croatia and Serbia, something that is denied by the authorities in both countries at this time.
From the end of 2022 into 2023, countries across the world have clamped down on the presence of illegal Chinese police stations, including Canada, which announced an investigation in March 2023 into two illegal police stations operating in Quebec.
Worldwide one country after another has reported unauthorised Chinese policing activities within their jurisdiction and ordered China to cease and desist 
Similarly, in Germany, where two police stations were under investigation for violating the country's sovereignty.
In Ireland, the Ministry of Foreign Affairs, in late October 2022, ordered the closure of two Chinese overseas police stations in Dublin although one had already closed by that point. 
The Netherlands reported similar transgressions by Chinese authorities with Foreign Minister Wopke Hoekstra ordering two such offices closed in the country. 
Similar reports during the year have been received from countries across the world including South Korea, Taiwan and the United Kingdom where in June 2023, British Security Minister Tom Tugendhat confirmed that Thai police stations in Britain had closed but also acknowledged that there had been no illegal activity associated with the stations.
Similar fears emerged in the United States, where in November 2022, FBI director Christopher Wray announced an investigation into unregistered police stations and described the developments as an 'outrageous violation' of US sovereignty.
Two US citizens of Chinese origin were arrested in New York's Chinatown in April 2023 following an FBI raid in October 2022 on an unauthorised police station
This led to the arrest of two US citizens of Chinese origin in the Chinatown area of New York found to be operating an unofficial Chinese police station discovered in October 2022 in an FBI raid.
In April 2023, the US citizens involved were arrested again and charged by federal prosecutors. 
At the same time, it is reported that Chinese police are operational in Zambia, Cambodia and Myanmar and regularly arrest criminal elements in the three countries in a carte blanche manner with over 80 people arrested in over 120 cases since 2016.
The operations in these countries, with regimes indebted to China, followed a policing initiative of the Nantong Police Department, a local police force operating from Nantong, a special economic city in the Southeastern province of Jiangsu in China.
This initiative initially targeted six countries and began in 2016.
Use of local police in China to open unauthorised police stations abroad is a tactic being pursued by China and its Communist Party targeting dissidents
The use by Chinese officials of local police departments and authorities in China to camouflage the direct involvement of the Chinese state is a key feature of this campaign of overseas police stations which dates back to 2014 but only came to public attention in 2016.
The activities of such services is directly linked to the decidedly authoritarian nature of the regime introduced by China's President Xi Jinping when he came to power in 2012.
At the same time, on Tuesday, the Tourism Minister, Ms Sudawan committed her ministry and the government to doing everything possible to maintain and boost the confidence of Chinese tourists visiting Thailand. 
She expressed her confidence in the Royal Thai Police to carry out the operation, possibly with the exchange of data and information with Chinese authorities. 
Tourism minister praises Royal Thai Police and its Tourism Police arm saying she has confidence in them to protect all foreign tourists
She particularly praised the Tourist Police arm of the Thai police force, which operates in key tourism hotspots to create a safe environment for tourists from all countries, including making sure that they are not the victims of scammers and rip-off merchants selling products and services at inflated prices. 
In September, Thailand granted visa-free access to Chinese travellers in a campaign that so far has not been successful with the kingdom on target to welcome something like 3 million Chinese visitors for the year, well behind the 4.4 million targeted.
Thai economic planners hoped to have seen 5 to 6 million Chinese visitors before the end of February 2024 when this scheme expires. 
The Tourism Authority of Thailand (TAT) governor Ms Thapanee told reporters on Tuesday that she will be meeting with the Chinese ambassador in Bangkok this week to discuss the situation and referred them to the patrols operated between local police in Croatia and Italy.
However, the latter scheme was closed last December. 
Italy cancelled Chinese police patrols for tourists after six years when the extent of unauthorised police activity in the country was revealed in 2022
Significantly, at that time, reports emerged suggesting that Italy was home to the largest concentration of unofficial Chinese police stations in the world, with 11 such stations out of 100 plus worldwide being reported in the European country. 
This year an investigation by the non-profit organisation ProPublica found ties between the leaders of one such unofficial police station in Italy operated by the Fuzhou Police Overseas Services in the Italian city of Prato in Northeastern Tuscany had links with organised crime.
Fuzhou is the capital city of Fujian province, again in Southeastern China.
The tourist authority chief Ms Thapanee stressed in the last 24 hours that her discussions with Thai and Chinese officials were based on only tentative proposals and that such plans would only be introduced where there was an appropriate context, one of cooperation between both countries to ensure the safety of Chinese tourists. 
'The cooperation will focus on certain periods in some locations which draw a lot of Chinese visitors. Besides security for tourists we hope that Chinese police will have the opportunity to see how Thai police implement safety measures and report back to their government which would also help improve the confidence of Chinese tourists,' Ms Thapanee earlier told reporters.
Police chief and the Chairman of the National Security Commission came out strongly on Monday to voice opposition to the mooted tourism agency plan 
Notwithstanding this, her proposals were roundly rejected on Monday by the Chairman of the State Security Commission, Mr Rangsiman Rome MP for the Move Forward Party.
He had just come from chairing a meeting where the Thai National Police Chief General Torsak Sukwimol also appeared.
At the press conference afterwards, General Torsak expressed his disapproval of any proposal to allow Chinese police personnel to operate in the kingdom but left the door open to closer cooperation between the two police forces, which has been ongoing, including a working relationship with the Chinese Embassy in Bangkok.
Similar sentiments were expressed from within the Thai tourism industry with Mr Sisdivachr Cheewarattanaporn, the President of the Association of Thai Travel Agents, expressing scepticism about the proposal.
Thai travel business sector is not supportive of the Chinese police patrol plan with the public still sensitive to such moves after 2023's revelations
'Having Chinese police officers patrolling the city might not be a good idea as Thai police should be responsible for this job on their own, as well as other safety and security issues, while the Chinese police can help by providing necessary support,' declared Mr Sisdivachr.
The revelations around the world of Chinese policing activity targeting dissidents must also be seen in the context of revelations in Thailand this year about clandestine Chinese networks involving the movement of thousands of people into Thailand with access to substantial 'grey' capital who managed to flout Thailand's immigration, business and citizenship laws.
Chinese grey capital groups a security threat
Many of these Chinese citizens had links to Chinese community organisations and extended networks while some of those apprehended by the Royal Thai Police were extradited to China without facing prosecution and imprisonment in Thailand.
One individual arrested at a prestigious business address in the centre of Bangkok linked to reputable Chinese firms turned out to be using a fake Chinese Embassy car together with a fake Royal Thai Police escort.
Another Chinese 'grey capital' kingpin had donated to a leading Thai political party and had links to senior officials both in the government and the administration of justice.
Further reading:
Police Chief rebuffs reports of Chinese Police being deployed to Thailand to protect tourists
Killer's parents did not appear in court as Chinese niece recalls the terror of her aunt being executed
Police chief confirms 2 dead with reports of at least one more fatality in Bangkok mass shooting
14-year-old boy murdered Chinese tourist in a terror attack on Bangkok's Siam Paragon Centre
Police arrest Chinese kidnapper with similar details to an abduction for ransom case in April
New visa-free regime plan for Chinese tourists will see more criminal elements entering Thailand
Crackdown on crime wave against Chinese tourists in Bangkok as concerns also raised on cannabis
Incoming tourism growth slows amid visas, airfares and attacks on Chinese nationals which have caused jitters
Chinese kidnapping victim held by Immigration police and facing extradition over fraud case