Minister revealed that he told the Sydney Morning Herald journalist Michael Ruffles over the weekend after he received three emails from him, that the story was 'old news' and suggested that the journalist should be investigated to establish what 'network' he belonged to.
Thailand's junior agriculture minister Captain Thamanat Prompow on Tuesday told the media that he would take criminal and legal action against a network behind the publication of a story that appeared in the Sydney Morning Herald on Monday which suggested that he was convicted on drug trafficking charges in 1993 and spent 4 years in an Australian prison. He has consistently denied this is the case. The key government aide and fixer appeared to suggest some form of collusion between invisible forces in Thailand and the Australian newspaper to dig up what he reportedly called 'old news' to sully his name.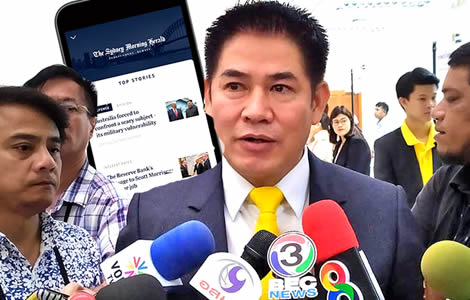 The embattled junior minister Captain Thamanat Prompow today appeared to be in a stronger position after the publication of a startling news story on Monday morning by the Australian newspaper the Sydney Morning Herald which directly contradicted the minister's July account of his involvement in a drug arrest by Australian Federal Police at a hotel in the Bondi area of Sydney in April 1993.
Threatened to sue the Australian newspaper
Today after saying yesterday that would sue the Australian newspaper, the MP for Phayao, government minister and reportedly coalition fixer said that he would be also taking legal action against what he termed a 'network' in Thailand he appeared to believe was behind the content that appeared in the Australian newspaper's accounts of events from April 1993 to April 1997 which suggested that he had been convicted of drug trafficking and had served fours years in a Sydney prison.
Claims some understanding with the Australian court
Asked by reporters to clarify today whether it was four years or eight months as he had suggested in July, the minister intriguingly revealed: 'It's part of what we had agreed with the Australian court and I'm not at liberty to say.' 
He was quite clear however that he had never been convicted of drug trafficking as specified in the Sydney Morning Herald's article. 'I've never confessed. And I've never committed the crime as reported,' Captain Thamanat stated.
Minister has always said he was caught in the wrong place at the wrong after going on holiday down under
In the minister's unchanged story of what happened in April 1993, he was arrested shortly after he arrived for a holiday in the Bondi area of Sydney after Australian police raided the room where he was meeting friends, some of whom turned out to be of dubious origin.
It took him eight months to clear himself of involvement in the case which later resulted in him being released without a conviction contrary to the explosive newspaper report last Monday in Australia. He told Thai reporters in July that he had worked as a sales executive for the remaining three and a quarter years before being deported back to Thailand due to an immigration crackdown driven by a local Mayor.
Australian reporters claim the story is factual and supported by official archived documents
The news reports in the Sydney Morning Herald directly contradict this and the newspaper has published old newspaper clippings from April 1993. Australian reporters claim their story is based on official court documents as well as archived police reports and audio recordings.
Minister does not believe the claims by the Sydney Morning Herald journalists of proof
However, on Tuesday, Captain Thamanat simply told reporters that he does not believe these assertions but does believe that the article and news story published and disseminated was written in Thailand.
He also questioned why reporters would suddenly be so focused on what he termed 'old news' and vowed to take action on both criminal and civil fronts to combat those behind the story. 'There must be a reason for rewriting old news so comprehensively and I know what it is. But I have to handle this by myself,' the minister said.
Will refuse to speak about his past in future but will resort to legal proceedings over false reports
He told reporters that he will no longer discuss the story relating to his past. 'From now on, I won't respond to anyone who talks about my past. I'll just take legal action against them,' he said. He strongly questioned the motive for the news story. 'Isn't it strange that all of a sudden the Australian newspapers attacked me out of the blue?' he asked reporters.
Online network or 'avatars' behind the controversy
In discussing the background to his suspicions as to who was behind the article, he said that he believed that they existed online. He suggested that they were 'avatars' who cannot be seen in person. He also firmly rejected any suggestion that he may resign over the matter. 'Why would I do that? A man like me lives with reality,' he said.
Says that Australian journalist Michael Ruffles must be investigated to establish his 'network' links
The minister confirmed that he was contacted by one of the journalists working for the Sydney Morning Herald over the weekend in several emails. This was Michael Ruffles who is a news desk editor with the publication.
He co-authored the articles on Captain Thamanat with the Investigation Editor of the newspaper Michael Evans. 'Earlier, I was contacted by Michael Ruffles, and I told him this was old news. He sent me several emails. We have to check to which network Michael belongs, he said referring to his suggestion that the article was written or instigated in Thailand.
Government colleagues tightlipped on the affair
Captain Thamanat's government colleagues have been careful and restrained in their comments on the controversial article. Deputy Prime Minister Prawit Wongsuwon as with Deputy Prime Minister Wissanu Krea-ngam and Interior Minister Anupong Paochinda stressed that this was a personal matter for the junior minister to handle and did not impact the government.
Deputy Prime Minister Wongsuwon said he had not discussed the matter with Captain Thammanat but declined to answer a question as to its impact on the government's credibility before earlier suggesting it could not be used against the administration. Deputy Prime Minister Wissanu said he had no information on the case.
Prime Minister to reporters on Tuesday – 'You often ask questions that turn my mood sour'
On Tuesday, the prime minister was equally disinterested in discussing the matter with reporters. He was touring an exhibition of the famed Chinese terracotta warriors in Bangkok. Prime Minister Prayut Chan-ocha did suggest however that the media should focus more on positive stories and in response to one probing question said: 'You often ask questions that turn my mood sour.'
Further reading:
Shock as Minister reported in an Aussie newspaper as a convicted and jailed drug trafficker down under
From sinister to minister: politician's drug trafficking jail time revealed
Debate sees opposition hit the government on lack of economic detail and plans for more taxes