Minister under fire but still fighting – On Monday night the Minister was adamant that the reports were 'old news' drummed by his enemies and those of the government. 'Don't give it any credit. They keep repeating the same story. I can't be bothered,' he was reported as saying. In July the appointment of the junior minister went ahead despite concerns and questions raised by the opposition. Then the Deputy PM Wissanu Krea-ngam highlighted that the 54-year-old had never been convicted by a Thai court for a crime and therefore, there was no legal impediment to his appointment. He was reportedly going to be offered a more senior position before the scandal came to light and the politician passionately defended himself in front of the Thai media in what appeared to be a frank and sincere manner.
The Thai public were left asking questions today trying to absorb shocking details published in an Australian newspaper that directly accused a Thai junior minister and key fixer in the current coalition of being a former drug dealer who 26 years ago was involved in a conspiracy to traffic over $4 million (Australian dollars) in pure heroin from Bangkok to Sydney on April 10th 1993 using a Thai woman named 'Pa' as a drug mule.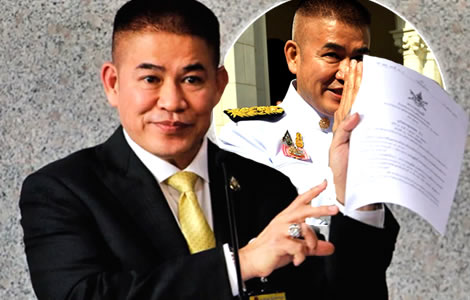 A Sydney based newspaper in Australia has raised serious questions about the account given in July by a then prospective Thai junior minister as to his brush with the law in Australia during the early 1990s. Today the junior minister declined to comment on the allegations at this point but indicated that he had read the reports. 'I've read the news, but I'd like to refrain from giving any explanation today,' he insisted saying that people do not understand the system.
Captain Thammanat Prompao is the junior minister for Agriculture in the current Thai government and was tipped at one point as Minister for Labour such was his rising star in elevated circles as a man that can fix things politically and get things done.
Minister has said all along he was in the wrong place at the wrong time and was held by Australian police over a case of mistaken identity 
However, questions were raised about the proposed minister just days before the appointment of the new Thai Cabinet in July. Captain Thammanat gave extensive press briefings and painted a picture of the wrong man in the wrong place at the wrong time.
He told the media in Thailand that he was swept up in drugs bust linked with an apartment where friends were staying in Sydney and spent 8 months in detention while waiting for trial. However, the news that has emerged in Australian on Monday paints an extraordinarily different picture of events and circumstances.
Sydney Morning Herald pictures then Lieutenant Manat Bophlom as a key player in a $4 million drug trafficking conspiracy taken down by police
The Sydney Morning Herald reports that Captain Thammanat who then went by the name of Lieutenant Manat Bophlom was a key player in a criminal conspiracy to import 3.2 kg of high-grade heroin into Australia using a Thai woman as a drugs mule.
In July, Captain Thammanat said: 'I didn't import, produce or deal heroin. While on vacation in Sydney, I was properly cleared by immigration. But I was unfortunate to have been in the same place at the same time as some drug offenders.' This weekend in a statement he vehemently defended and stood by his version of events. 
In July Captain Thammanat said he was a successful salesman in Sydney for nearly four years
In July, according to Captain Thammanat, he later went on to work in a Sydney firm selling sanitary products where he had a successful sales career for nearly four years. However, the Sydney Morning Herald is reporting that the then Lieutenant Manat went on to spend four years in prison at Parklea prison in Sydney after pleading guilty at New South Wales District Court to importing over $4 million of heroin or what the charges before the judge described as commercial quantities.
Australian police reports suggest that Lieutenant Manat arranged a visa and paid for the plane tickets for the drug mule who brought the drugs to Sydney
Police files in Australia reveal that the then Lieutenant Manat paid for the ticket and helped arrange a visa at the Australian embassy in Bangkok for a Thai woman who carried the drugs into the commonwealth country. She was handed the airline ticket by Manat's half brother Sorasat.
Australian newspaper report directly contradicts the minister's story if Lieutenant Manat and Captain Thammanat are the same person
The extensive police documentation in Australia still on the record and available for inspection shows a diametrically opposed picture to what the Captain Thammanat has been saying in Thailand. The reports compiled by Australian police in part based on the testimony of Lieutenant Manat says that his half brother Sarasot wanted to get into the drugs trade in Australia and that both of them had approached a Thai underworld figure named as 'Wera' who was involved in drug smuggling.
In January 1993, Lieutenant Manat is reported as having helped his brother organise the visa for a Thai woman named as Pa who was to act as a drug runner.
Introduced to Australian underworld figures by a leading Thai drug smuggler in Bangkok
A month later the police report in Australia details how the then Lieutenant Manat's half brother met with two 'farang' crime world figures involved in the drugs trade down under. These men are named as Sam Calabrese and Mario Constantino. The information from the Australian police reports are based in part on interviews with the then Thai junior officer while awaiting trial at Parramatta Jail. 
Lieutenant Manat admitted to Australian police later that he knew fairly well what was afoot
There followed the attempt to transport 3.2 kg of pure heroin into Australia in early April 1993. Speaking to police before his trial, the then-junior Thai army officer admitted that he suspected that the package his half brother was transporting to Australia was 'illegal' as he knew of the reputation of the smuggler named Wera. 'I knew that Wera was a smuggler who also dealt in drugs,' he is reported as telling the police.
Manat babysat the drug runner on the night before she left Bangkok for Sydney – police reports
His half brother flew to Australia first and stayed at the Palace Hotel in Bondi. This was on April 8th 1993. The Thai woman acting as a drugs mule was to fly out on the 10th of April. 
Police in Australia are reported as having recorded a conversation in which Manat told his half brother Sorasat that he kept the woman under observation the night before her early morning flight from Don Muang Airport. 'That night we didn't let her out of sight, she stayed in our sight all the time from 7 pm till 5.30am,' then 2nd Lieutenant Manat is reported as saying.
Scare when Thai woman did her own thing
There was a hitch in Sydney on the 10th of April 1993 as the Thai woman could not be found at the airport. However, she did make contact later and had left the drug package at a different hotel in Darling Harbour called the Park Royal. She gave the key to the room and a matchbox indicating the address to Lieutenant Manat's half brother. Unbeknownst to them, the Australian Federal Police had already planted listening devices at the room
Australian police were monitoring the two Thai brothers at all time on April 10th 1993
Australian Federal police tracked Lieutenant Manat and his half brother from the Palace Hotel in Bondi to the Park Royal Hotel. The two checked into the hotel in Room 609 and Lieutenant Manat retrieved the package from Room 713 indicated by the woman. They then set off back to the Palace Hotel in Bondi. They stopped on the way for something to eat at a hot dog stand and then went to a restaurant.
They returned with the package to their hotel and were met by the two Australian crime world figures Calabrese and Constantino. 
While the relieved men talked about the vagaries of women and airplane flights, time went by until just after midnight. Then Australian police fell on the room in force. They were all arrested.
Two Thai men and Two Australian men arrested at the Palace Hotel in Bondi – charged with conspiracy to import drugs in commercial quantities
The four men were charged with conspiracy to import heroin and refused bail. Lieutenant Manat's half brother Sorasat pleaded guilty and Lieutenant Mantat was committed for trial when a judge indicated that he might be facing up to nine years in prison. That is when he reportedly began to cooperate with Australian police. Subsequently, he pleaded guilty to the charge and was sentenced to six years in prison with a minimum of four years to serve or non-parole period.
The Australian Court of Criminal Appeal subsequently reaffirmed the sentence which Lieutenant Manat had appealed as being too severe. The decision was unanimous and the judge's comments suggest that they were entirely convinced that Manat was actively involved in importing drugs into Australia.
He was released in 1997 from prison in Sydney and immediately deported back to Thailand
Once back in Thailand, it appears that Lieutenant Manat Bophop went back into an army uniform and active service with the Thai army. He also changed his name to Patchara Prompa and was promoted. He later changed it to Thammanat Prompao. Thammanat has been quoted often as saying the changing his names was an exercise in removing bad karma and starting afresh.
Accused of murder in Thailand in 1998 – spent three years in custody before being acquitted
In 1998 back in Thailand, Captain Thammanat had a brush with the Thai law when he was held and charged with the rape and murder of a gay man. He spent 3 years in custody but was subsequently acquitted of the charges by a Thai court
Today the junior minister is a wealthy man – net worth of $42 million, a Rolls Royce and Bentley
The junior minister today is a wealthy man. His wealth disclosed under Thailand's strict parliamentary rules for declaration of assets revealed that he owns a Bentley, Rolls Royce and Mercedes as well as having an estimated net worth of $42 million. The 54-year-old man is married to a 24-year-old former beauty queen who is his second wife.
Formidable reputation as a fixer
Captain Thammanat has developed a formidable reputation in Thailand's ruling party circles and the upper echelons of government as a fixer who gets things done.
Influential Deputy Prime Minister Wissanu Krea-ngam said in July that there were no hurdles to appointing Captain Thammanat to ministerial office in Thailand as he had not been convicted of a crime before the Thai courts. 
Further reading:
From sinister to minister: politician's drug trafficking jail time revealed
Debate sees opposition hit the government on lack of economic detail and plans for more taxes