It is being reported that the family of UK tourist Amital Bajaj who died in a frenzied attack at a Phuket hotel in August have become critical of Thai authorities and their handling of the case. They are now in contact with Vietnamese and Norwegian embassy officials in Hanoi attempting to foil the Norwegian killer's efforts at getting back to Oslo.
53-year old Roger Bullman, the Norwegian man who killed a UK IT engineer at a 5-star hotel in Phuket has escaped from Thailand and is believed to be in Hanoi. An Interpol arrest warrant has been issued and Vietnamese police are searching for the Oslo man who seems to be attempting to return to Norway.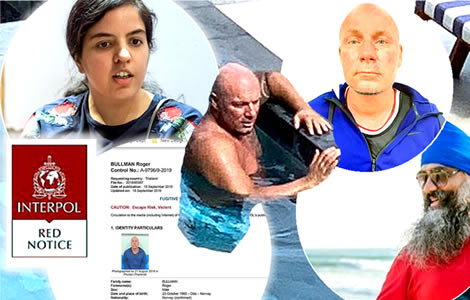 On Friday, Interpol issued a red notice seeking the arrest of Bullman, a former psychiatric nurse and soldier from Oslo, who killed a UK tourist in his own hotel bedroom in the early hours of August 21st last after storming the room and forcing the UK man's young wife and infant child to flee in terror.
Bullman misled police in Phuket after the killing
It appears now that Mr Bullman has escaped Thailand's borders despite a manhunt for him in Phuket where he disappeared on September 2nd, hours after a provincial court judge ordered his arrest for failing to appear in person before the court as it reassessed his bail status.
Bullman had been granted bail in the immediate aftermath of the August 21st killing and misled tourist police in Phuket by suggesting that it was the UK man who had attacked him in his hotel bedroom with a knife. 
Local police in Karon, Phuket advised that bail be denied to the Norwegian when he was delivered to the custody of the court after his arrest
After his arrest following the brutal killing of IT consultant Amital Bajaj, Thai police in Karon delivered him to the Phuket Provincial Court holding cells with a recommendation that he be denied bail. Bail was later granted however in the amount of ฿200,000. 
Investigation into the Bullman case in Phuket
It is reported that an investigation is underway in Phuket into the exact turn of events that led to Bullman's flight from Thailand in his attempt to evade the Thai court. Thai police had charged him under Section 290 of the criminal code or the equivalent of manslaughter which would have left the violent killer facing 15 years in jail. Prior to his disappearance, he had ruefully told the media that he was resigned to his fate of a long stretch in a Thai prison.
Confirmed reports that Bullman has been in Vietnam within the last week and sought a new passport
There are now reports that the Norwegian bodybuilder, all of 6' 2" who Interpol have described as 'dangerous' is in Vietnam.
Reports suggest that last Friday, Mr Bullman visited the Norwegian Embassy in Hanoi where he told consular officials that he had mislaid his passport and required a replacement.
Interpol red alert calls for his preliminary arrest by police authorities in Vietnam
The Interpol red notice requests that police in Vietnam provisionally arrest the fugitive and notify Thailand's National Crime Bureau immediately so that extradition proceedings can get underway. It is also being reported that the family of Mr Bajaj in both Singapore and London are in contact with Vietnamese authorities and Norwegian embassy officials imploring them to do everything possible to have Bullman sent back to justice in Thailand and prevent his return to Norway.
Arrest notice reports that both Bajaj and Bullman began firing objects including bottles at the wood partition that divided their quarters
The Interpol notice also gives some new details and background information into how the violent clash between Mr Bullman and Mr Bajaj began and escalated into a deadly assault. 
It recounts how Mr Bajaj was staying in room 346 of the Grand Centara luxury hotel and complained to management and Mr Bullman in Room 344 that both he and his young family could not sleep. Earlier reports suggest that Mr Bullman was engaged in opera singing on his balcony in a drunken state. It suggests that both parties were involved in throwing objects at the wood partition between the apartments including bottles. The report suggests that this is how the adjoining balcony door separating the two areas was destroyed.
Mr Bajaj's wife described the sheer horror of the attack after which she never saw her husband alive again
The widow of Amitipal Bajaj, the 34-year-old man who was killed by Bulman, is both surprised and dissatisfied by the response to the violation of the family in their hotel bedroom that night by a naked stranger and the failure since to see him behind bars. 
Bullman was given bail only 12 hours after throttling Mr Bajaj to death.
Speaking with the Strait Times in Singapore this week, Bandhna Bajaj described the horror and trauma of what happened in the dark early hours of Wednesday, August 21st. 'Bullman suddenly appeared in our room. He was red in the face, fully naked, and charged quickly towards us while making animalistic sounds. He was kicking and punching all the time. I said into the phone words to the effect of he's in, come quickly, send someone.'
Mr Bajaj then urged his wife to run with their child to safety. She never saw her husband alive again. 
Further reading:
Fugitive Bullman still on the run – Phuket police request additional manpower to arrest him
Norwegian killer Bullman hunted by police in Phuket, failed to turn up in court and disappeared
Norwegian killer accepts he's going to Thai prison after violent killing of UK man at Phuket hotel
UK man's wife says her husband died protecting his family in Phuket: 'He will always be our hero'
Norwegian claims he was attacked by UK man in his room with a knife as he is charged by police with his death