A Thai lawyer told Phuket Provincial Court that her client didn't feel safe attending the court hearing and asked for an extension of bail. It was refused and a warrant issued for the Oslo man's immediate arrest and incarceration.
In a dramatic turn of events in Phuket on Monday, the Norwegian man who killed a UK man at the luxurious Grand Centara Hotel in Karon, Phuket on Wednesday 21st August, 54-year-old Roger Bullman from Oslo failed to turn up in court in person. He was too busy sunbathing and swimming at a luxury hotel nearby. A warrant was issued for his arrest but he later disappeared from the hotel.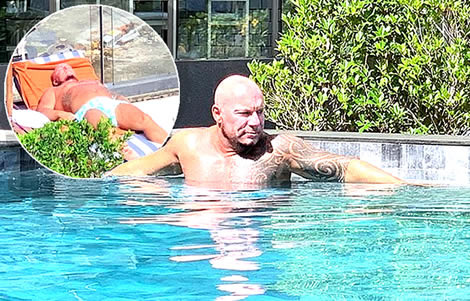 Thai police and security services in Phuket have now launched a manhunt to capture the 54-year-old Norwegian who killed the 34-year-old father of one, Amitpal Singh Bajaj from London on August 21st last at a five-star luxury hotel in the tourist town.
It followed a decision by the Provincial Court in Phuket to issue an arrest warrant for the man from Oslo when he failed to show in person on Monday before it for the first time. His continued bail was one of the matters likely to be assessed by the court. He was represented there by his Thai lawyer Pawitra Laohaviroj. 
Bullman afraid to face court personally
She told the court that her client had felt it 'unsafe' to attend because of death threats he said that he had received locally and from hostile media coverage of the story. She explained that Mr Bullman had also expressed a wish to have a Norwegian lawyer represent him and requested an extension of bail until Sunday, September 8th next.
Sunbathing and swimming in a luxury pool when he should have been before the Phuket Provincial Court
While this was happening, the 54-year old self-confessed killer was caught on video sunbathing and enjoying the luxury swimming pool at Phuket's Ikon Hotel here he is reported to have recently moved to after spending some time at a guest house.
Bullman vanished as soon as an arrest warrant was issued against him. Police searching for him
After the court hearing and perhaps getting wind of or suspecting something of the court's decision, the Norwegian man appeared to have fled. Staff at the hotel reported that he was nowhere to be seen and his room was empty. Police are now searching for him.
Bullman's account of what happened looked less credible as police got a deeper understanding of events in the early hours of August 21st last
The story of what happened in the early hours of Wednesday morning August 21st has shifted since the Tourism Police Chief in Phuket Police Major Ekkachai Siri told the press that Bulman had claimed that he had effectively acted in self-defence and that the UK man attacked him with a knife in his hotel room. The facts that have emerged over the days since throw a far different complexion on the killing after Phuket police have investigated the matter further.
UK man stabbed Bullman in last gasp attempt to save his life from a lethal chokehold
It now appears that the UK man only stabbed the Norwegian in self-defence while he was in the grasp of what turned out to be a fatal chokehold after a naked Mr Bullamn stormed into the young family's room. In the immediate aftermath of the killing, Bullman was charged under a Thai legal provision of causing death through physical harm or the western equivalent of involuntary manslaughter.
The facts that have come to light since certainly have highlighted more aggravating aspects to the killing including Bullman breaking into the hotel room adjacent to his using force after being told by the UK man to desist from opera singing on the adjoining balcony at 4 am. The Norwegian has also been charged with violent trespass, another Thai criminal offence.
Read the Thai Examiner reports on the violent killing of 34-year-old family man Amitpal Singh Bajaj by Norwegian Roger Bullman here.
Thai police have been conducting a thorough investigation into the shocking incident
Thai police have been conducted an exhaustive review the killing including attempts to recreate exactly what transpired. The investigation has been led by Phuket Police Chief Prawit Sutthirueangarun. In the meantime, the story has been generating enormous international interest particularly over the fact that Bullman was seen to be a free man in Phuket for nearly two weeks after taking the UK man's life.
Admitted this week that he is going to prison
This week, it was reported in the Thai Examiner that Bullman expects to spend up to 10 years in a Thai prison. That is now likely to happen sooner than he thought because of his actions on Monday in trying to betray the trust placed in him by the Thai courts. His initial misleading account to the Thai tourist police also tells something about this man's character.
UK family of 34-year-old Amitpal Singh Bajaj want to see Roger Bullman behind bars now
In the UK, the family of Amitpal Singh Bajaj are calling for the man who brutally killed their loved one to be put behind bars where he belongs. On Monday, a spokesperson for the family said that Bullman's actions on Monday show the extent of his respect for Thai law and warn that he is a potential danger to others in Thailand.
Further reading:
Norwegian killer accepts he's going to Thai prison after violent killing of UK man at Phuket hotel
UK man's wife says her husband died protecting his family in Phuket: 'He will always be our hero'
Norwegian claims he was attacked by UK man in his room with a knife as he is charged by police with his death