Norwegian is walking the streets of Phuket alone every day as he awaits his trial for causing the death of the 34-year-old UK father and husband on August 21st last. He was released on ฿400,000 bail by the Phuket Provincial Court after he appeared before a judge hours after the horrific act of violence.
Roger Bullman, the Norwegian killer who took the life of UK IT engineer 34 year old Amitpal Singh Bajaj at a 5 star hotel in Phuket on August 21st accepts that he is going to jail and has expressed extreme remorse for his violent rampage after he broke into the adjacent hotel bedroom of a UK family naked and violently took the younger man's life with his bare hands. It followed complaints from the UK man about the Norwegian man's opera singing from the balcony of his room.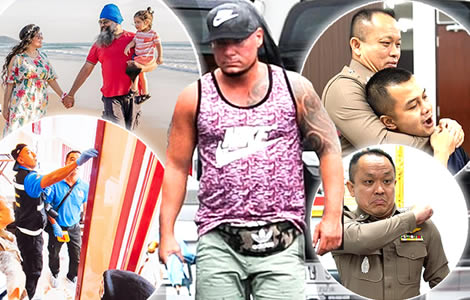 Norwegian man Roger Bullman who killed a UK IT engineer in the early hours of August 21st at the five star Grand Centara in Phuket is staying in a guesthouse in the city as he awaits his trial and what will almost certainly be an extended prison term in Thai prison.
This week, the former soldier, psychiatric nurse and bodyguard was interviewed by reporters as he roamed the beautiful tourist location alone and full of remorse for what he terms his impulsive reaction in the early of that August Wednesday morning.
Norwegian's girlfriend has flown home him leaving him alone in Thailand to meet his fate
He revealed that his girlfriend and love partner Elvira had already flown home to Norway leaving him to contemplate his fate., 'I am lost. My girlfriend has gone home and I am alone here,' he said.
The Norwegian was granted bail in the sum of ฿400,000 by the Phuket Provincial Court when he appeared in the hours after the attack.
Norwegian speaks about what happened despite being warned not to by his lawyers
Although he has been warned by his lawyers in Thailand not to talk about what happened that night, the Norwegian nevertheless does. He appears to be a tormented man. He reveals that on that night before daybreak at 4 am he had been the instigator of the disturbance when he began singing opera on his hotel balcony while his lover Elvira slept soundly. 'I was with my girlfriend and we were happy that night,' he recalled.
Refused to stop singing opera from his hotel balcony at 4 am despite 2 requests from hotel security
This is even though the Norwegian man had been told twice by hotel security to subdue his operatic performance due to complaints from other guests. He failed or refused to do so. The next thing that transpired was a verbal complaint directed at the Norwegian from outside the flimsy door dividing off the two accommodation areas on the balcony, from 34-year-old Amitpal Singh Bajaj.
UK man is reported to have been living in Singapore with his wife of 10 years and 2-year-old child
The UK IT consultant originally from London is reported to have been living in Singapore with his wife of ten years Bandhna Bajaj and their two-year-old little boy Veer. It appears now from police enquiries and clarification of what happened that morning, that this was the point that Mr Bullman went berserk. 
Naked, he broke down the partition and entered into Mr Bajaj's hotel accommodation through the joint balcony area. 'Adrenalin took me over,' he explained this week. 'I didn't want to kill him. I didn't know he was dead until the police told me he had died in hospital.'
Violently attacked the UK man after he broke into his room through the balcony area
It appears that the Norwegian went straight for the UK engineer and placed him in a chokehold, a technique he told reporters this week he had often used as a psychiatric nurse in dealing with disruptive patients. The 54-year-old Bullman had been a psychiatric nurse in Norway for 14 years.
When Bullman stormed into the UK couple's bedroom, Mr Bajaj ordered his wife to leave to protect her and his young child. His wife last week said she ran to hide but it is also reported that her husband's screams prompted her to call on security at the hotel to again respond.
Norwegian was naked when he marauded into the family's room with a women and infant child
In the couple's bedroom Bullman, naked, meanwhile was strangling her husband to death with the chokehold. In order to try to defend and free himself, the UK IT engineer attempted to stab him by reaching out for a butter knife in the room. 
He plunged it backwards into the Norwegian's left shoulder. A senior Thai police officer said this week that the knife went halfway in and bent over such was the power and stamina of the Norwegian man. 'Bullman is a tough guy. The butter knife bent in half as he tried to fight back at him as he was being strangled from behind,' the investigating officer said.
Bullman sorry for his violent actions
Bullman this week said he was sorry for what he had done. He said he particularly grieved and was suffering for the pain that his violent outburst has inflicted on Mr Bajaj's wife and the couple's two-year-old son. 'I am not a monster. I have a nine-year-old daughter who I may not see again for a long time,' he said.
Bodybuilder from Oslo ready for Thai prison
The Norwegian hardman and bodybuilder has already accepted his future as an inmate in a Thai prison. 'I am going to jail for between three and ten years and at my age of 54, it is not going to be easy. They make it tougher for you, the other guys, if you are older,' he said this week.
Violent trespass at night is an aggravating factor in this already egregious and lethal crime
The fact that the attack occurred on a young family and involved violent trespass at night in addition to the flagrant violence will all be aggravating factors when a Thai court finally adjudicates on the minutes of madness that took the life of a well-loved young father and husband who died protecting his family from a voracious onslaught. The Norwegian is also charged with a second offence in relation to this aspect of the attack.
The madness of an evil tragedy
The madness of what happened in the early hours of August 21st can be seen from the sight that reportedly greeted hotel security in the internal hallway of the hotel where Bullman had pulled his victim into as he struggled against the lethal chokehold. The UK man was lying prostrate on the floor breathing with difficulty and already dying while the Norwegian was crying uncontrollably while still constraining his victim. The security officers barked at the Norwegian to let go and he did but it was too late to avert what can only be described as an evil tragedy.
Further reading:
UK man's wife says her husband died protecting his family in Phuket: 'He will always be our hero'
Norwegian claims he was attacked by UK man in his room with a knife as he is charged by police with his death