He has no time for a social life and he spends 7 nights a week speaking with audiences who pay him to hear about the exciting new age that will soon be upon us. Already on the board of the Thai Fintech Association and the CEO of a multi-million dollar startup, Jirayut Srupsrisopa or 'Topp' is the sort of talent that Thailand has been waiting for.
29-year-old Jirayut Srupsrisopa or 'Topp' is an Oxford-educated young man whose company Bitkub Holdings raised $2.1 million in seed funding last year and already owns Thailand's largest licenced cryptocurrency exchange but Topp's vision goes beyond cryptocurrency to the bigger, emerging world of digital assets that he wants Thailand and his growing company to be at the forefront of.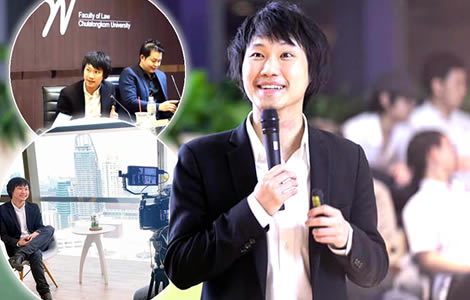 Thailand's Deputy Prime Minister and Economics boss Somkid Jatusripitak recently helped launch a fund to find and incubate Thai startup ventures as part of Thailand's stated ambition to find its first unicorn. A unicorn is a business that achieves ฿1 billion in value and has become a world leader in its sphere of activity.
Challenges for Thailand in progressing its Thailand 4.0 agenda are both real and acute
The Thai government is very focused right now, in spite of the economic headwinds, in pushing on with its Thailand 4.0 vision. The plan is to train up Thailand's industry and business sector from a 2.0 economy straight up to a high income 4.0 high tech society. The government faces a hard reality behind all the PR fanfare and glitz to deliver this. Many other countries worldwide are facing the same challenge but in Thailand, it is acute.
Education system needs change
One of the problems is that the country's education system does not conspire to produce graduates or people who think outside the box. It is also an economy dominated by large firms and the large capital that they wield. Access to capital in spite of the hype is very limited for people with ideas.
Man of the times – 29-year-old Jirayut Srupsrisopa
One man who looks like he might find a way to break the mould is 29-year-old Jirayut Srupsrisopa also known to friends and associates as Topp. Mr Srupsrisopa is the Chief Executive of Bitkub Capital Group Holdings, a company licenced by the Thai Securities and Exchange Commission to run a cryptocurrency exchange currently Thailand's largest and still growing. 
Record-breaking seed capital round
The company raised $2.1 million in seed capital last year which is a record-breaking figure in Bangkok as Thailand, despite all the talk of pushing high tech startups, is still a demanding place to raise funds. Investors are cautious of new ideas and parting with money, the blood and life force of any business worldwide, does not occur easily. That thinking is especially potent in a place like Bangkok.
Only founded last year – Bitkub
Bitkub was only founded in May last year and is already offering a range of cryptocurrencies for investment, indeed for trading. The company is currently leading the way in Thailand in a market which is increasingly appealing to young professionals with spare cash. 
Topp wants to go further and quicker than the competition. His vision goes beyond cryptocurrencies to the world that will soon be made possible by blockchain technology.
A pioneer in a country enthusiastic about technology
The young man can be seen across social media and at gatherings from college campuses to high profile company boards speaking about the world that the new technology promises not just in Thailand but the world. 
Mr Srupsrisopa is no light hitter either. He is already on the Board of Thai Fintech Association and holds a degree from Oxford University.
Similarly with his co-founders at Bitkub which include bitcoin pioneers: a former director of DTAC, Thailand's third-largest mobile phone operator and a former executive director at Goldman Sachs Investment Banking.
A believer in blockchain technology
The young man believes passionately in blockchain technology and through Bitkub's subsidiary company Bitkub Academy, he is out most evenings giving seminars where people pay to hear about the new world that is coming not just online but in our everyday existence.
New internet era is coming
Speaking with Khun Topp recently, he explained that all the things we value are now moving online in much the same way as the internet has captured our communications sphere and day to day interaction. This is a young man at the forefront of a huge wave and he knows it.
Talking with him briefly leads to a discussion on plans in Honduras to convert its property title registry to a blockchain technology system to prevent fraud and corruption.
The 7-Eleven of digital assets
His vision for Bitkub is to turn it into the 7-Eleven of digital assets. This will be the new frontier of business. It is how we will create and define achievement in the future and young audiences right now in Bangkok are buying into it.
Bitkub already has over 100 people working for it and has grown into a trading exchange with authority to trade up to ฿150 to ฿200 million per day with its apps and online platform.
Bangkok – the world city
A recent survey found that in spite of Thailand's bad press and political uncertainty, Bangkok remains the most visited city in the world. It is also one of the world's most connected cities. It is often said that change and the next new thing comes from the most unlikely of quarters.
Topp talks about Estonia – the baltic country that has transformed its government and society
In an interview recently with the Bangkok Post, Thailand's leading English speaking newspaper, Topp explained the advanced blockchain technology now used in Estonia for all government operations and where Estonians own their own personal data from everything to employment record, property ownership to court records.
This has been studied by other government including Thailand and is at the heart of the Thailand 4.0 plan except blockchain technology is a step further than databases.
Technology that can propel Thailand into the future
Blockchain technology and digital assets however as an industry could be something that could propel Thailand to the fore in a new world and an emerging younger generation that no longer accepts the status quo.
Change is coming – a seamless world without accountants many of whom will have to redeploy
Change is coming and just like in the early days of the internet, people can see it is going to be big but don't quite know how it will evolve. This is the world that is now coming upon us in digital currency and assets.
Imagine a world of seamless access to trading assets globally that is completely secure and traceable. Where taxes and red tape are all built-in automatically.
It may not be such good news for accountants and tax practitioners but they have, in the past, proven themselves experts at staff redeployment. This will just be a little closer to home.
Young people pay money to hear Topp speak
Thailand's young educated adults are listening to Khun Topp. In Bangkok and other parts of Thailand, people are nightly paying money to hear speak him about this exciting new world. 
Must work with the Thai banks
For now, Bitkub says Topp does not want to compete with banks but the entrepreneur envisages a new world where users move to more flexible payment systems. 'We don't want to compete with banks on Capex,' referring to the extraordinary capital expenditure that Thailand's competitive banking system has deployed over the years.
Thai banks have not been slow either to embrace change. But this new tide represents a new departure, a change in our very understanding of money and the traditional approach to banking and investing.
Topp explains his company's plans: 'Instead, we should tap on their existing infrastructures to allow more pay-in and pay-out options (such as e-wallets, banks, and non-bank options) for our users to gain access to our cryptocurrency exchange,' he says.
Company seeks a range of licences
For now, Topp aims for Bitkub to cement its position as the dominant cryptocurrency exchange and to have his company work in Thailand with the traditional bank's institutions to help lead the kingdom into a new era in financial payments, trading and a huge new range of digital asset holdings.
Bitkub wants to position itself to be able to attain a range of licences from the Thai government in all areas of the cryptocurrency and asset markets. 
2nd round financing of $10 million
The company expansion plans to raise further $10 million in capital to move forward with the existing exchange which is growing aggressively.
This is a young man whose vision extends beyond Thailand but for now, he is making things happen in the Fintech area where Thailand has been making great strides.
Bank of Thailand's own cryptocurrency
At present in Thailand, the Thai Securities and Exchange Commission regulates the sale of cryptocurrency.
The Thai Central Bank is looking seriously at how the Facebook Libra currency might work in the kingdom while also introducing its own cryptocurrency for interbank settlements which may also be linked with a new bond selling regime and trading environment spearheaded by the Thai Bond Association which in September announced its own cryptocurrency for bond trading.
Further reading:
Prime Minister in New York predicts that Thailand will be a first-world economy in 17 years or by 2036
Foreigners in Thailand should find out more about Thailand 4.0 and be part of the change that is coming
New app for expats in Thailand to be called 'OSS Foreigner' – Immigration reporting to be quick and easy
Thailand is the world's No 1 for use of social media and mobile payments to power new economy moving online
Thailand is about to change as more people spend money online and we move to a virtual reality 5G world
Thailand's advertisers power the shift to online media in 2019 as print loses out to the internet