Police found nearly 16 grams of methamphetamine powder in an almond container while the package posted from the Netherlands contained noodles and 500 ecstasy tablets. The Italian told police that he enjoyed a party lifestyle on the renowned Surat Thani island supported by money from his family in Italy.
39-year old Italian man Naomi Cometto was arrested and taken into police custody on Wednesday on Koh Phangan after Thai police acted following the discovery of ecstasy pills in the mail on Monday by customs officials in Bangkok. The package was posted from the Netherlands.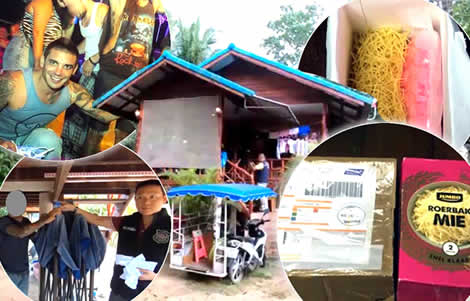 The Italian had been living a dream lifestyle on the island with his Thai wife and daughter supported by money from Italy and it appears, a substantial additional income from drug dealing.
The 39-year-old was arrested on the idyllic island of Koh Phangan in Surat Thani province on a charge being in possession of illicit drugs with intent to sell and importing drugs after eagled eyed customs officials and Thai police interdicted the package of noodles sent from the Netherlands.
Police raided the traditional Thai home he shared with his Thai wife on Wednesday
Police when they raided the traditional Thai style home he shared with his Thai wife on the island also found a quantity of methamphetamine powder disguised as a food product.
Police Colonel Suparuek Phankosol is the Superintendent of Surat Thani Immigration. He briefed the media on Wednesday on the arrest. He revealed that customs officers in Bangkok had detected the drugs in the package posted to Thailand on Monday.
Customs officers in Bangkok opened package posted to the man on Monday and found drugs
Customs officers opened the package and found the 500 ecstasy pills which weighed 20g grammes slotted neatly next to a packet of noodles
Police identified the 39-year old Italian as Naomi Cometto who has been living on the island with his Thai wife and 5-year-old daughter.
Raid on the raised home on Wednesday after obtaining a court warrant after drugs in post detection
On Wednesday, police raided the house and found Mr Cometto in residence with his family.
Police executed a search warrant obtained from the local court and were able to identify nearly 16 grams of methamphetamine powder.
The drug was contained in a can identified as almonds hidden on the ground floor of the wooden home raised above the ground. Police also recovered used syringes.
Italian told police his family sent him ฿25,000 per month from Italy and he did not work
In the course of police questioning, the Italian told police officers that he had lived with his Thai wife on the island for the last two years. He led them to believe that he led a relaxed lifestyle supported financially by his family in Italy. 
He told them that his family sent him ฿25,000 per month. He explained to police he enjoyed a party lifestyle for which the island is famous with foreigners from all over the world.
To supplement the family's income, Mr Cometto's Thai wife also worked as a trader at local weekend markets as well as selling products online and through social media.
Methamphetamine powder was for his own use
He explained that the methamphetamine was purchased for his own use from a French national whom he identified only as Francis. He explained that he had met the man at a party on Koh Phangan. He would heat the substance with a microwave and then inhale it.
Police not buying the Italian man's explanations –  arrested and charged with drug dealing
Koh Phangan police on Wednesday were not buying his claims that the drugs were solely for personal use. He has been arrested, taken into custody and charged.
Dream lifestyle of European who liked Muay Thai
It is clear that the Italian man and his wife were leading a happy life on Koh Phangan with pictures of Mr Cometto's Facebook page showing him with his daughter and beautiful Thai wife on the island.
His partying activities on the island are also confirmed. Such parties are widely associated with drug use. He also appears to have been a Muay Thai enthusiast.
The party is over for the 39 year old Italian
For now, the party is over for Naomi Cometto. The Italian must negotiate the tribulations of the Thai criminal justice system which can be hard on drug dealers particularly foreign ones and especially those who deny their criminal activities in spite of the evidence.
The Italian appears to have broken the cardinal rule for foreigners in Thailand which is to have no truck with drugs of any nature and in any quantity.
Further reading:
Foreigners dealing or even using drugs in Thailand are ill advised
UK drug dealers living it up in Thailand to be deported back to the UK after arrests in Pattaya
Kiwi taken into custody on drug charges in Chiang Mai after police raided his bar and restaurant
Drug lords using an Australian gang to ship concealed drugs to Australia and Canada – more arrests promised
Double life of a UK man who became a drug dealer in Udon Thani
UK man watched his ceiling as a downpour of money spelled his downfall and jailing in Thailand
American man and Thai wife arrested for selling 'ice' in Pattaya after police swooped on Bang Lamung condo