Role of Bangkok concerning Myanmar is complex because of Thailand's unique national interest in its western neighbour but the challenge is growing as the junta loses credibility and its position becomes more untenable as it tries to subdue a genuine national uprising within its borders.
Thailand sent an official delegation to Myanmar's artificial and purpose-built capital Nay Pyi Taw last Friday as the Thai government tries under difficult circumstances to keep channels of communications open with a pariah regime that is seen, more and more, as lacking credibility in the face of a popular national uprising against it which is gathering momentum and crucially, gaining moral recognition for its cause. Thailand has strategic national interests in Myanmar, not least because of the 2,416 km international border between the two countries which must be kept secure and which is the focus of key threats including human and drug trafficking and more recently, air pollution drifting into northern Thailand.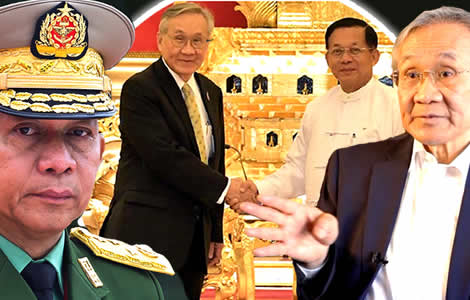 Thailand's Minister of Foreign Affairs, Deputy Prime Minister Don Pramudwinai paid what appeared to be an official and working visit to Myanmar last Friday at the head of a Thai government delegation.
He met with the leader of the State Administration Council, Myanmar's junta, General Min Aung Hlaing. 
The meeting took place in the Credentials Hall of the country's artificial capital Nay Pyi Taw with Mr Don leading a Thai working group that included the kingdom's special representative on Myanmar Ms Pornpimol Kanchanalak and the Thai ambassador to its western and war-torn neighbour, Mr Mongkol Visitstump.
Thailand's special representative on Myanmar believes working with the junta regime there is a better course of action than practising 'cancel culture'
It is reported that as part of the trip, Ms Pornpimol, who has called repeatedly for the international community not to engage in 'cancel culture' rhetoric against the discredited and sanctioned regime, met Myanmar's Minister for International Cooperation, Mr Ko Kolai.
Details of the meeting in the secluded city were published by the junta-controlled Global New Light of Myanmar, an official mouthpiece of General Min Aung Hlaing's illegally installed regime which is not recognised by the United Nations while its top representatives are barred from participation in summits of the regional 10 nation bloc ASEAN Community which has tried unsuccessfully to broker peace in Myanmar also known as Burma.
In December 2021, the United Nations decided to defer a decision on who is recognised as representing Burma with rising calls for it to be recognised by the National Unity Government (NUG) of democratic forces, currently in revolt against the regime in Nay Pyi Taw and which reportedly controls over half the territory of the Federal State through its alliance with ethnic militias and its own army, the People's Defense Armed Forces (PDF).
Myanmar's United Nations ambassador supports the National Unity Government (NUG) while the world body has postponed its decision on who to recognise
At the United Nations in New York meanwhile, Myanmar continues to be represented by its ambassador Mr Kyaw Moe Tun who in 2021 refused to accept the legitimacy of General Min Aung Hlaing's military junta in Nay Pyi Taw and has resisted the military's attempts to remove him.
The ambassador was at the centre of a plot to intimidate him through violence in 2021 which saw two Burmese men arrested in New York.
The two men were named as 20-year-old Phyo Hein Htut and 28-year-old Ye Hein Zaw.
'Phyo Hein Htut and Ye Hein Zaw plotted to seriously injure or kill Myanmar's ambassador to the United Nations in a planned attack on a foreign official that was to take place on American soil,' revealed US Attorney Audrey Strauss in a statement on the matter.
Calls by National Unity Government (NUG) officials worldwide for the United Nations to recognise the democratic government leading the national uprising
In 2021, representatives of the democratic shadow government formed from groups including the elected MPs from the legitimate November 2020 General Election in Myanmar, called on the United Nations to recognise it as the legitimate government of Burma while in recent weeks the UN special representative to the country, Mr Tom Andrews, has called for tougher and more robust sanctions against the regime following the massacre of 171 civilians by the junta in a prolonged and deliberate airstrike in the northwestern region of Sagaing on Tuesday, April 11th.
That atrocity drew a response from Mr Vedant Patel, the Principal Deputy Spokesman at the US Department of State.
'We are deeply concerned by today's reports of a Burma military airstrike in the Sagaing region that killed more than 50 people and injured at least 30 people, including children. This attack follows reports of airstrikes in Chin State on April 10 that killed at least nine people. These violent attacks further underscore the regime's disregard for human life and its responsibility for the dire political and humanitarian crisis in Burma following the February 2021 coup.'
United States calls for respect for democracy in Burma and the junta regime to be held accountable for its 'violations and abuses' against civilians
'The United States calls on the Burma regime to cease the horrific violence, allow unhindered humanitarian access, and to respect the genuine and inclusive democratic aspirations of the people of Burma. The military regime must abide by its obligations under international humanitarian law, including rules on the protection of civilians. The United States will continue to work with the international community to hold the regime accountable for violations and abuses committed in Burma.'
The massacre came days, after the Thai government faced calls from opposition figures including the Move Forward Party's Rangsiman Rome for handing over 3 members of the People's Defense Armed Forces (PDF), arrested en route to Bangkok for medical treatment, to the Myanmar junta border guard on April 4th last with at least one reported as dying at the hands of the force hours later while the fate of the two others is still uncertain amid conflicting reports.
Thailand is among a handful of states appearing to offer tacit support for the military junta kept alive economically by China and militarily by Russia
Only Thailand, Laos, Cambodia and Vietnam together with the junta's key economic and military backers China and Russia have been seen to be involved in efforts to lend some legitimacy to the illegal regime whose leader is facing loud calls for his arrest and for him to be brought before the International Criminal Court in the Hague for his role in the violent repression seen in the aftermath of the February 2021 coup and Myanmar's brutal persecution of the Muslim minority Rohingya population in the country since 2017.
Some seasoned and experienced political observers and analysts argue that Thailand is a key player and important communications channel in the world's relationship with the isolated regime in Myanmar and that Thai authorities must also be concerned about strong business and investment ties between the two countries.
However, events in Myanmar since February 2021, according to other viewpoints, are unprecedented in that the civilian population has overwhelmingly mounted a revolution to oust the military regime which is extremely unpopular and has lost support on the ground to such an extent that its continued rule is untenable and being maintained through air strikes.
Criminal case in Thailand against Burmese tycoon and junta business partner Tun Min Latt a source of discomfort and strain for officials in the government
In Thailand, a close associate of General Min Aung Hlaing's junta regime, business tycoon and junta business partner Tun Min Latt, in December 2022, was sensationally charged before a Thai court with illegal activities including drug trafficking and money laundering.
The top Burma business figure was arrested by a task force working with Bangkok's Metropolitan Police Bureau in September 2022 in raids across the Thai capital along with the son-in-law of an influential and wealthy Thai senator, Thai-American Dean Gultula.
During that police operation, it is believed that documents were also found linking him with family members of General Min Aung Hlaing.
The activities of a network of companies and Mr Tun Min Latt's conglomerate in Myanmar are linked with a wide-ranging investigation currently being undertaken by prosecutors in Thailand examining the flow of money through a labyrinth of companies involved in a wide range of activities among other things including electricity supply generation in Thailand, the armament industry and hotels.
Key issues discussed last Friday included drug and human trafficking as well as efforts to control chronic air pollution, especially in northern Thailand
On Friday last, the junta newspaper reported the Thai delegation had engaged in discussions with General Min Aung Hlaing and junta representatives including the junta's Minister of Foreign Affairs Lieutenant General Ye Win Oo regarding cross-border cooperation on efforts to reduce air pollution and smog, particularly in northern Thailand which has become a chronic problem as well as drug and human trafficking, two key issues which are severely and negatively impacting Thai society, it's economy and unique national interests because of the extensive and porous land border with the troubled country.
All these problems continue to be driven by political instability and strife in Myanmar which must be a key concern for Thailand's authorities and explains the policy pursued by the government in Bangkok.
'Both sides cordially discussed cooperation among Myanmar, Thailand and Laos to reduce transboundary smog pollution, peace and stability in the border regions of both countries and plans to cooperate in the eradication of human trafficking, drug trafficking and arms smuggling,' the junta newspaper reported.
Further reading:
Rising Anger at Myanmar's regime is leading to scrutiny of its clandestine business links with Thailand
UN official slams 'Distorted' international response to Myanmar after Horrific junta atrocity
Myanmar's junta crumbles along with Russia's war in Ukraine as US progresses in the Indo Pacific
Desperate Myanmar junta executes 4 including a former MP and pro-democracy activist by hanging
Intensive clashes in Myanmar near Tak ease leaving locals near the border rattled and on guard
A second war raging in Myanmar unlike anything seen since World War Two with over 12,000 dead
Thailand calls for Myanmar talks as besieged coup leader is barred from the ASEAN summit in Brunei
Thailand abstains as the UN calls for Myanmar's return to democracy and a junta arms embargo to quell conflict
FM Don to attend Myanmar ASEAN summit with high stakes for Thailand as civil war there looms large
Myanmar facing all out revolution as the bloody struggle between the army and the public spirals out of control
Crisis in Myanmar threatens to escalate as Thai authorities monitor the situation on a daily basis
Threat to Thailand from the encroaching dragon of the North as Chinese factories in Myanmar burn
Coup boss writes to Prayut for support as UK man with Chinese partner flees troubled Myanmar
Australian arrested in Myanmar as coup takes on significance for US Chinese rivalry in the region
Military coup in Myanmar. Aung San Suu Kyi held with scores of leading political figures arrested by troops
Myanmar closer to civil war as 'unity' government announces first step to a 'Federal Union Army' to fight junta