Mystery still hangs over the fate of two Myanmar rebels who were handed over by Thai authorities on April 4th to Myanmar border guards and who later fell into the hands of the junta's military. On Tuesday, some reports said that they had already been executed while later reports said they had been sent to Mawlamyine Prison in the South of the war-torn country. 
Ex-MP Rangsiman Rome has called on Thai authorities to clarify their role concerning reports that three members of Myanmar's People's Defense Armed Forces (PDF) who sought medical help in Thailand, were handed back to the Myanmar Border Guards (MBG) force on the 4th of April last. According to the reports, one of the men who resisted being handed back to Myanmar's military was killed as he tried to escape while the fate of two others is unknown with reports on Tuesday suggesting they may have already been executed or were transferred to Mawlamyine Prison in the country's south.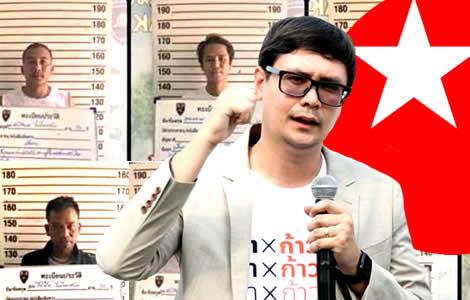 Move Forward Party firebrand and former MP Rangsiman Rome has lashed out at what he sees as close ties between Thailand and the isolated military junta in Myanmar which is fighting an increasingly determined armed revolution by the civilian population which has seen it lose control of over half the country's territory and forced it to resort to aerial bombardments of its civilian population due to a lack of resources and growing insecurity for its forces on the ground.
On Tuesday, it is reported that over 100 people died in an air attack in the rural northwestern Sagaing state on local people who had turned out to support the official opening of an office of the People's Defense Armed Forces (PDF), the official armed forces of the National Unity Government (NUG) in Burma which claims to be its legitimate government.
Former Move Forward MP Rangsiman Rome fighting a General Election while also engaged in an ongoing legal tussle with Thai Senator Upakit Pachariyangkun
Mr Rangsiman who is also busy fighting a General Election for the Move Forward Party and campaigning against corruption in Thailand is also involved in an ongoing legal tussle with Thai Senator Upakit Pachariyangkun who is fending off charges of collusion related to money laundering and transnational crime linked to substantial business activities in Myanmar through a network of companies that he has links to and which have become embroiled in a criminal probe overseen by the Office of the Attorney-General (OAG).
Senator Upakit had earlier sued Mr Rangsiman for defamation and has vehemently protested his innocence.
The charges against the upper house member, which Senator Upakit strongly refutes, are thought to be linked to Myanmar tycoon Tun Min Latt who was detained and charged by the Royal Thai Police in September last year on drug trafficking charges and has links to the junta and the family of Myanmar strongman General Min Aung Hlaing.
Call for authorities to clarify what happened
On Tuesday, Mr Rangsiman called on Thai authorities to clarify their role in the reported return of the three members of the People's Defense Armed Forces (PDF), the rebel military force in Myanmar after they had crossed the border seeking medical attention.
Mr Rome said the reports, indicating that the men were ferried across the Moei River from Mae Sot to Myanmar after being handed into the custody of the junta-aligned Border Guard Force (BGF) on April 4th last, may, if proven to be true, constitute a violation of Article 13 of the United Nations Convention against Torture and the principle of non-refoulment which is a United Nations convention guaranteeing that no person will be returned to a jurisdiction where they face certain human rights abuses, cruel treatment or torture.
It is understood that the three men were arrested at an Immigration Bureau checkpoint while travelling to Bangkok after illegally entering Thailand on the 1st of April and losing their way while trying to get to a medical facility.
One of the men, 26-year-old Saw Phyo Lay, died on April 4th while on a boat as it crossed the Moei River, he tried to escape from the border guards
The three men were a 38-year-old identified only as Mr Thiha, 31-year-old Htet Nay Win and 26-year-old Saw Phyo Lay.
All are reported to have been members of the Lion Battalion Commando unit of the People's Defense Armed Forces (PDF).
It is not clear how the men came to be deported from Thailand with conflicting reports suggesting that some Thai military units had sought their release along with several non-governmental organisations (NGOs) who also advocated on their behalf.
Reports suggest that 26-year-old Mr Saw Phyo Lay attempted to escape from the boat before it docked in Myanmar but was shot in the chest by guards and died later at a border guards camp.
On Tuesday, there were several reports on internal Myanmar media channels that the two older men had been handed over to the junta military, the hated and feared Tatmadaw and were later summarily executed. 
Other, later reports suggested that the two men had been taken to Mawlamyine Prison in southern Myanmar.
Further reading:
Fears for Aung San Suu Kyi who faces 33 years in a Myanmar prison held under primitive conditions
Shock police probe into drug dealing and money laundering linked with Myanmar to strain ties
Luxury party hotel in Myanmar's Shan State is the epicentre of Thailand's current Covid 19 outbreak
Myanmar's junta crumbles along with Russia's war in Ukraine as US progresses in the Indo Pacific
Desperate Myanmar junta executes 4 including a former MP and pro-democracy activist by hanging
Intensive clashes in Myanmar near Tak ease leaving locals near the border rattled and on guard
A second war raging in Myanmar unlike anything seen since World War Two with over 12,000 dead
Thailand calls for Myanmar talks as besieged coup leader is barred from the ASEAN summit in Brunei
Thailand abstains as the UN calls for Myanmar's return to democracy and a junta arms embargo to quell conflict
FM Don to attend Myanmar ASEAN summit with high stakes for Thailand as civil war there looms large
Myanmar facing all out revolution as the bloody struggle between the army and the public spirals out of control
Crisis in Myanmar threatens to escalate as Thai authorities monitor the situation on a daily basis
Threat to Thailand from the encroaching dragon of the North as Chinese factories in Myanmar burn
Coup boss writes to Prayut for support as UK man with Chinese partner flees troubled Myanmar
Small bomb devices explode outside the Myanmar embassy in Bangkok as anti-coup protests grow in Yangon
Australian arrested in Myanmar as coup takes on significance for US Chinese rivalry in the region
Military coup in Myanmar. Aung San Suu Kyi held with scores of leading political figures arrested by troops
Myanmar closer to civil war as 'unity' government announces first step to a 'Federal Union Army' to fight junta