The Thai royal couple will join other Heads of State and royalty from Europe and Asia at the ancient ceremony which is being made available to TV audiences around the world on Saturday.
Thailand's King and Queen will be present on Saturday when King Charles III and Queen Camilla are crowned at Westminster Abbey in a colourful event beamed around the world. The Royal Household in Bangkok, on Tuesday, announced the visit which will take place between May 4th and May 7th.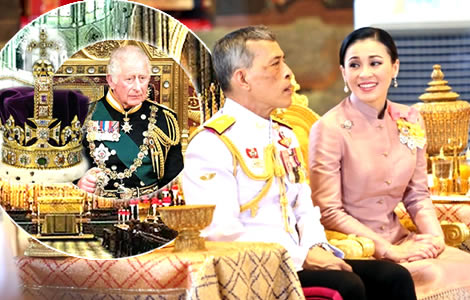 Thailand's King Vajiralongkorn and Queen Suthida will pay a Royal visit to the United Kingdom this week to attend the coronation of King Charles III and Queen Camilla which is to take place at Westminster Abbey in London on Saturday 6th.
The coronation service of Britain's new monarch will begin at 11 am GMT and will be televised and made available to TV services around the world.
Thai King and Queen to attend  Buckingham Palace reception on Friday night hosted by King Charles
The Thai King and Queen will also attend a reception given by King Charles for invited heads of state and overseas representatives at Buckingham Palace on Friday, May 5th.
The royal couple will arrive in the United Kingdom on Thursday the 4th and will return to Thailand on Sunday, May 7th according to a communiqué issued by the Royal Household in Bangkok on Tuesday.
King Charles III will be crowned alongside Queen Camilla next Saturday in a service full of pageantry and colour following the death of his mother Queen Elizabeth II in September last year.
State plans for the coronation of the monarch have been codenamed Operation Golden Orb which will see a weekend of events throughout the British capital and the country to celebrate the new King and Queen.
Royals from around the world converge on London
The Thai King and Queen will join other royals such as King Felipe and Queen Letizia of Spain, King Willem-Alexander and Queen Maxima of the Netherlands, King Carl XVI Gustaf and Crown Princess Victoria of Sweden, the King of Bhutan Jigme Khesar Namgyel Wangchuck and his wife Queen Jetsun Pema Wangchuck as well as King Philippe and Queen Mathilde of Belgium, Crown Prince Frederik and Crown Princess Mary of Denmark, Crown Prince Akshino and Crown Princess Kiko of Japan at the event to be held at Westminster Abbey which has seen British monarchs crowned since 1066.
The ceremony will see 2,000 guests in all including a broad cross-section of British society with some modern touches as well as world leaders and politicians.
US President Joe Biden will not attend the event but will be represented by his wife, Dr Jill Biden.
The ancient religious service with roots going back nearly one thousand years, will be conducted by the Archbishop of Canterbury, Justin Welby.
Further reading:
King Charles III to be acclaimed as the World comes to terms with the loss of Queen Elizabeth II
Thai PM sends a message to people of the UK on the death of the Duke of Edinburgh, Prince Philip
Fury as British Embassy in Ploenchit bulldozed – sold to the Central Group for nearly ฿16 billion in record deal
Sean Connery, the sexiest man alive, who played James Bond, has passed away at 90 years of age in Bahamas
Thailand urged to get on the ball as the full Brexit gets the green light with Christmas Eve trade pact
Johnson triumph watched avidly in Thailand on Friday as vote is good news for the kingdom
Thai King speaks candidly and insightfully on the danger posed by depression to his young audience
Public in Bangkok in stirring show of support for the monarchy on King Bhumibol's birthday, December 5th
King and Queen visit South to a rapturous salute from well-wishers in Trang and Phatthalung provinces
King tells western TV crews that he loves all Thai people equally and the kingdom is the land of compromise