With two weeks to go before another phoney election in Cambodia to preserve the illusion of democracy which has already seen the main opposition party sidelined, Hun Sen's campaign of intimidation and oppression continues as the country moves closer to China which is its key investor. 
Concern has been expressed for a Cambodian opposition leader who was arrested by Thai police on Saturday in the centre of Bangkok. The arrest comes as the Cambodian strongman Hun Sen again prepares to steamroll his way to power in what is now widely predicted as another sham election on July 23rd next. It comes after the main opposition Candlelight Party found itself excluded from the latest contest while an ongoing campaign of coercion and intimidation against political opponents, using the legal system and direct violence, continues to be waged by Hun Sen since nearly losing a General Election in 2013. On Friday, June 29th, the Cambodian leader, now seen as a pseudo-dictator with aspirations to hand over state power to his son, closed down his Facebook account just hours before the platform moved to suspend his account after he threatened violence against his political opponents online.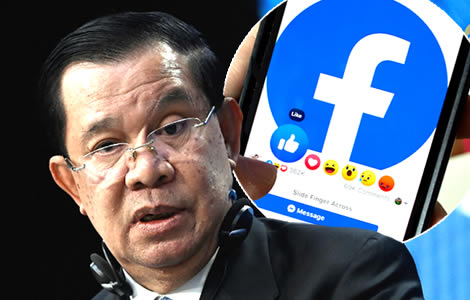 A leading member of Cambodia's main opposition party, the Candlelight Party, excluded in May for the country's General Election on July 23rd, was arrested by Thai police in Bangkok on Saturday.
It is understood that Thol Samnang was being held at the infamous Suan Phlu Immigration Detention Centre in the Sathorn area of the capital.
Cambodia opposition activist arrested near Victory monument in the city and taken to the country's central Immigration Detention Centre in Sathorn
Thol Samnang was reportedly arrested at Victory Monument in the centre of the city with the news quickly relayed to media sources by Mr Sunai Phasuk, a senior researcher at Human Rights Watch in the Thai capital.
The human rights activist pointed out that under Thailand's new anti-torture legislation, which was passed by Parliament last year and has just came into force, there is an onus on the police to notify appropriate authorities as to the arrest of the Cambodian opposition leader. 
The new law also prohibits the deportation of anyone to another jurisdiction where they may face potential harm.
Opposition politicians face a campaign of systemic oppression in Cambodia with many already having been brought before the courts and jailed on trumped-up political charges while others have fled into exile in foreign countries where they have been granted political asylum.
The arrest of the opposition leader comes as Cambodia prepares for a General Election on July 23rd.
In May, Cambodia's constitutional court removed the Candlelight Party from contesting the General Election when it upheld a decision by election officials to disallow it based on missing documentation.
Party emerged as a threat in the 2022 local elections in Cambodia, threatened to run in all constituencies
The party emerged as a contender for power in 2022 when it won 22% of the vote in the country's local elections and had threatened to run candidates in every constituency in opposition to Prime Minister Hun Sen who has exercised power in Cambodia for nearly 40 years having been appointed second Prime Minister in January 1985.
Hun Sen was first appointed to ministerial office no less than 44 years ago. 
The Candlelight Party is an amalgamation of many opposition parties and personalities which gained impetus following the dissolution of the Cambodian National Rescue Party (CNRP), ahead of the last General Election in 2018.
The strongman and his Cambodian People's Party (CPP) won yet another landslide with over 80% of the vote and all of the 125 seats in parliament in an electoral contest that was widely dismissed as fraudulent.
Hun Sen is currently in election mode for the July 23rd election, and in recent weeks, closed down his account on Facebook.
Facebook account closed on June 29th, hours before the tech giant suspended it over threats of violence by Hun Sen against his political opponents
His move came just hours after an advisory board of the network recommended his account be suspended for six months because of a live stream broadcast in January 2023 in which he threatened political opponents with legal action and violence.
'Either you face legal action in court or I mobilise people to protest and beat you,' the former Khmer Rouge soldier and second Prime Minister of Cambodia who assumed the role in 1998, said in the offending broadcast to his 14 million followers on the popular social media platform.
In recent years, Hun Sen has jailed his opponents and closed down opposition parties in an unrelenting campaign as he grooms his son to take over the reins at a future stage, with increased support from China including stronger military ties.
Having had a scare in 2013 when he nearly lost the General Election that year because of a surge in support for the opposition who managed to rouse the population through effective use of social media, the country's de facto dictator learned his lesson and has since tightened his grip over the media industry in Cambodia and suppressed any significant political opposition. 
Facebook noted Hun Sen, Cambodia's veteran strongman, had a history of violating human rights and resorting to political intimidation
In the hours before he closed this account on Thursday 29th June, a notice appeared at the direction of the Supervisory Board of Meta, Facebook's parent company, warning that the account had breached its guidelines and faced suspension for inciting violence against the population. 
This came as a result of the violent abuse in Hun Sen's January speech.
A statement said that Hun Sen 'has a history of violating human rights and intimidating political opponents, as well as the strategic use of social media to amplify such threats. The Board demanded that META suspend Hun Sen's Facebook and Instagram accounts immediately and for six months.'
In January, Facebook removed the video of the offending speech and last week confirmed the Cambodian leader had incited violence 'at the highest level of severity.'
The deletion of Hun Sen's account came just hours after the Facebook board made its announcement.
The Prime Minister did not refer, however, to the ruling, suggesting that he had his own reasons for removing his account from the platform.
Hun Sen moved over to Telegram and announced plans to open a page on Chinese network Tik Tok
The day before closing his account, he opened an account on the Telegram application, which in 24 hours already had 900,000 followers. 
Hun Sen described the alternative platform as 'more effective' and told reporters that he was also opening up a Tik Tok account to engage younger users in the small kingdom on Thailand's eastern border with a population of 16.7 million people with an income per capita in 2023 of just $1,901.
Many observers believe that a significant proportion of Hun Sen's enthusiastic new Telegram users may have been created by bots or through artificial means. 
On Friday, June 29th, Hun Sen threatened Facebook that he may issue orders to ban the social network in the kingdom.
He was speaking during a visit to a textile factory in Pursat province in the east of the country bordering Thailand.
The Cambodian leader took aim at his opponents, many of them who are living in exile outside Cambodia. 'Don't be too arrogant. You guys are abroad. You use Facebook to communicate. We could block Facebook,' he declared.
Campaigning on Cambodia's rapid industrialisation funded by inwards investment primarily from China which has seen the country grow close to Beijing
In the run-up to the July 23rd General Election, Hun Sen and his Cambodian People's Party, while facing no substantial opposition, are campaigning on the rapid industrialisation of the country, which is being funded to a large extent by inward investment from China.
In the last election held in 2018, Hun Sen reportedly won in a landslide securing 80% of the popular vote after he had outlawed the main opposition party and in the face of calls for a boycott of the poll.
The election was roundly condemned by the European Union and the United States as well as countries such as Canada and Australia as being baseless.
However, the result was endorsed by some countries such as Cambodia's neighbours, including Thailand, then ruled by the National Council for Peace and Order (NCPO) or junta, and some allies of the former Khmer Rouge officer in Europe with populist backgrounds. 
The election result suggested an 82% turnout or 6.88 million people voted, an outcome widely dismissed by Western officials.
Neutral observers of the country, at the same time, have not ruled out democracy flowering again in Cambodia, but acknowledge it is highly unlikely that Hun Sen will lose on July 23rd.
In theory, July 23rd poll will have 18 parties
In theory, 18 parties are contesting the General Eelection, with 9.7 million people eligible to vote for 125 seats in the National Assembly.
In May, the Cambodian Constitutional Council removed the Candlelight Party from the contest on a technicality over a paperwork issue.
It is thought that this political force was the only potential challenge to Hun Sen who is now seen as facing an open road to re-election.
A crackdown using intimidation and legal measures has removed all significant opposition to his rule since his election landslide in 2018 which in turn was achieved by the dissolution of the Cambodian National Rescue Party in the run-up to that poll.
On Friday evening June 29th, the Cambodian leader, with his finely tuned instincts for survival, announced that he would not block Facebook in the kingdom.
Hun Sen, a skilled survivor, decided not to block Facebook as it is vital to the country's skilled and hard-working online traders, many of them women
This came after an outcry from hard-pressed business people in the country neighbouring Thailand who had reacted with shock and despair when they heard about the dispute between the American social media giant and their country's leader which threatened to upend their livelihoods.
One 29-year-old Facebook trader said: 'I urge the Prime Minister to reconsider and think about people's businesses. I've earned my living there for more than five years.'
The businesswoman declined to give her name fearing her comments could be construed as criticism of Cambodian authorities.
Many of these online traders in Cambodia are women and are renowned for their well-honed trading skills.
Within hours, messaging on his new Telegram account and the wily seventy-one-year-old PM walked back the threat to close down Facebook to Cambodian users.
 'We are not foolish to shut down Facebook because a lot of people use it including online sellers,' he told his followers.
Further reading:
Increased US naval presence and operations as China expands its footprint
Thai woman's claims that she was targeted for organ harvesting being probed in Cambodia by police
Cambodia's recall of diplomatic passports linked to press reports of Yingluck's Hong Kong dealings
Thailand and Cambodia move closer together with new rail and flights to boost trade, business and tourism
Cambodian opposition will be denied entry into Thailand as it seeks to topple Hun Sen
US ASEAN summit as 'dangerous directions' now emerging in Asia as China's regional power rises