Rangsiman Rome tells reporters that efforts by conservative elements or perhaps misinformation operations should stop as he clarifies the Move Forward foreign policy position. He told reporters that while the reports were 'fake news' he was opposed to the prosecution of anyone for sharing information like this but simply wished that people behind such efforts would cease in the interests of national unity.
The Move Forward firebrand and key leader of the party, Rangsiman Rome, has firmly denied that the party supports allowing the United States to establish a military base in Thailand. On Wednesday, he pointed to the balanced commitment concerning Thailand's relationship with key world powers given in its Memorandum of Understanding or programme for government and stated that Move Forward would object to any such move as it is committed to protecting the country's sovereignty. The controversy comes amid rising tensions between the United States and China with indications that Thailand's neighbour Cambodia is forging stronger links with the People's Liberation Army (PLA) including, according to US officials, the construction of a Chinese naval base in the Gulf of Thailand.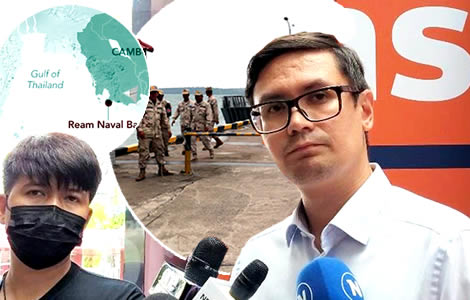 Top Move Forward Party MP-elect Rangsiman Rome has come out to forcefully deny what he suspects are malicious rumours suggesting that the Move Forward Party has an agenda to let the United States establish a military base in Thailand.
Mr Rome, who is tipped as a future minister, was speaking on Wednesday and was at pains to suggest that while people can find themselves duped or a victim of 'fake news' disseminated online which may be designed to damage his party, it would never consider prosecuting people for sharing information against it even where the allegations were false and misleading.
Rome believes reports are a clandestine operation sowing public unease about his party's shock General Election win and efforts to form a government
Speaking with reporters, he suggested that the rumour which is being taken up by conservative elements in society may be some form of clandestine internal security operation such as have, in the past, targeted the Move Forward Party.
His comments come as conservative protests have taken place this week outside the American Embassy in Bangkok with activists suggesting that the United States played a role in the May 14th General Election which is seen as an earthquake for Thai politics with an outcome which has left the Move Forward Party in a position to establish a coalition representing 62% of MPs in parliament.
On Thursday, the Election Commission, as it moved to finalise the result of the poll by a July 13th deadline, confirmed that the Move Forward Party had lost one of its constituency MPs to the Bhumjaithai Party meaning it returned 151 MPs instead of 152 projected initially while the Bhumjaithai Party was elevated to 71 seats in the House of Representatives.
Reports of a US base in Thailand an old chestnut trotted out by activists in Thailand on the right and left. Election sees young aligned with US policy
On Wednesday, Mr Rangsiman told reporters that the story of a US base was an old chestnut raised by conservative and left-wing elements over the last twenty years to create unease.
The curious outcome of Thai politics over this period has been the alignment of middle-aged conservative voters with China and the Communist Party-led regime there while younger pro-democracy supporters have become more aligned with the United States and its liberal culture.
Mr Rangsiman said his party only engages with foreign groups or representatives to discuss education opportunities, trade and the promotion of Thailand's economy.
He underlined that the Move Forward Party would oppose any such proposed US military base on Thai soil and that the party was committed in the Memorandum of Understanding between the eight-party coalition to support a neutral foreign policy while always upholding Thailand's sovereignty.
Public should insist on facts and evidence
He said no country would be allowed to establish such a base in the kingdom under any new government led by his party.
He asked the public to question such information online and to insist on facts and hard evidence to support what is being said.
He also appealed to the suspected parties behind the dissemination of such rumours to desist as it was a useless exercise which only confuses the people.
He told reporters that the Move Forward Party aimed to lead a government for all the Thai people including those who politically oppose it and its policies as well as its supporters and base.
He said that the party wanted to see unity and peaceful understanding in the country.
Increased US naval presence and operations as China expands its footprint near Thailand including a naval base being constructed in the Gulf of Thailand
The move comes as the Philippines under President Ferdinand Marcos Jr has reversed decades of policy by allowing the United States military to establish bases in the country in what is seen as escalating military tensions between China and America over the South China Sea.
It also comes after a recent visit by the US Navy Nimitz carrier group to Thailand at the end of April with rising concern about the presence of Chinese military influence in Cambodia including reports, denied by both the Cambodian government and Beijing, that China has already begun construction of a naval base for the People's Liberation Army (PLA) Navy in the Gulf of Thailand in the northern section of Ream Naval Base according to senior US officials in Washington DC.
Some analysts however have countered that what appear to be repairs and docking facilities being constructed at Ream Naval base with Chinese assistance, is a small development and only involves training being provided to the relatively small Cambodian navy of patrol boats by Chinese instructors without any confirmation that the facility will be used in the future by the People's Liberation Army (PLA) Navy.
Adding to US concerns, however, are reports that China has access to flight bases in Cambodia including at a new airport recently constructed in Siem Reap province while its armed forces are openly forging closer ties to China's People's Liberation Army (PLA) with such cooperation openly heralded and welcomed by Cambodian Prime Minister and strongman Hun Sen.
Further reading:
Ironclad partnership heralded as Marcos visits Washington amid raised South China Sea tensions
Chinese Foreign Minister tells world elite in Shanghai of a 'new form of human advancement' in China
Sub call due soon but closer ties between Chinese and Thai navies signalled by top-level visit
China's new foreign minister warns of certain US-Chinese war if Washington fails to reverse course
War with China is a rising spectre that must be confronted as US General predicts conflict by 2025
Heat turned up over the Sukhothai naval tragedy with 19 thought to have perished and 10 missing
Bad news from Beijing with Xi's rise, the prospect of war and a divided world have greatly grown
Pelosi defies Communist China's concerted campaign of intimidation and visits Taiwan sparking a crisis
Abe's legacy will be his efforts to awaken Japan and build a defensive alliance against China
Former Pheu Thai finance minister expresses unease about US regional moves to counter China's rise
US to unveil new economic relations framework for Asia at ASEAN Summit as China warns of new cold war
Thailand and Japan announce defence pact on visit by Japanese PM to Bangkok ahead of US summit
US ASEAN summit as 'dangerous directions' now emerging in Asia as China's regional power rises
US sanctions on Russia part of a 'profound' geopolitical shift to Asia as many US firms leave China
Thai tourism emphasises its neutrality in the Ukraine war, calls for a review of payment systems
Russia warns Thais planning fight for Ukraine they will not be treated as enemy combatants under UN treaties
World lives in fear – UK Minister says Putin may not be in his 'right mind' as Thursday's invasion goes awry
China could be an economic time bomb sitting on Thailand's doorstep as Evergrande collapse nears
UK Foreign Secretary visits Bangkok after AUKUS security pact further raises tensions with China
Lowering of US flag in Chengdu is a wake-up call for foreigners living in Thailand and with close ties here
US is a better friend for Thailand than China says US ambassador as tensions grow between the 2 powers