Daniel Sancho Branchalo admits to the premeditated murder of his 44-year-old gay lover. He claims he made repeated efforts to end the affair but had taken money from the older man and feared threats made of exposure on social media channels.
The 29-year-old Spaniard accused of the premeditated murder of a 44-year-old Colombian plastic surgeon told police in recent days that the older man was blackmailing him into continuing a homosexual affair which he refused to engage with. He said he had planned to kill his lover after he had threatened to reveal intimate photos online which would be ruinous for him and his family in Spain.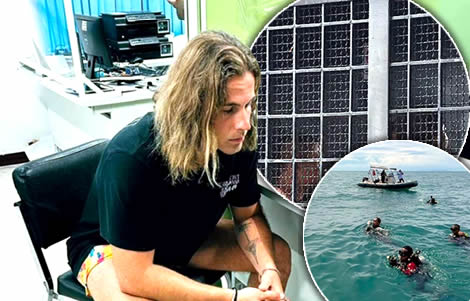 The Spanish chef and scion of a famous acting family, Mr Daniel Sancho Branchalo, has told police on Ko Phangan that he planned the murder of Mr Edwin Arietta Arteaga, whose body parts were found at a dump on the island on Thursday, sparking an intense police investigation leading to the arrest for questioning of Mr Branchalo on Friday and an arrest warrant for premeditated murder being issued by Ko Samui Provincial Court on Saturday.
Following Monday's crime re-enactment on the island at seven different locations, more details emerged about the confession of Mr Branchalo to committing the crime, in which he claimed he murdered the Colombian plastic surgeon to escape from blackmail by the older man.
Colombian plastic surgeon had advanced the Spaniard money to open a restaurant in Spain and provided him with a credit card but he wanted to end it
Mr Branchalo accepted €10,000 or ฿37,500 approximately from the older man to fund a restaurant in Spain.
Branchalo claimed to police that he was not a homosexual and did not approve of the lifestyle as he already had a girlfriend in Spain and indeed, it is reported that in the hours after the murder of Mr Arteaga on Wednesday, the younger man was accompanied by two female friends to Ko Phangan's famous Full Moon Party.
He told police investigators he had invited the Colombian plastic surgeon to the world-famous event with the explicit intention of murdering him and disposing of his body.
He explained that he had altered the accommodation arrangements made by the older man from Thong Nai Pan Beach to the Haad Salad Beach area of the island which is quite a distance away. 
The Spanish celebrity chef prepared at length to murder and dismember the body of his victim on the days before the Colombian's arrival on Ko Phangan
Mr Branchalo, on Tuesday 1st August, purchased knives and other accoutrements to commit the murder and dismemberment of the Colombian's body.
He had placed these in the hotel room at the resort at Haad Salad Beach to which he brought Mr Arteaga on Wednesday after the older man arrived off the ferry. 
Branchalo told police that he had tried to end the relationship through social media messaging and online chats but all to no avail before resorting to murder.
He claimed he was being blackmailed by the older man.
Edwin Arteaga, he claimed, had threatened him with exposure of the relationship including the release of intimate photos of the pair on leading social media channels such as Facebook and Instagram. 
Exposure of the homosexual affair with the older man would have been disastrous for Mr Branchalo's personal life and his family in Spain, a very conservative country.
Mr Branchalo explained to investigators over the weekend and on Monday that this act would have been ruinous to his career and that of his father and mother in Spain.
Colombian immediately made sexual advances towards him after they arrived back at the Haad Salad Beach resort where they were staying on Wednesday
The 29-year-old Spaniard explained to police officers how he had collected the older man on a motorbike at the ferry on Ko Phangan and transported him to the resort in Haad Salad.
The Colombian had immediately made sexual advances towards him, to which he responded with a punch, causing the older man to lose consciousness and die. 
He then dragged the body into the bathroom area of the suite and told police he had tried to revive him with water but this was to no avail as he was already deceased. 
Mr Branchalo then hired a kayak at 9 pm that evening on the beach and proceeded to place plastic bags containing Mr Arteaga's severed remains into a large duffel bag which he used on two trips out to sea depositing plastic bags each time.
Deposited the victim's remains at sea in a kayak
He also left remains at various refuse collection points on the island. 
Police working on the case have also revealed that a search of the victim's hotel room found that he was carrying $80,000 in addition to a gold necklace of similar value. 
Police have ascertained that these were the property of the Colombian plastic surgeon. 
Police in Ko Phangan also revealed that Mr Branchaol has been already transferred to Ko Samui, ahead of schedule.
He will be incarcerated at Ko Samui Provincial Court Prison or Detention Centre pending legal proceedings against him for premeditated murder.
The Spanish man's actor father, Mr Rodolfo Sancho Aguirre, is due to arrive in Koh Samui on Wednesday. He is already reportedly en route to Thailand.
In the meantime, the search at sea for further body parts of the Columbian victim continues.
Further reading:
Spaniard highly likely to be handed down a death sentence for cruel, planned and callous murder
Spanish chef murdered gay lover on Ko Phangan, cut him into 14 pieces and left him as garbage
Killer Spaniard surprised naked Chilean man at his home on Ko Phangan and knifed him to death
Police probe mental health of suspected murderer who killed his wife and stepson in Maha Sarakham
Prachinburi police launch murder investigation as German teacher found stabbed in bed at his home
Yaba Yaba Don't. Another murder in Phatthalung province this week linked to the evil drug now rife
Pattaya police release grainy CCTV of UK man picking up the woman he later brutally murdered at home
Four Chinese men arrested after hideous murder of a Chinese tourist and his wife last Monday night
Murderer who stole not only a foreigner's life but his wife is finally arrested by CSD police in Phrae
Love triangle murders in Thailand linked with popular TV soaps, foreigners and money
93% of Thai people want to see the death penalty put to use to curb shocking murders and drug gangs
Former Thai Government minister arrested – linked to kidnap and suspected murder of judge's brother