A Get Tough policy on nightlife operators is coming as the Minister of Tourism and Sports is pushing for 4 am closing hours for tourism hotspots with public opinion evenly divided and a small minority who want to see all nightlife in Thailand shut.
Deputy Prime Minister Anutin Charnvirakul has announced that the national crackdown being driven by his ministry is being extended into illegal activity within the nightlife sector following an early morning raid last Sunday, which shuttered a notorious venue in Pathum Thani, which saw its operators arrested and 137 out of 297 people detained testing positive for illegal narcotics. The Minister of the Interior in the present cabinet said the buying influence or protection era was over. The move comes as the public is evenly split over a revived government proposal to allow an 4 am closing time for nightlife operators in tourist hotspots currently being proposed by the Ministry of Tourism and Sports.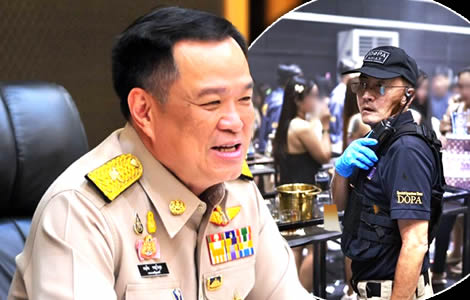 Prime Minister Anutin Charnvirakul, the Minister of Interior in the new government, welcomed a raid early on Sunday morning which shuttered an illegal entertainment venue in Pathum Thani province near Bangkok.
Mr Anutin praised the Director General of the Department of Provincial Administration, Mr Orasit Samphantharat, who coordinated Operation Lion, which saw hundreds of people arrested at the targeted club in the Lam Luk Ka District of the province. 
Notorious club at the centre of illegality, including underage drinking, drug dealing, violence and a lethal motorway accident reported by the public
The nightclub, notorious among locals, reportedly opened as late as 6 am and was found by officials not to have any proper licence to operate as an entertainment venue.
Additionally, evidence of drug use was found throughout the premises, with large amounts of white powder on the floor as police sealed off the front and back exit to the property and arrested nearly 300 people. 
Officials who took part in the raid at 1.45 am on Sunday reported that out of 291 people tested, 137 were found to have consumed illegal narcotics. 
Police arrested the owner of the premises and relevant managers at the scene.
The raid followed persistent complaints to the local Damrongtam Centre, a grievance resolution service in Thailand, by concerned residents who reported that many young people under 20 were allowed to enter the nightclub and consume alcohol.
Five of those detained under 20 years of age, while a further five had no identity to show police and officials during the raid on the unlicensed venue
After Sunday morning's raid, police revealed that five of those found within the premises were under 20 years of age, while a further five were found not to be able to produce a national identity card. 
The Director General of the Department of Provincial Administration, Mr Orasit, said after the raid that it was clear that the entertainment venue known as the 'Mem Exclusive Club' had been breaking the law in every respect, including not having any licence whatsoever, while selling alcoholic beverages well beyond the time allowed for legitimate licensed premises.
He also drew attention to the large quantity of drugs seized during the raid, saying it was clear that not only were drugs being consumed on the premises but sold in large quantities.
It was also revealed that the premises were previously the subject of a five-year closure order and had opened before this period had expired.
Raid a signal of strong Ministry of the Interior policy on enforcement within the country's nightlife sector to wipe out drugs and other lethal threats 
The Director General paid tribute to the Minister of the Interior, Deputy Prime Minister Anutin, who he said was pushing a more assertive enforcement policy regarding illegal conduct within the nightlife trade.
Sunday morning's raid has been seen as part of a nationwide crackdown being prosecuted by the Ministry of the Interior, Under-Deputy Interior Minister Mr Chada Thaiset MP, following revelations linked with the murder in Nakhon Pathom province in early September and public outrage against what is seen to be the lawlessness of influential figures who often bribe police and local officials.
Mr Orasit encouraged anyone who has a complaint about other venues or illegal behaviour to file it at their local Damrongtam Centre and invited them to ring the appropriate police hotline numbers, including 1567. 
Large quantities of illegal drugs recovered from the raid, including ice, ketamine and Happy Water, with drugs being consumed and sold on the premises
After the raid, police and officials revealed that among the many drugs seized were ice or crystal methamphetamine, ketamine and a concoction known as Happy Water, an increasingly popular drug with revellers.
The Thai Narcotics Control Board has issued warnings about Happy Water, saying that it is pretty dangerous because it often includes a mixture of drugs designed to stimulate, which can also have serious side effects if some drug dealer gets the recipe wrong. 
It is also being reported that in recent times, there was a fatal shooting at this nightclub and other anti-social and dangerous activity surrounding it, including a deadly accident occurring on a nearby highway after revellers had left the premises. 
Some of those arrested during the raid claimed to have influence at high levels. Anutin says the days of paying for protection from the police over
On Sunday, Deputy Prime Minister Anutin said that, from now on, there will be strict enforcement of all laws and regulations at a provincial level concerning the entertainment and nightlife sector. 
He also revealed that during Sunday morning's raid, some of those involved in managing the nightclub claimed to be protected by significant figures in law enforcement. 
He explained that during the arrests, there were also claims by some people that influential people were protecting them. 
'Let me assure the public that no one is bigger than the law. I must commend the administrative officials and all parties involved for collaborating on this operation. It shows that we will no longer tolerate perpetrators going unpunished,' the Deputy PM declared.
Minister Anutin linked the new campaign with one to also wipe out illegal guns.
New get tough policy comes as the Tourism Minister proposes 4 am opening hours for tourist hotspots
This is part of the new policy of the Minister of the Interior towards the nightlife trade as the Ministry of Tourism and Sports has again proposed a nationwide pilot to allow nightlife centres in tourist hotspots to open until 4 am during the upcoming Tourist High Season.
The plan is to boost income earned by the business sector and emphasise the country's well-known and famous nightlife internationally to tourists
In previous years, such proposals drew stiff opposition from sectional interests such as those who oppose the consumption of alcohol or a powerful anti-drink driving lobby, which argues that even under current regulations, there is too broad a scope for nightlife operators, which are contributing to a range of social ills.
Last year, one such group, the Network for Quality of Life, staged colourful protests when the former Minister of Tourism and Sports and now Minister of Labour, Mr Phiphat Ratchakitprakarn, made a similar proposal to allow 4 am opening hours.
On Sunday, a National Institute of Development Administration (NIDA) opinion poll showed equally divided public opinion.
The poll was conducted between the 17th and the 19th of October with a sample of 1,310 respondents over 20 years of age nationwide.
It showed that 41.76% of adults thought the 2 am closing hours were sufficient and should remain the same. 
Poll shows that public is split evenly on the issue
In response, 23.66% said that the 4 am closing hours should be allowed but only in tourist cities and hotspots as is being proposed by the government.
In comparison, a further 17.56% said the 4 am closing hours should be extended to all nightlife and entertainment centres nationwide to ensure fairness. 
This equates to 41.22% of people being in favour of allowing the 4 am closing time as is being proposed by the Minister of Tourism and Sports, Ms Sudawan Wang-Suphakitkosol, in a move which has already been endorsed by the Governor of Bangkok, Mr Chatchart Sitthiphan, having been initially proposed by the daughter of former Prime Minister Thaksin Shinawatra, Ung Ing or Ms Paetongtarn Shinawatra on behalf of the National Soft Power Strategy Committee which sees Thailand's nightlife is a valuable part of the country's tourist appeal.
Among the respondents to the nationwide poll last week, 4.35% held an ultra-traditional and conservative position that all the country's nightlife and entertainment centres should be closed.
Further reading:
Bangkok's Governor gives green light for 4 am opening hours for nightlife in tourist hotspots
4 am Nightlife closing time pushed again by minister as TAT unveils deal to boost US tourists and flights
Nightlife until 4 am as poll shows plans to move foreign tourism upmarket a 'recipe for disaster'
Thai economy in an upswing with over 1 million foreign tourists in July powering higher GDP gains
Negative reaction and horror at Thailand's plan to charge foreigners more than locals at hotels
Anutin: time to halt foreign tourism price deals, Thailand to be the Louis Vuitton of the world travel market
Good news from airports as arrivals help offset damage from inflation and supply chain blocks caused by war
Thailand to reopen to 'big fish' tourists as a cryptocurrency friendly haven says promotion agency boss
Baht to strengthen later in the year even after July as foreign tourists will return says top bank economist
Industry leaders and central bank all warn that foreign tourism must return to avoid a collapse
Fact – only 6,556 visitors arrived in Thailand last month compared to 3.95 million in December 2019
Desperate foreign tourism business concerns are clinging to straws as they try to survive the crisis
Challenge of the virus and closure to tourism leads to major long term changes in the Thai economy
Strengthening baht predicted as investors bet on a reopening of Thailand to mass tourism in 2021
Economic picture continues to darken as cabinet approves new ฿700 billion loan to plug the gap of higher deficits
Thailand facing a credit crunch as 3rd virus wave craters the kingdom's economic recovery plans