Bangkok and Thailand have become 'world headquarters' for economically priced cosmetic surgery as part of a broader medical tourism boom, which has been tainted in the last decade by disturbing reports of patient deaths at clinics offering substandard and sometimes unregulated care.
A campaigning Thai lawyer, on Tuesday, shone a light on the dark recesses of cheap and dangerous plastic surgery in Bangkok, known to be a world-beating centre for cosmetic procedures at low prices but which, in the last decade, has faced disturbing questions about the regulation of smaller clinics where several fatal cases have been reported in respect of relatively minor procedures. The case in question is one of a doctor previously jailed for the death of a patient who has reopened up and is the subject of harrowing and substantiated claims from two Thai women who brought their story before reporters on Tuesday.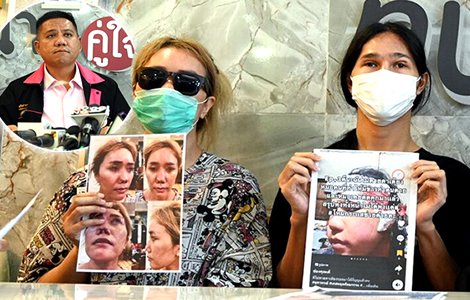 Well-known Thai lawyer Ronnarong Kaewphet, an activist against injustice and wrongdoing in the Kingdom, held a press conference on Tuesday and presented two victims of a plastic surgeon operating in the Huai Khwang area of Bangkok who was previously the subject of a police investigation after a death occurred at his surgery of a patient admitted for a liposuction procedure.
The doctor was subsequently jailed for the incident in 2021, served his time, and was then released but appears to have been able to resume his practice. 
Victims shed light on the danger of opting for cheap, low-cost clinics run by plastic surgery practitioners without proper training or regulation
The latest two victims are from his renewed practice, which opened again in the Huai Khwang district.
They are the latest cautionary tale in an industry which has been under suspicion for the last decade due to several high-profile cases, including deaths.
Plastic surgery has become a massive business in Thailand over the last two decades, with many Thai hospitals and clinics receiving high awards and meeting international standards.
Many of the larger Thai hospitals, including Bumrungrad Hospital, Yunhee Hospital, Samitivej Hospital, Bangkok Hospital and Lorlak Hospital, have installed advanced plastic surgery equipment and treatment centres meeting the highest standards, with Bangkok becoming a world centre of the business with competitive rates varying from as little as $24 ( ฿850) to $10,000 ( ฿370,000) offered by private clinics and large medical institutions in a busy market place.
Plastic surgery acknowledged by the government as part of Thailand's 'medical tourism' push, with 9.6% of tourists in 2013 coming to receive treatment
In 2013, the Thai government acknowledged plastic surgery as a critical part of its efforts to promote medical tourism to Thailand, with the country earning $4.31 billion alone from medical procedures. It is estimated that 9.6% of all travellers to Thailand came for this purpose and benefit.
Afterwards, this was overtaken by rival medical tourism centres, notably in India and Turkey, but Thailand remains a leading centre in the worldwide industry, especially linked with plastic surgery.
However, several fly-by-night operators, particularly in Bangkok, have given the trade a bad name, leading to negative international press coverage, such as that concerning the SP Clinic, which was at the centre of a controversy in October 2014 when police arrested Dr Sompop Sansiri after the death of a 24-year-old British woman, Joy Williams, who had been a patient at his clinic and died subsequently under anaesthetic.
Channel 4 documentary in the United Kingdom in 2015 has since been widely circulated and raised serious questions about regulation of the industry
Her relatively straightforward plastic surgery went awry; a police investigation subsequently revealed that the clinic was not appropriately licensed by Thai authorities to carry out such surgery.
The case raised disturbing questions about Thailand's ability to regulate and control the fast-growing industry.
The case was the subject of widespread coverage in the United Kingdom, including a groundbreaking TV exposé produced by Channel 4 in February 2015 highlighting the fatal consequences for some patients who visited Bangkok for plastic surgery procedures in which the Thai capital was described as 'world headquarters for cosmetic surgery'.
2 Thai women, the latest victims of an apparent fly-by-night operator already held responsible for one patient in 2021, presented to a press conference
On Tuesday, lawyer Ronnarong Kaewphet presented two of the latest victims of another well-known plastic surgeon. This fly-by-night operator fell foul of the law and served time in prison.
Mr Ronnarong identified them as 37-year-old Ms Nam and 25-year-old Ms Tao.
Ms Nam attended the clinic in Huai Khwang for surgery on January 7, 2022.
The nose procedure was carried out at a price of ฿25,000.
Later, on Tuesday, the woman told the press that seven days after this procedure, she took the cast off and discovered that her nose was anything but beautiful, so she contacted the doctor at the recently reopened clinic.
He suggested that she return to him so that the matter could be put right and that three different procedures were carried out in one week, but to no avail. She told reporters that over one year, she had had 16 revisions on her nose performed by the clinic's owner.
Woman's nose became repeatedly infected in the course of 16 revisions over a seven-month period, leading her eventually to lose her job and confidence
During that time, her nose had become infected, and the doctor had advised her to purchase painkillers and certain medicines, including seven bottles of disinfectant, to clean her nose internally. 
She told reporters that she used one bottle daily, but the nose infection became a recurring one. 
At length, she was told by the doctor that it was not possible to make her nose beautiful as it was intrinsically not so.
She would have to get better on her own, he said, because her case was a difficult one to solve because her nose was fundamentally not beautiful. 
And, of course, she explained at today's press conference, after eight months of toing and froing with the doctor, she finally lost her patience and her confidence in his ability to correct the situation.
37 year old filed a complaint after she completely lost faith in the doctor's ability to correct the mistakes and address the botched job on her nose
'Then I went to have my nose fixed with the doctor for the last time. This was last August, and it didn't get any better. So I decided to tell the doctor I wanted to terminate the treatment because after doing it repeatedly, it was not getting better and appeared to be getting worse. Also, I was losing money on travel expenses, and my nose was continuously sore,' she explained.
'In addition to this, I had been fired from work because of numerous periods of extended leave, which had a very negative impact on my life. Nowadays, I don't care to meet people face to face anymore. I must wear a mask all the time. I went from being a normal-looking person to someone who has to wear a mask for the rest of my life,' the 37-year-old said.
She explained to the press conference that the doctor subsequently denied responsibility for her situation. He pointed out that he had provided the nose corrections free of charge and at considerable cost to his clinic. 
Because of this, she said she had filed a complaint against him and sought compensation for damages incurred from the subpar treatment she thought she had received.
She found out about the death at his clinic previously but opted to stay with him as he kept promising to rectify her condition, but eventually, he gave up
She told reporters that around the fifth or sixth time she had returned to correct her nose, she became aware of the doctor's unfortunate history.
At any rate, she learned he had been held legally responsible for the death of a patient in his care.
Nevertheless, she continued to place herself in his hands because she thought that her nose would get better. She was impressed by the fact that the doctor continued treating her.
The second patient introduced by the activist lawyer was 25-year-old Ms Tao.
She attended the Huai Khwang Clinic for double eyelid surgery and facial contouring.
This involved initially altering her cheekbone with grinding and delicate hairline surgery, which involved the doctor cutting her scalp.
25-year-old woman had a bone and structural procedure to her face in May 2023, followed by eyelid surgery in October this year, which went very wrong
The second procedure involved moving her scalp down and also making alterations around her mouth under anaesthetic. She said she was not sure if the doctor used the proper anaesthetic.
The first facial contouring surgery was performed by the plastic surgeon in May this year. She said that after the operation, she felt her cheekbones were bulging and not as expected.
She returned to have double eyelid surgery conducted on October 25, 2023. But here also, there appears to have been some mistake. The result of the plastic surgery was that her face was not more beautiful, indeed; it was visibly scarred.
Furthermore, her eyes appeared to be misshaped. She informed the doctor at the centre of these allegations, and he told her to return and carried out a second surgery on October 27, 2023. 
This caused even more complications and involved many mistakes. At that point, she asked the doctor to take responsibility for his actions and said that she had lost confidence in his ability to carry out the surgery successfully.
Following this, he insisted that in one to two days, he could correct the situation and that she would look beautiful. 
Paid ฿124,000 but was left scarred both externally and internally for life, as well as restricted movement in her eyes, mouth and arms after flawed surgery
She told reporters that she had paid ฿103,000 for the facial contouring operation and ฿21,000 for the eyelid surgery. 
The result of the overall surgery was that she was left with severe scars and a damaged face with the scars visible on the outside.
Subsequently, a CT scan conducted by other medical advisors showed that her face was damaged internally.
She told reporters that her face was holed, and the scan showed her eyes were not as expected. 
The victim, before the press, described her situation as being scarred for life.
At the same time, Ms Tao claimed she could not open her mouth properly, and neither could she close her eyes completely.
By the same token, she told reporters that tears flowed all the time from her eyes without any ability to control them and that she dared not expose herself to the wind.
In addition, she explained that she could not lift her arms at a height because the surgeon had taken fat from her armpits when conducting the eye surgery, causing further medical complications in this area of her body.
The situation had led her to question whether the doctor at the plastic surgery clinic was properly qualified or even a medically accredited professional.
Latest victim took to TikTok, where she claims many other victims contacted her online, sympathising with her plight at the hands of the plastic surgeon
She told the press conference that she was now pursuing legal and other actions against the plastic surgeon: 'to remedy the damage done to me by his clinic. I don't want to see this happen to anyone else, and want to find out why this doctor continues to be able to practice. He has been to prison before.'
She went on to explain to reporters that this is why she had made a TikTok video exposing her own story and revealed that she was contacted by many other people on the social network claiming to be victims of the same surgery and doctor. 
The activist lawyer, Mr Ronnarong, said that he was having detailed physical examinations carried out on both of his clients and would be making a full report to the Crime Suppression Division of the Royal Thai Police.
Additionally, he would be filing a report with all civil authorities, including the Provincial Administration Organisation and the Office of Basic Education Commission, to find out if the surgery in Huai Khwang was approved under current regulations and medical guidelines.
Lawyer Ronnarong bringing now documented cases to the Crime Suppression Division (CSD) of the Royal Thai Police and civil authorities demanding action
He would also be in contact with the Medical Council of Thailand to see if this doctor's licence has been revoked or whether it has been suspended.
He explained that if it turns out that the doctor is medically accredited as a professional, then the charges against him would be ones of negligence while causing severe harm to others, while if it is discovered that he is not an accredited doctor, he would be facing criminal charges of assault, causing severe bodily harm. 
The media at the press conference on Tuesday also heard from Ms Sarintip Wainwright, the coordinator of a beauty group that helps victims in situations relating to plastic surgery clinics. 
She revealed that the two cases had been sent to professionals and approved doctors for evaluation.
Victims coordinator dealing with plastic surgery abuses in Thailand has brought in experts to assess both women's conditions: the story is disturbing
About Ms Tao, who had eyelid surgery and facial contouring, her information was that Miss Tao's eyelids had contracted because of the surgery.
The condition was causing problems with her ability to close her eyes and weakening the muscles in the appropriate area.
She revealed that this would require specialist treatment from a qualified doctor. This was being arranged, and the first correction would take place this week, but it will take six months before the situation for the patient can be improved. 
It should also be noted that she has been told that Ms Tao will never recover 100% to the way she was before following the plastic surgery clinic's mistakes.
Both women require years of surgery costing well over ฿2 million each, and at least one will never fully recover from the damage inflicted on her in 2023
Ms Sarintip then addressed the surgery on Ms Tao's forehead and eyebrows. She explained that the doctor appeared to have carried out the wrong surgery and made unnecessary wounds, including alterations to the victim's facial bone structure.
She said further X-rays were required, but it appeared that the victim's facial structure had been altered.
In conclusion, to remedy this problem would take over a year at a cost of ฿2 million, with the surgery carried out by accredited professionals.
Dealing with Ms Nam's nose job, she said this had also been sent to doctors for evaluation, and they were still waiting on a more detailed report.
However, a culture from Ms Nam's nose has been examined, and it appears she suffers from a chronic infection.
The victim's group coordinator suggested that this may have been caused by the use of artificial tissue that is often used in corrective surgery.
In any case, to remedy this situation would also require professional intervention at a cost of more than ฿2 million. In addition, this surgery would take 1 to 2 years to complete.
Further reading:
Cops probe death of elderly man with Alzheimer's whose body was found on Thursday in Bangkok
Frenchman's rescue in Chiang Mai highlights Thailand as a caring alternative to nursing homes
Change in insurance rules for retirement visas after some over 70s were forced out of Thailand
Wealthy foreigners to own small landholdings associated with homes here agreed in principle
New health insurance regime for retirees living in Thailand means foreign firms can provide cover
50-year-old Dutchman suffering from cancer files complaint against Hua Hin hospital over fees
Battlefield friends help UK man and wife escape medical bill of £12k in Thailand. Now safely home