Tragedy came in the same week as the discovery of a young American tourist trapped in Pattaya's sewerage system covered in sludge. The man was, thankfully, recovered in a healthy condition by rescue services but failed to give a coherent explanation.
Police in Bangkok are still investigating the sad demise of a British national in the city last Thursday who is believed to have suffered from Alzheimer's. The man was reported missing by his host family in the capital to Bang Khun Thian Police Station the day before. It is thought that the 80-year-old became disoriented and was unable to find his way home while suffering from the current acute temperatures in the city and a lack of nourishment and water. He had been dead for eight to ten hours.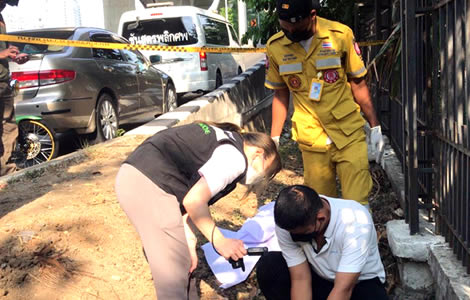 The body of an 80-year-old British man was found on Thursday in central Bangkok on the Ratchaphruek Road in the Phasi Charoen District of the city.
Police did not identify the man's full name but gave out his forename as John.
He had been reported as missing the day previously by a Thai family living on Soi 48 on the Terd Thai Road, not far from where Mr John was found.
Autopsy of dead British man ordered
Police at Bang Khun Thian Police Station are handling the investigation into the man's death and called in a forensic doctor from Siriraj Hospital to the scene who confirmed that the man had been deceased for 8 to 10 hours.
An autopsy into the man's death has also been ordered.
He was found wearing a white T-shirt and brown short pants with his passport contained in a pocket.
The man had abrasions on his arms and police believe he may have died due to the acutely high temperatures now in the capital as well as lack of water or food.
Working theory is Mr John got lost after leaving the home of his host family in the centre of Bangkok and was unable to find his way back in the heat
The UK national suffered from Alzheimer's disease and it is thought that he may have become disoriented when he could not find his way back to where he lived.
The Thai family who cared for the man said he had disappeared on Wednesday the 17th of May and that they had reported him missing at Bang Khun Thian Police Station. 
They said he had disappeared in the middle of the night on May 17th or Wednesday night. The family had also posted appeals on social media looking for the man as they were aware of his illness.
The incident follows another shocking story from Pattaya, on Tuesday last, when a 36-year-old American man was found at a depth 1.5 metres below a road surface in the resort city in a sewer pipe covered in sludge.
Strange case of American tourist discovered last week in the Pattaya sewer system by a passing motorcyclist who looked down when he heard cries for help
A 26-year-old Thai man, a security guard identified as Mr Chalee Boonsri, said he had stopped at the side of the road to buy a soft drink when he repeatedly heard a voice yelling.
He could not decipher where the voice was coming from until he looked below him and caught a glimpse of the man under a sewer grid on top of the road at some distance down.
Pattaya police were called and they were able to lift the sewer or drainage pipe cover and assisted the filthy American to climb out of the hell hole he was stuck in.
The man has been identified as Mr Jonathan Ioane Vaimaona, a tourist who arrived in Thailand on May 12th with his girlfriend.
Tourist was incoherent when asked to explain
The couple were reported as staying at a condominium complex on the Thap Phraya Road in Pattaya, about 2 km away from last Tuesday night's dramatic and strange rescue.
The American was observed when rescued to be exhausted from his ordeal and was only wearing short pants while covered from head to toe in the sewer pipe's contents.
When asked how he came to be at the depths of a 60 cm sewer pipe, he appeared to be confused and gave an incoherent answer.
Further reading:
Frenchman's rescue in Chiang Mai highlights Thailand as a caring alternative to nursing homes
Change in insurance rules for retirement visas after some over 70s were forced out of Thailand
Wealthy foreigners to own small landholdings associated with homes here agreed in principle
New health insurance regime for retirees living in Thailand means foreign firms can provide cover
New plan for the Thai economy could see an elite foreign visa scheme generate up to 6% of GDP
New money for residency scheme may go live in January 2022 says government spokeswoman
Economic plan to put the smile back in Thailand's appeal to western foreigners to live and work
Government preparing a plan to lure millions more expats to come and live in Thailand spurring the economy
Deputy Public Health Minister leaves expats confused with 'over 50s' visa insurance press comments
Thai Ministry of Health brings in tiered pricing for medical services to foreigners and tourists
50-year-old Dutchman suffering from cancer files complaint against Hua Hin hospital over fees
Battlefield friends help UK man and wife escape medical bill of £12k in Thailand. Now safely home